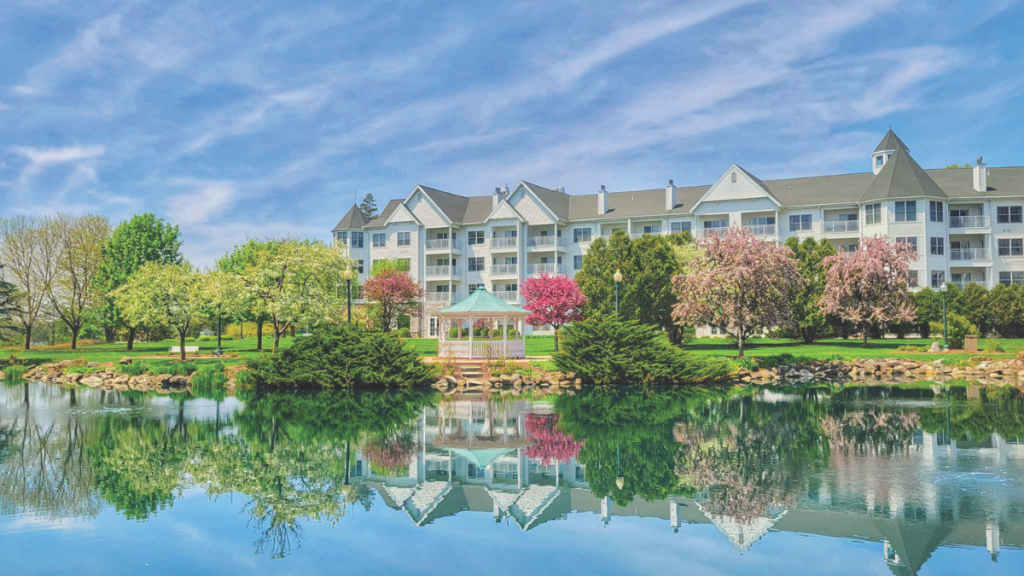 Meet at the Lake: 5 Lakeshore Resorts to Host Your Meeting
07/17/2023
By Ronnie Wendt | © The Osthoff Resort
Why hold an event at a lakeshore resort? The answer lies in the location's undeniable allure. Imagine your guests being greeted by a mesmerizing lakeshore vista stretching out before them. As soon as they enter the tranquil atmosphere, the worries of work and life melt away, replaced by a soothing sense of calm.
Next is the wealth of opportunities for both indoor and outdoor activities. From watersports and beachside games to guided nature walks and sunset boat cruises, there is something to captivate every attendee. Expansive grounds provide ample space for team-building exercises, outdoor workshops or even grand galas under a starlit sky.
Besides a stunning lakeside setting, most resorts also provide well-appointed meeting rooms, and unmatched hospitality and amenities. Attentive staff ensure every need is met with warmth and professionalism. Delectable cuisine, crafted with local flavors and fresh ingredients, top off the experience and tantalize the taste buds.
"A resort also offers convenience," says Delaine Reichert, a group sales manager at Blue Harbor Resort, a family-friendly destination on the shores of Lake Michigan in Sheboygan. "You have your meeting space complete with the audiovisual setup, top culinary staff to prepare your meals and a beautiful resort to enjoy. It's a place where you can work and make calls, meet with your peers and relax."
When you host an event at a resort, your group often stays on the property to enjoy all of the amenities, which maximizes networking and engagement, frequently a primary goal for planners. A lakeshore resort not only provides a beautiful place for attendees to gather, but also offers an opportunity to unwind, recharge and connect with nature. Here, planners can craft an experience that transcends the ordinary.
Maximized Meeting Amenities
Wisconsin resorts, lakeside resorts being one popular option, offer unique alternatives to hotels and conference centers. The Dairy State has everything, from luxurious to rustic resorts, to get away from the daily grind as attendees conduct business.
Since the event itself is the reason for gathering, the first consideration must be the meeting spaces resorts offer, says Joy Kautzer, a planner at Lakeside Foods. Kautzer recently organized a leadership event at Blue Harbor Resort. The previous year, Lakeside Foods held the same event at Lambeau Field in Green Bay, a tough act to follow. "We needed a venue that could compare to Lambeau's wow factor, but additionally have hotel rooms on site," she says. "We also needed ample meeting space for 200 attendees."
Because of the variety of resorts available, Kautzer recommends visiting sites to personally inspect their meeting rooms. This helps guarantee that the spaces meet their needs. "We break things out by area during our event," she says. "So we needed a space that allowed us to do that."
The state offers a plethora of resorts with meeting spaces. Here is just a sampling of what Wisconsin's lakeshore resorts offer:
The Osthoff Resort in Elkhart Lake won the Best of Wisconsin Meetings designation for the Best Lakeshore Resort in Wisconsin in 2022. It offers 38,000 square feet of flexible meeting space with rooms ranging in size from the 10,000-square-foot Grand Libelle Ballroom to a 450-square-foot boardroom. The versatile ballroom can be customized to meet unique needs. A professional, on-site audiovisual team leaves nothing to chance.
Heidel House is a 114-room hotel and conference center on the shores of Green Lake. The resort's 11,000 square feet of event space, including three sizable ballrooms, offers attendees spectacular views of the 7,346-acre lake that borders the property as guests meet.
Blue Harbor Resort in Sheboygan offers a variety of fully customizable and magnificent indoor and outdoor meeting spaces. The resort boasts over 16,800 square feet of convention space, with an 81- by 127-foot Grand Ballroom that can partition into seven meeting spaces. The ballroom has 16-foot ceilings, in addition to a 4,025-square- foot pre-function area that overlooks Lake Michigan.
"You can host a group of two people to 1,200," Reichert says. "What sets our meeting spaces apart is that they are all designed around the view. Our Lakeside Terrace is a two-story atrium with two custom-built bars and a dance floor. Our Island Room has a fireplace, private terrace and direct beach access, as does our Peninsula Room. These are beautiful spaces designed to create something memorable."
The Landmark Resort in Egg Harbor offers nearly 300 suites for lodging and nine spacious meeting rooms. With just under 9,000 square feet of meeting space, accommodating staff and a stunning view of the bay of Green Bay, the largest resort in Door County, centrally located on the Door County peninsula, is sure to please.
Lake Lawn Resort sits on more than 250 wooded acres along 2 miles of Delavan Lake shoreline in Delavan. Besides the resort's 271 hotel rooms, an on-site conference center offers 32,000 square feet of event and meeting space. The 5,170-square- foot Geneva Ballroom is its largest space, which can hold 400 people at rounds or 600 theater-style. The Lake Lawn Room features vaulted ceilings, and can host 330 for a banquet or 400 for a reception. The Geneva Club also has vaulted ceilings and space for 160 banquet guests. Several smaller rooms, including the Courtyard Boardroom, outdoor event venues and several pre- function spaces, are available for breakouts or smaller meetings.
Because lakeside resorts can be remote, it's best to check on Wi-Fi connections and audiovisual capabilities before booking. Most are prepared to accommodate a group's needs, but it's always best to verify. Does the facility have oversized screens, projectors or a dedicated audiovisual person to help? All are important considerations, according to Kautzer.
"Dedicated Wi-Fi is a big plus," confirms Reichert. "This means your group has Wi-Fi dedicated to them. This means you're not competing with Wi-Fi users in the hotel rooms where Mom is on a Zoom call, Dad's on the Internet and the kids are streaming movies.They can even name the Wi-Fi domain after the group if they want to at Blue Harbor."
Fantastic Food and Beverage
Food and beverage can make or break the attendee experience. Today's attendees crave foods that dish up an experience, as well as satisfy their hunger. Here, resorts also stand poised to deliver.
"Most resorts have an executive chef, a full- time culinary staff and a beautiful menu," Reichert says. "They can accommodate vegan, vegetarian, gluten-free and other allergen requests, and customize the menu to each group's needs."
"A resort is geared to provide a culinary experience to its clientele," says Sarkis Wentland, a planner at Cooperative Educational Service Agency (CESA) 7, an educational consultant and liaison. "Another venue may not have access to a chef on site. Then you have to either contact a caterer or eat whatever the convention center offers."
Kautzer mentions that she did buffets for breakfast, brats and burgers for lunch (with traditional pasta and potato salads and homemade potato chips), and capped off each day with a meat-and-potatoes buffet for dinner.
Still, Reichert suggests plated menus as a cost-effective alternative to buffets, which may produce more waste. "Plated menus also make it easier to prepare entrees for special requests, such as gluten-free or vegetarian dishes," she says.
Many resorts also can prepare box lunches or allow attendees to preorder meals, she says. "We have many people who request these things when they spend the afternoon golfing at Whistling Straits Golf Course in Sheboygan. Also, when attendees fill out their menu requests individually, we can serve them their freshly made food choices at the appointed time."
The Osthoff Resort's banquet team prepares every meal. But even more interesting is it has a cooking school on the property that offers team-building activities. A popular event is the food truck challenge, where groups receive proteins, vegetables and breads to create food for their own truck in a head-to-head competition.
Reichert adds, "Resorts can do these things because they have a full culinary team."
An Abundance of Activities
A lakeshore resort can become the canvas upon which unforgettable moments are painted, ensuring every event is a masterpiece etched in the hearts of those who attend. Resorts offer activities that make lasting memories, says Reichert.
At the lake, attendees can take a relaxing stroll by the shore, participate in exciting activities like kayaking or paddleboarding, or simply lounge by the pool or on the beach. Groups additionally enjoy bonfires on the beach and lawn Jenga.
Reichert recalls that one group incorporated Blue Harbor's indoor mini golf course into its event, while another group had spa technicians give chair massages between sessions. Some groups borrow the karaoke machine for icebreakers or set up a bonfire complete with gourmet s'mores outside. "Bonfires on the beach can be a great team-building event," says Reichert. "Imagine your whole team sitting in classic Adirondack chairs under the stars making s'mores by the fire."
Guests at The Osthoff Resort can rent mountain bikes to ride along the lake or take in the resort's award-winning Aspira Spa, which offers natural treatments intended to ground, connect and rejuvenate.
Boat tours are another popular option for group outings. Heidel House offers tours of Green Lake on the Escapade, a 60-foot-long cruiser built in 1995. The boat can seat 36 at tables in the air-conditioned main cabin and accommodate another 24 people on the open-air upper deck.
Lake Lawn Resort can thrill attendees with a cruise on the Lake Lawn Queen, a two-level, 76-foot cruise boat. The Queen takes guests on a tour of Delavan Lake and its shores, which boast five Frank Lloyd Wright homes and other historical landmarks. The boat's open-air top deck offers comfortable lounge seating and amazing lake views from every angle, while a climate-controlled main level provides seating next to expansive windows.
The Delavan resort also offers speedboats, Triton boats, paddleboards, kayaks, wave runners and paddle boats for rent. And if swimming in the lake doesn't appeal, Blue Harbor offers an indoor water park for attendees and family members who tag along.
Resort grounds are always meticulous and carefully curated, with magnificent flowers, lush vegetation and towering trees. Attendees may want to do little more than stroll the grounds after hours. Here, the Landmark Resort offers Patti's Path, which is overshadowed by great trees, and plenty of benches to sit and admire the foliage. Guests can also get acquainted with the resort through the Red Loop trail, which winds around each building and offers stunning views of the bay.
"With all that resorts offer, lakeside resort meetings can be a getaway for the entire family," says Wentland. "Dad might go to the meeting, while Mom takes the kids to the water park. Or couples might turn the event into a long weekend."
There's no shortage of things to do when meeting at Wisconsin's lakeshore resorts, whether it's paddleboarding, bonfires, massages or forest bathing. Resorts deliver more than cookie-cutter experiences. They craft experiences that draw attendees in and keep them coming back.
---
How to Host a Successful Event at a Lakeside Resort
Planner Sarkis Wentland selected a lakeside resort for the CESA 7 Teachers' Retreat to fashion an event with a getaway feel. He hoped the 150 attendees would bring their families along to make it a tourist escape, too.
The event hit all the marks, and attendance and satisfaction soared. "I had to turn people away. We had so many requests because people knew the event would be beautiful and relaxing," he says.
Joy Kautzer, a planner at Lakeside Foods, also organized a lakeside resort event for 200. This leadership event featured presentations, Q&A panels and hands-on activities for attendees. "We also had live surveys where we polled the audience with an app," she says. "Attendees could see real-time results as they entered their answers."
Later, guests enjoyed dinner and cocktails on a lakeside terrace the first night, and a bonfire and lawn Jenga on the second. "Our event was really well-received," Kautzer says. "When we surveyed our group, they said it was our best conference ever."
After successfully organizing lakeside resort meetings, Kautzer and Wentland shared their tips for a successful event at the lake.
Start early. Kautzer suggests beginning the search as soon as tentative dates are available. Resort meeting spaces fill up fast. To get started, she recommends meeting the resort team, taking a tour and booking dates as soon as possible.
Tour the site. Visit the site before finalizing any plans. "When you visit the site, you can walk around and see everything," Wentland says. "On our visit, we noticed one room had large, beautiful windows overlooking the lake. We put vendors advertising their products in that beautiful space." Kautzer adds, "Visually seeing the space, and understanding the sound, layout and flow helped us decide what the space could do."
Ask questions. Know what you want and ask whether the resort can accommodate it. "The resort knew months in advance what we planned, even though we didn't have it all buttoned up at that point," Kautzer says. "Our conversations about
what we hoped people would gain from the meeting helped the resort prepare."
Advertise the event. To advertise an event at a beautiful lakeshore venue, Wentland advises using attractive photos of the beach and lakeside views. "We printed and handed out flyers," he says. "We wanted to advertise that this was going to be a different setting. Our flyers were casual to accentuate the vibe we were trying to promote."
Set early deadlines. Do not set the registration deadline close to the event date. Venues expect final counts at least a week in advance. "A resort is a popular venue and we had a lot of latecomers," explains Wentland. "You need a buffer window before the venue needs your final numbers to cover those requests."
Ask for discounts. A lakeside venue encourages people to bring families along. Knowing this, ask the resort for room discounts, then advertise the discounts, suggests Wentland.
Consider the staff. Is there an on-site planner? What about an audiovisual professional? These professionals, according to Kautzer, are crucial to success. "The staff at our event was amazing. They treated us well from the initial meeting to setup to the conference itself. Even last-minute needs were accommodated," she says. "Having someone dedicated to your event makes a difference."
Be open to suggestions. The sky is the limit for team building, adds Delaine Reichert, group sales manager at Blue Harbor Resort. Ask venue staff what types of team- building events were done in the past and what suggestions they might have.