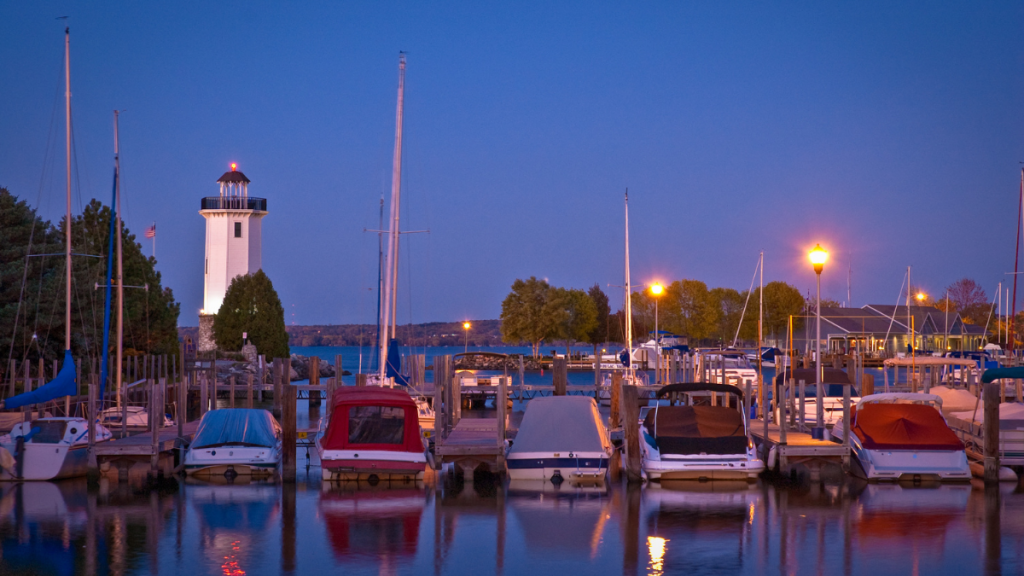 Destination Lake Winnebago Region
04/24/2023
By Kristine Hansen | Photos from Destination Lake Winnebago Region unless otherwise noted
With its central location, inviting downtown, farm tourism and waterfront, Fond du Lac, as well as the Lake Winnebago region, are proving to be popular for meetings and events.
"Downtown Fond du Lac has got a real charm to it. You get to have that small-town feel with a downtown vibe," according to Michelle Angell, Hotel Retlaw's general manager.
The Lake Winnebago region is also a practical location to host meetings and events because most attendees don't typically have far to drive. The area is easily accessible from Madison, Green Bay, Milwaukee and Chicago. "We're within 60 miles of 70% of the state," confirms Joan Pinch, regional sales director at the Radisson Hotel Fond du Lac, Lake Winnebago Conference Center, Holiday Inn Express Hotel & Suites Fond du Lac and Comfort Inn. "Our location within the state, our affordability and our small-town hospitality" are driving people to the area, she says.
Plus, once in Fond du Lac, getting around is a breeze. "We are a community of just over 45,000 people," according to Darcie L. Holte, director of sales for the Destination Lake Winnebago Region. "We have typical bus transportation throughout the day, taxis and a limited number of Ubers. During the summer months, we offer pay-as-you-go scooters."
Lake Winnebago Region Venues to Choose From
One popular site to host meetings and overnight stays is Hotel Retlaw, a century- old hotel in downtown Fond du Lac that was completely reborn in 2019 after a $30 million restoration. On March 3, 2023, the hotel celebrated its 100th anniversary. "It's on the National Register of Historic Places and [has] a 1920s ambiance," says Angell. "Normally, you would only see hotels like ours in downtown Chicago or New York City."
It's also the only hotel in downtown Fond du Lac, putting it within walking distance to attractions that welcome groups, such as an axe-throwing spot (Fondy Axe Company), a golf simulator (Donny Du's) and an escape room (The Great Escape Fond du Lac), along with outdoor activities like ice fishing or hiking at Lake Winnebago.
"We don't have a shopping mall, but we have family-owned stores," says Pinch, listing Indigo Gallery & Gifts (an art gallery that opened in January), Cujak's Wine & Spirits (a wine boutique) and Lillians (women's apparel) as local favorites. Groups can also find locally owned restaurants and bars downtown, including Copper Cock Tavern (specializing in cocktails, small plates and desserts) and 18 Hands Ale Haus (German-style fare and beer with an outdoor beer garden), two that Holte highly recommends for groups.
At area hotels, groups can do a lot in one place, including host meetings, take advantage of exhibit space, book room blocks, and socialize over meals and entertainment. Hotel Retlaw, for example, can organize everything from a casual bag-toss game to a formal dinner, thanks to its dedicated meeting spaces. This includes the Lake Room on the second level, which flaunts a terrace connecting to the outdoors.
For more intimate meetings or events, the Dillinger Suite can be booked. Groups can also use the hotel's glamorous, light-filled lobby bar; its Table One restaurant that serves hearty entrees, such as Berkshire tenderloin or apple cider-brined chicken, and fish fries on Wednesday and Friday; and One Main Café, serving coffee and grab- and-go breakfasts.
Groups also like the Radisson's Lake Winnebago Conference Center because it's a one-stop shop as guests can stay in the 139 guest rooms available, cutting down on travel. Patrons additionally enjoy a hot breakfast, which is included, as well as access to Benvenuto's Italian Grill and an indoor pool. The conference center "has undergone a $5 million renovation, and is back to hosting a number of conferences, educational sessions and annual meetings due to its perfect, flexible space," says Holte.
At the conference center, there is more than 24,000 square feet of meeting space that can be divided into seven breakout rooms and three boardrooms (holding between eight and 17 people each). If the entire space is open, it can comfortably accommodate up to 1,000 people. For trade show-style meetings and exhibitions, there's room for about 50 exhibitors. "All of our space is flexible," says Pinch. "We have a lot of moving walls that can open up areas." For overflow, groups can tap into rooms at two sister hotels as well — the Holiday Inn Express Hotel & Suites Fond du Lac and the Comfort Inn.
At Thelma Sadoff Center for the Arts, on the other hand, groups can either reserve part of the facility for an event or blend a performance into their itinerary. The center opened as a Masonic Temple in 1906 and added a contemporary wing in 2012, creating an artful blend of historic and modern architecture.
Plus, with the aim to be accessible to all, it does not charge any fees to see its galleries. Although there's a nod to local and regional artists, often the work comes from around the U.S. or even abroad, says interim executive director Shannon Kupfer. "We have concerts indoors and outdoors all year round," Kupfer adds. Filling the arts center's indoor calendar are performances by comedians and local theater groups, as well as maker markets highlighting the region's crafters, designers and artists.
For small groups who want to organize team-building or social gatherings, Thelma Sadoff Center for the Arts offers art classes, as well as a monthly art history series focused on the life and work of artists like Frida Kahlo and Georgia O'Keeffe.
For meetings, six boardrooms are popular, but there's also a larger conference space that is frequently used for corporate parties, fundraisers and auctions. Groups can additionally book the 1,776-square- foot Great Hall, adorned in Old Hollywood style, or the 2,862-square-foot Fountain City Room, featuring a dance floor and eight beautiful chandeliers. Both can accommodate up to 250 people.
Although there's a preferred-caterer list, groups can select their own culinary partners or work with the Cellar District. As its name implies, Cellar District is a wine-focused restaurant serving tacos, wood-fired flatbreads and shareable bites ranging from candied-bacon deviled eggs to Korean pork nachos. "We've been partnering with them quite a bit lately," explains Kupfer, "and they are next door."
Another venue, particularly for events attracting thousands of attendees and requiring a need for exhibit space, is the Fond du Lac County Fairgrounds. Set on 75 acres, there is 28,000 square feet of space at the Expo Center and 20,000 square feet of space at the Recreation Center. Both facilities offer restrooms, wireless WiFi, a sound system and meeting rooms within.
Attractions to Check Out
Beyond Fond du Lac's downtown, other options for groups to meet outdoors abound in the Lake Winnebago region. Kelley Country Creamery isn't just a beloved visit for locals, it was also featured on "Good Morning America." Here, scoops of ice cream are dished out in flavors as divergent as banana cream pie or bleu cheese pear, or as classic as vanilla or black cherry.
"You can see the cows grazing in the field," which provide the milk used to produce the ice cream, says Pinch. In August, the property welcomes fields of sunflowers and the opportunity to pick a bouquet for a donation, providing opportunities for veterans to fly to Washington, D.C. on Honor Flights.
LaClare Creamery — its goat cheese a repeat winner at cheese championships — offers a host of activities to keep an entire day booked, from goat yoga in the morning to lunch in the café. A glass wall allows for a self-guided tour of the cheese-making process weekdays, and a garden center is opening this spring to sell plants and outdoor décor, and host workshops.
If you're looking for a spirited adventure, Ziegler Winery hosts live music every weekend and carriage rides at different times throughout the year. Ledgerock Distillery, a family-owned grain farm that now makes spirits, also welcomes visitors Wednesday through Saturday. On Saturdays, cocktails are served.
Being a small community has other advantages as well, like getting out on the trails for a hike or bicycle ride is quick and easy, and there are many options. "The Niagara Escarpment is fun to visit to see the overlook of Lake Winnebago," says Holte, "and of course, Fond du Lac County is also part of the Ice Age Trail."
And yet one need not leave downtown Fond du Lac to experience nature. "We have a 400-acre park at the foot of Lake Winnebago, Lakeside Park, that offers trails and pavilion rentals all year long," says Holte. "Come summer, there are fair rides, concessions, splash pads and festivals."
A convenient central location and small-town hospitality — these are just some of the reasons the Lake Winnebago region is proving to be popular for hosting meetings and events.
---
Kristine Hansen is a freelance writer based in Milwaukee. She writes about food and drink, design and travel for a mix of regional and national audiences. Her clients include ArchitecturalDigest.com, Fodors.com, Vogue.com, Midwest Living magazine and Milwaukee magazine. She recently also published "Wisconsin Cheese Cookbook," which is available on Amazon.com.