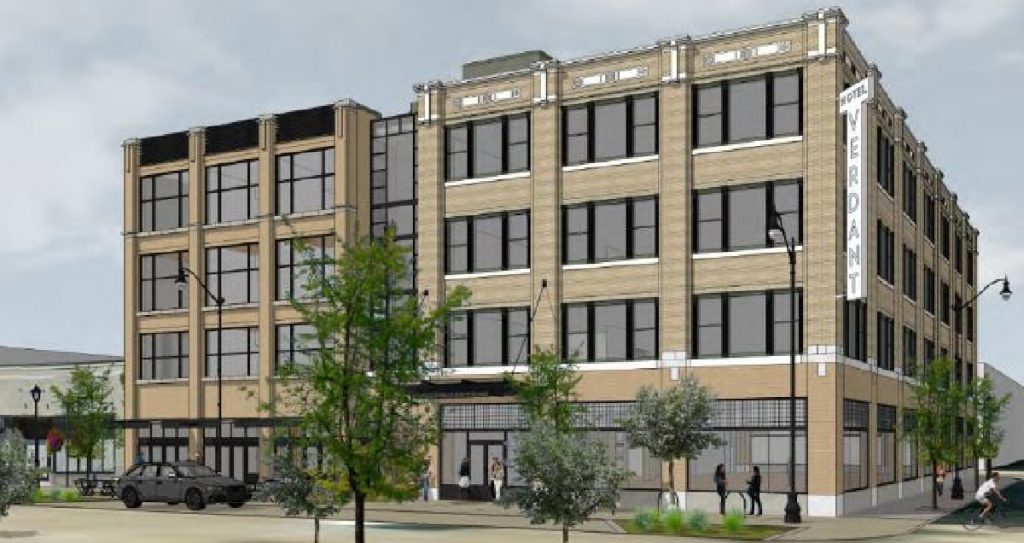 A Behind-the-Scenes Look at Hotel Verdant in Racine
03/02/2023
Hotel Verdant, on track to be a LEED Gold-certified hotel, plans to open its doors on Racine's Monument Square this summer. Dominion Properties founders Christopher Adams and Michael O'Connor are behind its creation, promising to attract visitors to Racine, while stimulating its economy and workforce.
Upon completion, the hotel will feature 80 well-appointed guest rooms that include a mix of queen, king, junior and presidential suites, which will be divided between the historic building and a new addition. Hotel Verdant will additionally offer spaces for gatherings of many sizes, including space that can hold events for up to 200 people. The hotel's generous lobby comes with a fireplace, two food and beverage venues, and the hotel's meeting and banquet spaces.
"Racine's Living Room" is how Adams articulated his vision to the design professionals, with the aim to create an inviting environment for guests and visitors. Natural light contributes to the warmth of the Scandinavian color palette used throughout the property. Furthermore, Hotel Verdant's partnership with RAM resulted in the placement of upwards of 200 works of original local art in guest rooms and public space throughout the hotel, which also includes a fitness center and bicycles for guests to explore the surrounding areas.
Eave, a rooftop bar and restaurant, offers indoor and outdoor seating for up to 200. It boasts panoramic views of Lake Michigan, in addition to the hotel's green roof, solar panels and wind turbines. Its menu includes cocktails, mocktails and light food options, including shareable plates. The hotel's lobby-level Café Marguerite will create an evolving menu of healthy breakfast, lunch and dinner options — including brick-oven pizza. Designed to be street-level with exterior doors, Café Marguerite will welcome hotel guests and visitors alike.
With Hotel Verdant, Dominion Properties saw an opportunity to bring a boutique hotel to downtown Racine, and credits the early support of Racine Mayor Cory Mason and Finance Director Kathleen Fischer in helping to make it happen. Familiar with Racine and the site identified for development consideration, Adams and O'Connor considered the following factors before deciding to build an full-service boutique hotel:
Racine's location at 500 Main Street in downtown Racine, which is between and close to both Chicago and Milwaukee.
Racine's access to robust ground transportation corridors.
Racine's intact downtown area with a square, the epicenter of community events.
Lake Michigan and Racine Harbor within blocks of the site.
Government, corporate and retail organizations near the site.
The Racine Art Museum (RAM), which is located across from the site.
Racine and Kenosha counties' claim to numerous corporations with visitors from around the world.
Absence of other upscale, full-service boutique hotels.
Need for a space in Racine to have meetings, events and gatherings.
Potential for nearby Gateway Technical College to train a workforce.
Availability of a workforce.
Cost studies proving feasibility.
Strong community support.
Sustainable design was also key in the creation of Hotel Verdant. The team is pursuing LEED Gold certification by incorporating sustainable, energy-reducing design and operational features, such as on-site energy production (via wind turbines and photovoltaic systems), less use of chemicals and the inclusion of smart technology. When envisioning Hotel Verdant, Adams and O'Connor intended to create a boutique hotel that would capture the attention of visitors, help boost Racine's economy, and provide the community with employment opportunities and a place to gather —all with sustainability in mind.