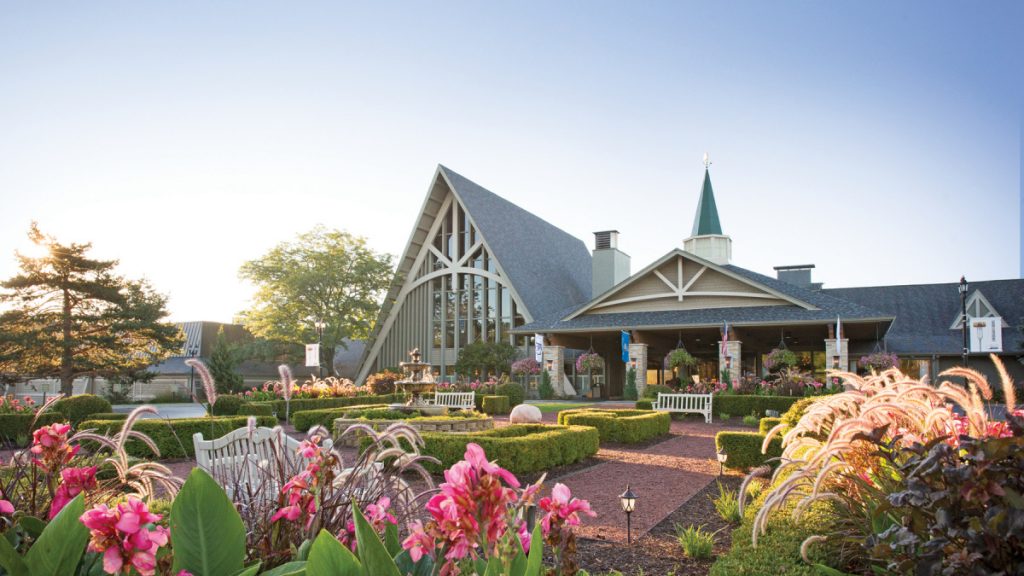 Meet with a (Lakeside) View at The Abbey Resort
10/11/2022
By Sue Sveum | Photo © The Abbey Resort
By honoring history while looking to the future, The Abbey Resort in Fontana also manages to celebrate the present. That's easy to do at a venue that offers 90 acres of lakeside experiences, the newly renovated Avani Spa, and beautifully modernized meeting rooms and guest rooms. With a multi- year renovation reaching completion, The Abbey staff is excited to present their newest resort amenities to event attendees and leisure guests alike.
According to Dan Dolan, director of sales and marketing, the renovation, which was done primarily in the off-season, was designed to meet the evolving needs and tastes of today's meeting and resort guests. "It balances our unique design and history with modern conveniences and technology," he explains. "As guests approach the resort, they still see our iconic 130-foot-tall, wooden, A-frame structure, which was built in 1963. People often ask if the space is still used for events today — and it is."
But the renovation also brought many changes. "We wanted to transform our lobby into a destination for guests," Dolan says, "so we created a social hub by adding couch areas, nooks and high tables. And large screens behind the front desk continuously project video of our fabulous lake views, so when guests walk in, they immediately get the sense that they arrived at the lake."
Dolan reports that The Abbey offers some of the best indoor and outdoor settings — perfect for both hybrid and in-person meetings and events. "There's 30,000 square feet of indoor meeting space with 14 breakout rooms, half of which show off the beauty of the area with direct views of the resort and water," he says. "That creates an uplifting atmosphere for meeting attendees."
During the renovation, the side-by-side Wisconsin and Harbor ballrooms were completely torn apart in order to achieve that same atmosphere. Decorated in a concert of blues and grays, the spaces now feel larger and airier, providing the perfect mood-booster for all-day meetings.
The smaller Geneva Lake Conference Center, which holds 20 to 60 people, was also completely reimagined into a small, self-contained conference center, with all of the meeting rooms and common space in one hallway. Then The Abbey updated to a gigabit-speed fiber network, replacing all of the equipment around the resort and resulting in faster, smoother internet service for meetings.
But equally important as meeting spaces was the guest room redesign. Each room now has a private deck or patio, and smaller leather-wrapped benches instead of boxy dressers, making rooms feel larger and giving guests a clear view of the resort outside, reinforcing that feeling of "I've arrived at the lake."
"We want to be known as the best choice for meetings in the region," says Dolan. "And with that, there comes an element of reward recognition for attendees through being invited to a conference at a place like The Abbey — with the added bonus of a lakeside resort experience."
And there's a lot to experience. Guests can go zip lining or enjoy a beautiful Geneva Lake cruise. The marina and Fontana Beach are just steps away. Or guests can dock their own boats at The Abbey's private slips and pier. In addition to its lake frontage, the resort boasts four pools, and of course, Avani Spa.
Guests past and present have indelible memories of their time at The Abbey. "We hear stories every day — that's part of the fabric of what The Abbey is," stresses Dolan. "Of course, we want to be known as a fantastic event space, but sometimes it's our outdoor space that's memorable!" With The Abbey's lake views and modern amenities, it's almost impossible for conference-goers to leave feeling like their event was all work and no play.