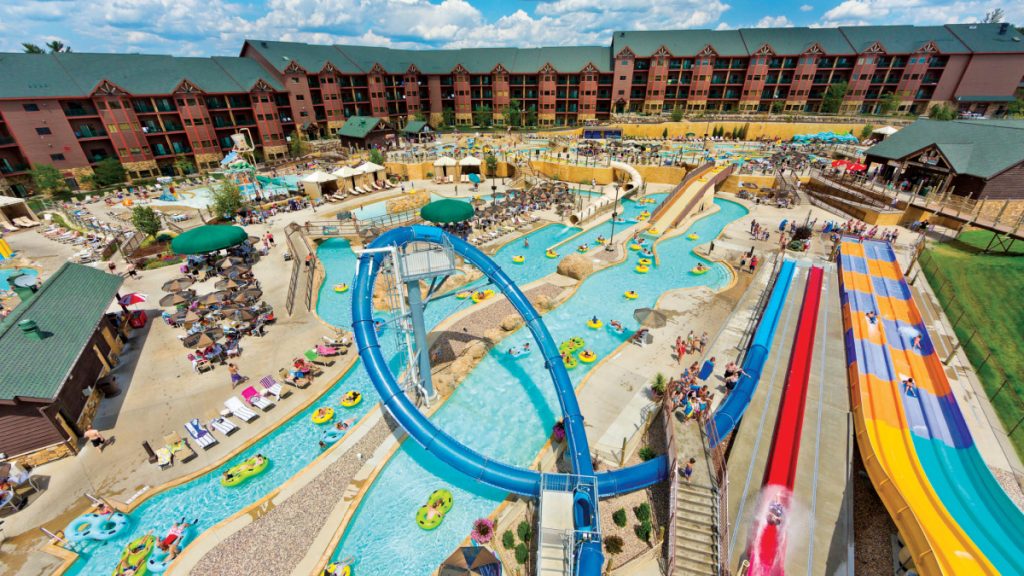 Destination Wisconsin Dells
04/15/2022
By Ronnie Wendt | Wilderness Resort ©Wisconsin Dells Visitor & Convention Bureau
It's all systems go for meetings and events in Wisconsin Dells as the south-central Wisconsin community leaves the pandemic behind. In fact, the last vestige of the pandemic fell as Ho-Chunk Gaming Wisconsin Dells dropped its mask mandate in early March. "We are open for business and it's been a great year already," confirms Jessica Rieflin, director of sales at the Wisconsin Dells Visitor & Convention Bureau.
She predicts things will only get better as the community, known for its family friendliness, sprawling water parks, tourist attractions and impressive landscapes, heads further into 2022. Planners hosting meetings here will discover more venues, amenities and attractions than ever before in the "Water Park Capital of the World."
The community plans to debut Elm Street Plaza in July, a $4.5 million, 35,000-square-foot entertainment venue. This impressive downtown locale will offer covered stages for live entertainment, lush landscaping and welcoming water features that treat the senses. Planned programming will heighten the experience. Think free nightly entertainment, seasonal celebrations, farmers markets and more. "It's definitely something groups will want to check out when they visit," Rieflin says. "We are very excited for the plaza to open. We believe it will attract many visitors downtown."
Event-goers hoping to bring their families along — or to partake in the city's water parks themselves — will not be disappointed. After hours fun now includes North America's first rotating water slide, known as Medusa's Slidewheel, which spins as guests slide through. It's part of a 22,500-square-foot addition at Mt. Olympus Water & Theme Park that includes a new children's splash zone and other interactive water features.
Wilderness Resort adds to the thrills with two dueling water slides — a two-lane tube ride and a two-lane, headfirst mat racer. The resort also renovated its 446 guest rooms and added a themed, multilevel, play-and-spray structure. In more news, Chula Vista Resort will open a water slide attraction designed to dazzle sliders with a rainbow effect as they glide through. Wisconsin Dells adds to this a commanding list of venues that are able to support meetings from 10 all the way up to 5,600 attendees, 8,000 hotel rooms, a foodie scene from burgers and fries to fine steaks and wines, and more attractions than one might find in a much larger city.
Fun is the word Rieflin uses to describe what planners can expect when hosting an event in the city named after the Dells of the Wisconsin River and known for its Wisconsin Ducks sightseeing excursions. "Attendees will have lots of fun here. They're going to feel like they're not really at a meeting," she says. "There's a buzz about meeting in Wisconsin Dells."
Vast Venue Options
About 4 million visitors flock to Wisconsin Dells every year. While vacationers once comprised the bulk of this number, meeting and convention attendees are holding an increasing share. Wisconsin Dells and the Lake Delton area have responded to the influx with over 500,000 square feet of venue space. "We can accommodate anything from small retreats to very large conferences and trade shows," Rieflin says.
Planners will find another standout option for events at Kalahari Resorts & Conventions. The resort made a big splash in 2019 when it opened a $35 million expansion that more than doubled the size of its convention space. Now the center offers 212,000 square feet of flexible meeting space, making it the biggest in the state.
The venue has three sizable ballrooms, the largest of which is 52,000 square feet and able to seat 3,600 people at round tables. With a theater setup, this ballroom can either accommodate up to 8,600 attendees or break down into up to 10 rooms. "Our Africa Ball- room is in a separate space and there are two entrances to our convention center, so we can have two large conferences happening simultaneously without intermingling guests," says Kyra Popp, the corporate director of sales at Kalahari.
The pre-function space, with its natural light and comfortable lounges, is always a hit, too, according to Popp. "We do a lot of exhibits out here," she says. "And groups like to use the lounges for sponsorship opportunities."
The Chula Vista Resort attracts planners with its secluded, wooded location on the Wisconsin River, just north of downtown, and 200,000 square feet of flexible convention space. The on-site Woodside Wisconsin Dells Center features 90,000 square feet of unobstructed, multipurpose meeting space and 13,000 square feet of pre-function space, one of the largest venues available in the state. "It's a great facility for anything from sporting events to conventions and trade shows," Rieflin says. "It's our largest single meeting space." The resort also offers ballrooms with prime views on the atrium level, and a full roster of well- appointed meeting spaces and boardrooms.
The Wilderness Resort's Glacier Canyon Conference Center provides 56,000 square feet of conference space, numerous lodging options and ample afterhours activities — from championship golf to spa treatments and four- star dining. Although ideal for meetings of up to 400 people, the venue dishes up banquet space for up to 1,200 guests, private breakout rooms for meetings and conferences, and exquisite catering options.
"We have a beautiful setting outside, so we put windows at the back end of our ballrooms that overlook the canyon or the original golf course. Attendees can step outside on their breaks and planners can host receptions outside when the weather permits," says Shannon Timmerman, director of sales at the Wilderness Resort. She adds, "We set our professional conference center apart from our water park, so families and children never walk through the meeting rooms or conference center unless they are very lost."
For a meeting needing a more intimate feel, check out Sundara Inn & Spa. Nestled in a pine forest on the outskirts of Wisconsin Dells, this venue can host small meetings, group gatherings and intimate corporate retreats of up to 111 people. The Mandala A and B rooms are flexible meeting spaces with amazing treetop views for receptions, dinners, classroom-style programs and theater-style events. If being away from the main resort sounds appealing, planners can host an event in the Woodland Reflection room that features floor-to-ceiling windows and scenic wildlife views. And its Avacaya boardroom offers seating for 12 around a European-style communal table with pleasant woodland and water feature overlooks.
"It's a really nice retreat-style atmosphere, with plenty of trails for walking meetings, which have become very popular," Rieflin says.
For a different pace, groups hoping to hedge their bets after hours might want to host their event at Ho-Chunk Gaming Wisconsin Dells in nearby Baraboo. This facility offers 30,000 square feet of convention space, 302 guest rooms, and a newly renovated, Vegas-style casino with 1,700 slot machines and regular on-site entertainment. Its Grand Ballroom seats up to 600 people, while smaller ball- rooms are available for breakout sessions. "It's very popular with groups and all of its rooms were recently renovated," adds Rieflin.
Food with All of the Fixings
Food is always on meeting-goers' minds, whether on-site or off. Fortunately, Wisconsin Dells serves up an array of menus to tickle every tastebud. "Our larger resorts offer on-site dining options with great menus. But if groups want to work with other catering companies, we have some to recommend," acknowledges Rieflin.
Kalahari offers Wisconsin Brew Pub, where diners can delight in Wisconsin craft beers, cheese curds and craft cocktails, or the Double Cut Steak House for classic steaks and seafood. Chula Vista keeps people fed at Kaminski's Chop House, considered one of America's top chophouses; the Tavern Restaurant for low-key dining; and Luigi's Pizza, just to name a few. Meanwhile, the Wilderness Resort provides a family-friendly American feast at Camp Social; burgers and shakes at The Burger Bar; and a premier steakhouse experience with Field's at the Wilderness.
Another cannot-miss dining experience is Ishnala, an authentic Wisconsin supper club on the shores of Mirror Lake in Lake Delton. "They are known for their old-fashioned, Wisconsin duck, aged ribeye and lobster tails," Rieflin says. "Their food is delicious and it's a beautiful drive to get there, along a winding road with gorgeous terrain."
The Del-Bar Supper Club has been pleasing palates with award-winning, mouth-watering steaks, oysters and salmon since 1943. The restaurant, owned by over three generations of the Wimmer family, offers private dining space for groups up to 100.
Visitors can also take in the music and ambiance of Redd's Piano Bar and Lounge at the Kalahari with fine wines and handcrafted cocktails. The resort's Latte Stone Brewing, a small-batch nano brewpub, is a tasting room- style bar with craft brews and a Pacific Island tapas menu.
Activities Abound
The pandemic recently pushed attendees outside for group activities and nature is what Wisconsin Dells does best. Four nearby state parks — Devil's Lake State Park, Mirror Lake State Park, Rocky Arbor State Park and Natural Bridge State Park — provide miles of trails. Rieflin also recommends a trip to New Life Lavender & Cherry Farm for groups of up to 50. The 40-acre lavender farm not only cooks up farm-to-table meals, but also provides wagon tours that teach guests about laven- der, cherries and bees.
Timmerman recommends tackling team zip lining at the Wilderness Canyon Zip Line. Groups can soar over the treetops, then take a behind-the-scenes tour of the resort's Take Flight attraction, the first fly-ride attraction in Wisconsin. Popp suggests checking out the ferris wheel at Tom Foolerys Adventure
Park at the Kalahari: "We've had networking events on the ferris wheel, where people met up for appointments and mingled during the ride."
Groups can team build while testing their axe-throwing skills at Asgard Axe Throwing & Underworld Arcade. On-site axe coaches push participants to become the best axe-throwers possible, and 28 craft beers on tap, tasty pizza and craft sandwiches complete the fun. Rieflin says, "We have so many experiences here."
The Wisconsin Dells area offers something for everyone — including good, clean fun. The community delivers well-appointed meeting spaces, food for every budget and taste, and activities that thrill attendees and families alike. No matter where you decide to stay or what you decide to do when you're here, attendees never get bored when meeting organizers host an event in Wisconsin Dells.