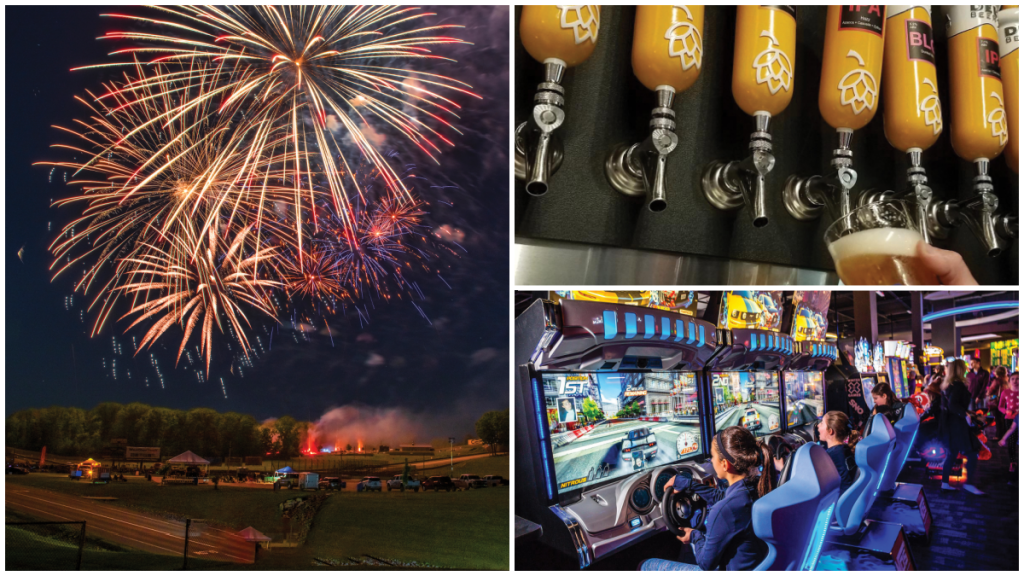 6 Team Building Activities for Your Next Outing
04/15/2022
By Ronnie Wendt | Photos by: © Road America (left), © Delta Beer Lab (top right), ©Dave & Buster's (bottom right)
It's time to think about planning group outings or team-building include complimentary snacks and beverages. Road America can dish events that rekindle the connections lost over a long Wisconsin winter. The standby networking event often involves cocktails and hors d'oeuvres with light music playing in the background. While those events have their place, why not choose fun group activities that allow team members to let loose and feel like kids again?
Wisconsin offers plenty of fun activities that can help stretch team-building skills. From go-carts and road races to river cruises and beer labs to spelunking and axe throwing, the Dairy State has something for every group and every budget.
REV UP AND RACE
Road America, Elkhart Lake
(800) 365-7223 | roadamerica.com
Groups seeking a thrill to talk about forever will find it in Road America's group adventure programs, which are hosted on 640 acres in Wisconsin's Kettle Moraine. From modest meetings for four participants to massive events for more than 10,000 guests, Road America has teams covered. The popular Karting Adventure, for example, teaches participants how to handle and race go-carts at high speeds on a challenging course. Or you can test your group's driving prowess as they race a Mazda MX-5 Miata after being coached by professional drivers.
High speed not your group's thing? Then the venue's Geocaching Ad- venture might be more your speed. Teams are tasked with finding as- signed treasures (caches) on this technology-driven scavenger hunt. Each group receives a unique list of GPS coordinates and a golf cart, then sets off on an adventure to retrieve as many caches as they can within a time limit. Off-road driving adventures and event samplers (when groups experience a taste of each of the most popular group adventure programs) are also available. An 18-hole disc golf course presents an opportunity for another popular team builder.
Road America's adventure programs come with a fully equipped meeting room that accommodates groups of up to 300. The programs also include complimentary snacks and beverages. Road America can dish up anything from boxed lunches to hot breakfasts, lunches or dinner. Staff photographers capture the memories of the day and professional video packages are also available upon request. You can cap off a long day by staying at the on-site cabins or The Chalet. Pricing varies by program and the number of participants.
BOTTOMS UP
Delta Beer Lab, Madison
[email protected] | delta.beer
Delta Beer Lab, a self-described community destination and brewery, brings people together. Its Social Laboratory/Taproom is welcoming to all, and available for groups and team-building events (shuffleboard, darts, board games). Smaller groups can reserve a section of the tap- room for networking, food and drinks at no cost. Larger groups, or those seeking something more private or programmed, can book the site's Brewery/Warehouse space, next to the taproom, with bar service for groups of 60 to 140.
Present a meeting over suds with Delta Beer Lab's in-house digital projector, speakers and microphone. Seat your team at folding tables and chairs, or encourage mingling with cocktail tables. Delta Beer Lab doesn't charge a fee for reservations, but requires a minimum purchase of two drinks per person. This adds up to about $15 to $20 per participant. Space reservations are for three to four hours. Delta Beer Lab sticks to beer and cocktails, but can recommend caterers if groups crave food, too.
GO SPELUNKING
Cave of the Mounds, Blue Mounds
(608) 437-3038 | [email protected] caveofthemounds.com
Nestled in the rolling hills near Blue Mounds, the Cave of the Mounds is a natural limestone cave that has attracted visitors for more than 80 years. Your group can explore every inch of the geological phenomenon in a private VIP guided tour. To see every detail along its 1,692 feet of stalactites and stalagmites, add a light package to shine colored lights through the cave. Reserve group outings at least two weeks in advance. Regular admission starts at $18.95, but discounts are available for groups larger than 10.
FLOAT AWAY
Lake Lawn Queen, Delavan
(262) 725-9218 | lakelawnresort.com
Climb aboard the Lake Lawn Queen, Delavan Lake's two-level, 76-foot cruise boat. The vessel takes teams on a floating tour of Delavan Lake and its shores. While riding the waves, guests will see five iconic Frank Lloyd Wright homes and other historical landmarks, like the area's in- famous Clock Tower and Pagoda. The cruise boat's open-air top deck offers comfy lounge seating where guests can sit and take in panoramic views. A climate-controlled main level offers an enclosed setting for cocktails, hors d'oeuvres or dinner. The Lake Lawn Queen presents full-service catering, bar service, and entertainment options that include a DJ or live entertainment.
EAT, DRINK AND PLAY
Dave & Buster's, Wauwatosa and Madison
daveandbusters.com
Have some laughs and indulge your group's inner teenager at Dave & Buster's in Wauwatosa. There's an arcade game for everyone, whether it's Pop-A-Shot, Pac-Man or Skee-Ball, in the Million Dollar Midway. Hold a group tournament at the new, life-size Hungry Hungry Hippos game. Collect tickets and redeem them for prizes. Dave & Buster's of- fers private function rooms for conferences, holiday parties, company presentations and exclusive events. You can even rent out the entire place. Bar and beverage packages are available for every budget. To schedule your next laugh-out-loud event, visit daveandbusters.com/party-and-event-venues/adult-social-events.
DISCOVER YOUR INNER VIKING
Ironside Axe Club, Eau Claire
(715) 514-5845 | [email protected] ironsideaxeclub.com
Ironside Axe Club calls on groups to release their inner viking. After a brief lesson on safety and technique, teams can challenge each other in an axe-throwing, team-building event. Fling axes for fun individually or break into teams to play a game similar to darts. Ironside Axe Club offers a lane for everyone — from the true competitor to the casual player. It can customize axe-throwing parties, team-building events, corporate outings and more.