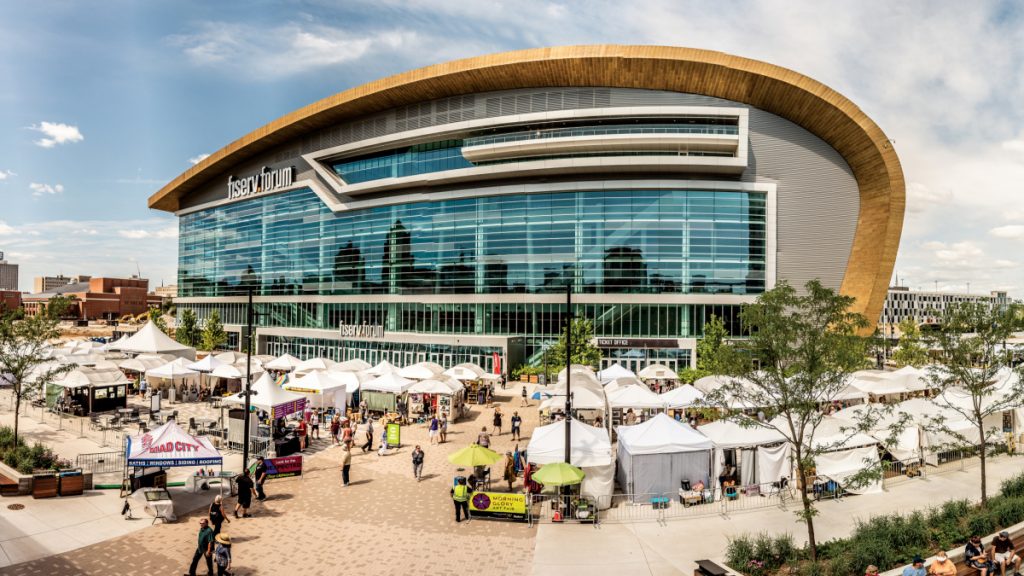 Meet in the Deer District
04/15/2022
Story by Kristine Hansen | Photos Courtesy of Deer District
In July of 2021, Giannis Antetokounmpo and the Milwaukee Bucks catapulted into international fame upon winning the NBA Championship for the first time since 1971, thrusting the Brew City into the spotlight as well. Now, the 714,000-square-foot Fiserv Forum is fielding calls from companies — many in Wisconsin — wishing to ride the tails of this acclaim by hosting meetings and events only a few yards from where the players won Game 6 of the NBA Finals.
"Winning the NBA Finals definitely gave us a ton of exposure," says Mallory Brigman, the director of event sales for the Fiserv Forum, Deer District and Milwaukee Bucks.
"We are a destination where they want to host their holiday party, kick-off sales meetings and off-site meeting receptions, running off the adrenaline of the NBA championship." Thousands of Bucks fans packed the 30-acre Deer District just outside Fiserv Forum to watch the game broadcast on national television, showing off the three-year-old arena at the same time. It doesn't hurt that ESPN broadcasted live from Gather at Deer District's 6,000 square feet of event space overlooking Fiserv Forum either.
And because the Deer District offers a palette of event spaces from which to choose, many groups utilize several venues within the complex during a single meeting or event. "Even just a 5-minute walk (between venues) changes the mindset," says Brigman. "And you're getting a variety of price points, so that we can really cater to what your needs are." Dedicated on-site event coordination and that each venue offers a different food menu (all through Levy Catering) are other popular selling points. Because each spot has a unique personality, attendees aren't subjected to the same food throughout and experience a village-like environment without ever hopping into a car.
Hosting the NBA Championship's winning game wasn't Milwaukee's only recent national media exposure. While experiencing a near-miss in hosting the Democratic National Convention in 2020, cancelled due to the COVID-19 pandemic, the city still broadcast some events from the Deer District.
In short, the city's popularity is spiking. Much of that has to do with the Deer District's live, work and play aspects — all of which are strong. "It's not only the place where you go for a game, concert or performance, but also where you stay to enjoy the atmosphere," says Lindsey McKee, communications and group tour manager, Visit Milwaukee.
Bonus: When a concert or Milwaukee Bucks game is not on the calendar, groups can receive a behind-the-scenes tour as part of their meeting or event. "You can go see where Giannis' locker is and the (Bucks players') showers, which are so tall," laughs McKee, who also points to the "incredible art collection" that includes a life-size buck crafted from the same materials used to make basketballs.
---
Want to host a meeting or event on site? Breaking down the options is a good place to start.
Fiserv Forum
There are 10 spaces within the arena available to host meetings, with the largest being the 28,000-square-foot Arena Floor, that is, when it's not in use for a concert or Bucks game. Groups of up to 2,000 can pe- ruse an exhibit hall here, showcase a presentation on the NBA's largest video screen or host a seated-dinner event. The second-largest space is the top-floor, 4,176-square-foot Panorama Club, so named for its panoramic views from the outdoor patio, with enough room for up to 450 people at a reception. The Jockey Club and the Atrium can hold up to 400 people each, while the 3,960-square-foot West Bend Lofts comfortably handles 370 and the BMO Club accommodates 300. Other, more intimate spaces include the Upper Concourse, Boardroom, Green Room and North Suite, which are perfect for groups of 12 to 50.
Gather at Deer District
Gather's 6,000 square feet of space capitalize on natural light filtering through walls of windows. This venue is flexible enough for traffic to flow into the adjacent outdoor patio through sliding-glass doors, a treat during the warmer months.
The Beer Garden
Just because this is an outdoor space — and a nod to Milwaukee's Germanic immigrants during the late 1800s — doesn't mean it lacks the technology to host your event. A 40-foot screen is protected within a partially covered outdoor area.
Mecca Sports Bar & Grill
Up to 750 guests can be served reception-style at this two-story bar and grill, anchored by a 42-foot-wide, high-definition screen and two bars. All in all, there are three levels of seating. Whether the forecast be sunny or rainy, garage doors provide flexibility for the space.
Drink Wisconsinbly
Considered a lifestyle brand thanks to not only its Deer District pub, but an apparel line, too, Drink Wisconsinbly has the ability to host between 25 and 150 guests for a private event. Embracing "the positive energy of a tailgate party" and "the communal vibe of a corner tavern," the pub is a destination for Wisconsin sports fans.
Good City Brewing
One of the microbrewer's three area locations — others are in Wauwatosa and on Milwaukee's East Side — this dog-friendly taproom's Oak Room caters to private events that could include a business function or board meeting. Up to 20 people can be accommodated with a robust food menu.
The Plaza
Activations in the 75,000-square-foot outdoor plaza can be folded into a meeting or event, too. There's the Christkindlmarket in November and December, or yoga sessions during the warmer months.
Come spring of 2023, a 205-room, nine-story hotel called The Trade Milwaukee Hotel — part of the Marriott Autograph Collection — will join these amenities in the northern end of the Deer District. A rooftop area, 8,700 square feet of event and meeting space on the second floor, a first-floor restaurant, and a ninth- floor eatery and lounge will all be available for groups to use.
"We are super excited that the Deer District is growing to offer more to our clients," says Brigman. "That now means we are a one-stop shop."
Another upcoming expansion is at the neighboring Wisconsin Center District, a complex at Fourth Street and Wisconsin Avenue, further elevating Milwaukee on the national meetings and events market stage. In November, the city broke ground on the $420 million project, which when complete, will add 112,000 square feet to the exhibition hall, enlarging it to 300,000 square feet.
One corporation in Milwaukee is already utilizing both the Deer District and the Wisconsin Center District for its annual meeting: Northwestern Mutual. A stage at Fiserv Forum kicks off the meeting, followed by other activities at the Wisconsin Center, proof that the two districts are perfectly in sync for serving today's meetings and events industries.