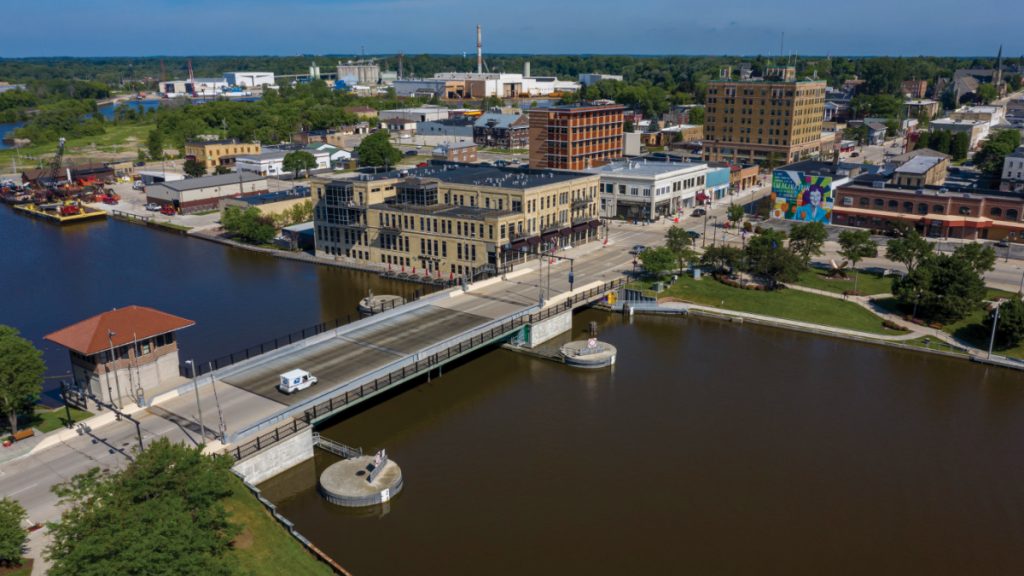 Destination Manitowoc
11/09/2021
By Kristine Hansen | ©Manitowoc Area Visitor & Convention Bureau
In picking a locale for a meeting or event, convenience often wins out.
That is what Jason Ring realized early on when promoting the lakefront town of Manitowoc and the surrounding county.
"We're an easy community to get to," explains Ring, president of the Manitowoc Area Visitor & Convention Bureau. "The whole eastern part of the state accesses us pretty easily." That's thanks to Interstate 43, which snakes north from Milwaukee to Green Bay. Manitowoc has a population of 32,702 and is about 90 minutes from Milwaukee, 45 minutes from Green Bay and an hour from the Fox Cities.
But beyond accessibility, the beautiful setting hugging Lake Michigan boasts uncrowded beaches unlike other parts of the state. According to Ring, outdoor activities and cocktail hours are often folded into event itineraries to capitalize on the view.
Rural Culture
One new attraction in Manitowoc that's perfect for groups to explore — either together or on their own — is the Wisconsin Coastal Food Trail. This trail links creameries, wineries, a maple syrup farm, restaurants, pubs, butchers, breweries and fisheries that rely on locally sourced ingredients (or make those products) in one easy-to-follow route. "It's a neat way for people to get a taste of our community," says Ring.
In addition to its lovely outdoor surroundings, Manitowoc's museums and cultural centers — showcasing art, the history of farming and the maritime heritage of the Great Lakes — offer ample space for hosting meetings. "We have a lot of museums that engage you in the exhibits," says Ring, "and add to your group's ability to use the space." For instance, a meeting at the Wisconsin Maritime Museum could tack on a private, hour-long presentation by the museum's submarine curator. And at Rahr-West Art Museum, a docent-led tour dives deeper into the Victorian mansion's history.
Ring notes that agricultural groups love to book meetings and events at Farm Wisconsin Discovery Center, a 10,000-square-foot educational center with an adjacent store and café visible from I-43 and open since 2018. With several event spaces to choose from, the center can host anything from intimate receptions for 30 up to epic events with 350 guests. A cow-birthing barn brings the realities of the farm to the meeting. And a 15-foot-tall garage allows for showcasing farm machinery, if that's a focus of the meeting, along with a separate entrance to the facility.
"This is a great facility to bring groups in with [agricultural] ties," suggests Ring.
Similarly, the Wisconsin Maritime Museum (located downtown on the Manitowoc River, which flows into the adjacent Manitowoc Harbor and Lake Michigan) tends to attract "groups focused on the health of the lakes," says Cathy Green, the museum's executive director. Plus, the stunning backdrop of Lake Michigan provides around-the-clock inspiration with "the best view in town."
"A lot of corporations use the museum as a place to do planning retreats," she continues. And within the last two years, two national museum groups also hosted conferences here.
In 2019, the museum completely renovated its meeting spaces, including a rooftop deck that's proven to be popular, according to Green. It even comes with the advantage of live music five nights each week from The Wharf, a nearby venue on the waterfront. "Not only have we gained this great venue on the roof, but we have music provided," says Green.
Wisconsin Maritime Museum facilities include the Roof Deck with 3,100 square feet of outdoor space, the Riverview Room with 1,800 square feet that can be divided into up to three separate rooms, the Board Room with 400 square feet or the USS Cobia Theater for groups up to 35 people.
Both the Wisconsin Maritime Museum and Farm Wisconsin Discovery Center use large, flat-screen monitors to help accommodate remote speakers, which has become more common since the COVID-19 pandemic.
For a more refined vibe, the Rahr-West Art Museum can cater to groups who would rather meet in a space surrounded by paintings and other artistic works, such as in the museum's John West Gallery, or in one of three other dedicated spaces for meetings. All in all, the museum can host between 25 and 150 guests, depending on the meeting or event's size and needs.
Another venue with an educational angle is the Manitowoc County Historical Society, which offers five different rental sites at the historic village. All of them are ideal for a group that wants to feel seeded in history, whether it's post- meeting cocktails at the Pinecrest Saloon or gathering outdoors on the village green near Niles Church.
Speaking of groups that want to be steeped in history, when Green moved to the Manitowoc area four years ago, she says that she was immediately inspired by the historic downtown. "It's a beautiful place to be and very walkable," she says. "The history's still intact here, which you don't have in a lot of places. We're building on the historic pieces that were here before. I love how this town has grasped onto those."
Local Venues
Despite its size, Manitowoc continually adds new restaurants and breweries — which also open their doors to small groups for meetings. This includes Sabbatical Brewing Co., a brewery and taproom opened in 2019 by a homebrewing couple in a former Manitowoc flour and grain mill that's been thoughtfully repurposed while still honoring its historic roots. There are plans to debut an event space on its upstairs level later this year.
PetSkull Brewing Company is another newcomer to Manitowoc, opening a taproom four years ago. This past summer, the brewery relocated to Buffalo Street in downtown Manitowoc — settling into the 100-year-old, two-story, former Manitowoc Iron and Metal Company building with exposed Cream City brick. The space includes a Cajun and Creole eatery, and an outdoor patio with room for 100 guests. "We've seen a lot of restaurants add outdoor dining in the last year" in response to patrons' increased desire for social distancing due to the COVID-19 pandemic, according to Ring.
Several local wineries are also unique meeting spots for small groups. Parallel 44 Vineyard & Winery, Silarian Vineyards and Duck Creek Vineyard & Winery all pour their wines in a tasting room that includes vineyard views as well as access to outdoor space. Some, like Duck Creek, can even take guests into the vineyard on a guided tour. Event and meeting organizers might also like to consult a winery's calendar to incorporate activities like live music or yoga into a group's visit.
The Manitowoc area's two largest meeting venues — which double as hotels — offer a different experience at each. Near I-43, the 204-room Holiday Inn Manitowoc Hotel & Conference Center flaunts 20,000 square feet of meeting space and the on-site 4601 Bar & Bistro, which is open for all-day dining. Closer to the water — and literally above the beach — the Lighthouse Inn on Lake Michigan is in the nearby town of Two Rivers. Just like the name suggests, the Lighthouse's Water's Edge Restaurant (open for breakfast, lunch and dinner) overlooks the lake through panoramic windows. Or you can reserve the Seymour Althen Banquet Hall, which also offers lake views.
Booking a meeting at either property means guests don't need to leave, or can at least enjoy leisurely coffee meetings in the morning or cocktail receptions at night — all in the same place, all within the same convenient region of Manitowoc.