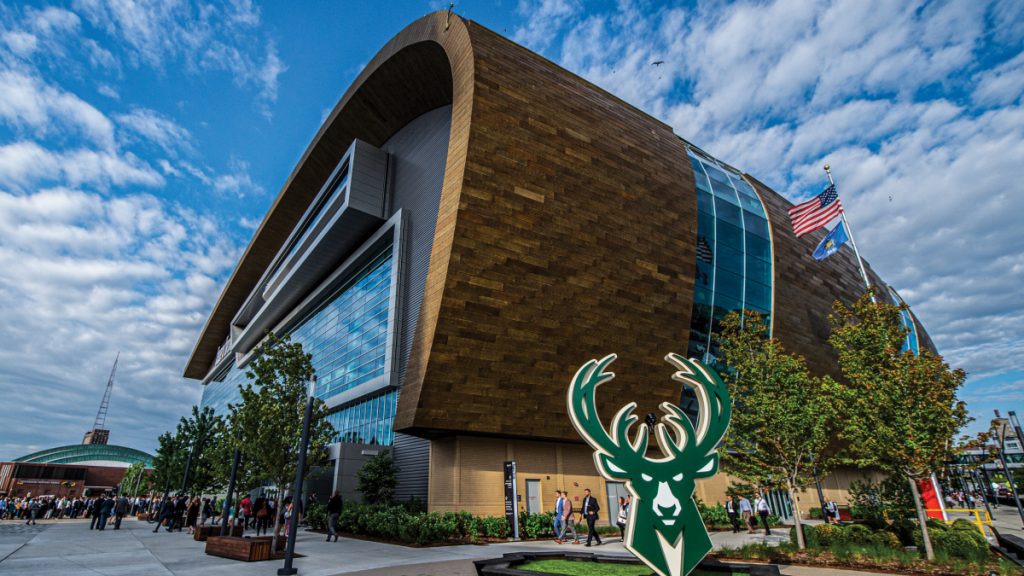 Gather at Deer District — For Any Event
11/09/2021
By Sue Sveum | © Deer District
You might think that an event space located in the heart of Milwaukee's Deer District — overlooking Fiserv Forum, home of the 2021 NBA Champion Milwaukee Bucks — would cater primarily to casual sports-related events. But one glance at Gather at Deer District, featuring a modern, elegant setting, delicious food and stunning views, and you realize that it has much more to offer planners of any event.
"We just opened in May 2021 and hosted our first corporate event on May 18," says Mallory Brigman, director of event sales. "Gather is a flexible event space that can accommodate a variety of events — so we're currently seeing a wide range of bookings from corporate meetings to wedding receptions. Basically, anyone looking for a great, unique space."
With 6,000 square feet of flexible space (which can hold groups of roughly up to 300 theater-style), Gather is equipped to host a variety of events. A lower-level entry area, with plenty of room for guests to mill around with a welcome cocktail, is ideal for registration, a place card display and more. According to Starr Butler, vice president of booking and events, the balcony at Gather is another great perk. Overlooking the plaza at Fiserv Forum, it gives guests a one-of-a-kind, VIP visual experience to everything in the Deer District.
Ever since huge crowds were seen gathering outside Fiserv Forum for Bucks home playoff games, the Deer District has quickly become a must-see downtown entertainment area. "Gather benefits meeting and event planners looking at Milwaukee as a destination due to both the location and uniqueness of the space," says Butler. "The design of this space allows planners to truly customize the experience they want their attendees to have." And there's no doubt that Gather's convenient and lively location within the Deer District is a plus.
"The success of the Milwaukee Bucks has been great for the entire city," says Brigman. She explains that, in addition to its location, ESPN using Gather for its nationally broadcast show, "The Jump," during the playoffs has vastly increased interest in the space as well. "We received great visibility during the NBA finals," she says, "and now we're excited to welcome and host many more events!"
According to Butler, Gather's location is very attractive to meeting planners for another reason: It's the only standalone event venue within the Deer District that's dedicated to private events.
In real estate, they say it's all about location, location, location. But when it comes to events and event planning, there's a little more to it. So when you choose Gather to host your event, what can you expect in terms of service? "We're proud to offer a world-class experience," says Brigman, adding that the dedicated event operations team assists clients in preparing for their meeting by providing layouts, load-in and load-out information, audiovisual quotes and the finalization of all logistics prior to the event date. Clients also soon discover that the same dedicated event coordinator who assisted them in preplanning will be on site during the full event.
When it comes to food, Gather's catering partner, Levy, offers a customizable experience that allows you to create a menu that best fits your event. The organization also acts as a dedicated, on-site contact for food and beverage operations during the event.
The 365-day venue service team (which includes Fiserv Forum, Deer District and Gather) is both flexible and persistent. "We know we can host a multitude of premium events at one time with flawless execution," says Butler. "Our clients are at the forefront of our business — and we continue to provide service and one-of-a-kind experiences as one of Milwaukee's premier venue destinations."