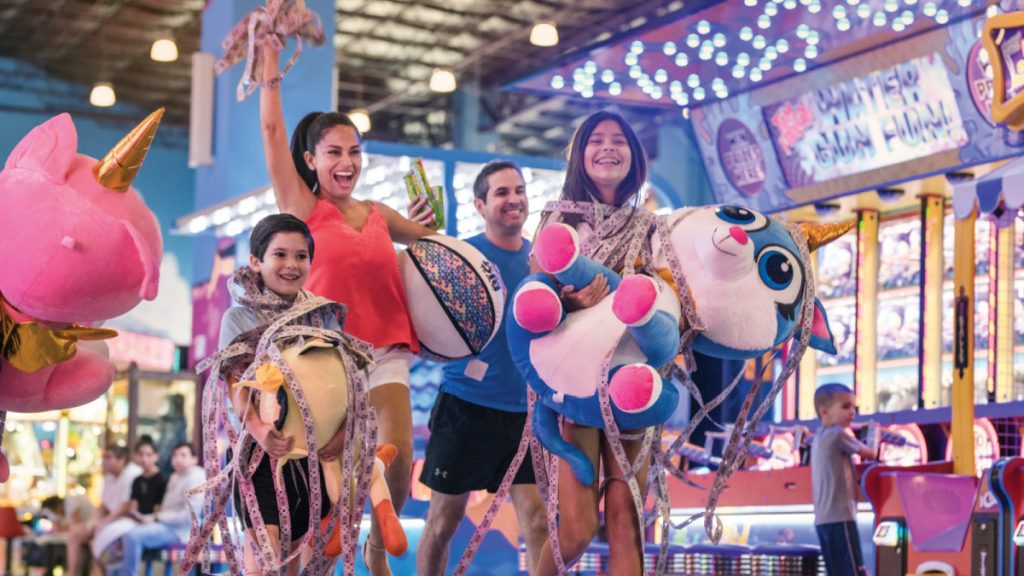 Balancing Work and Play
11/09/2021
By Kristine Hansen
These family-friendly venues offer meeting- and event-goers a chance to let the family tag along on their business adventures, increasing the likelihood of attendance.
After 18 months of reduced corporate and leisure travel, and endless weeks of virtual schooling and childcare uncertainty during the COVID-19 pandemic, family members tagging along for a work trip no longer seems out of the ordinary. This exception to the rule is especially true when the meeting or event site features amenities like a waterpark, spa, horseback riding and ice skating. When the accommodations include a pool and someone else to do the cooking, what spouse or child wouldn't jump at the chance to go along?
Because the line between professional and personal lives has started to disintegrate during the pandemic, the term "bleisure"— an artful mix of business and leisure travel — is becoming more commonplace. As such, meeting and event planners may want to consider booking venues that provide family entertainment not only for the event, but for pre- and post-event fun as well.
Kalahari Resorts & Conventions, Wisconsin Dells
Although it's centrally located in the state, the African-themed Kalahari Resort & Convention Center in Wisconsin Dells — home to the state's largest indoor waterpark at 125,000 square feet — feels worlds away from Wisconsin. This is, in part, due to the toucans, flamingos, giraffes and Bengal tigers at Timbavati Wildlife Park, located on site, which is open to all guests. The resort also runs an Adventurers Club for kids' activities, and Tom Foolerys Adventure Park with a ropes course, climbing wall, indoor zipline, bowling, laser tag and arcade.
Accommodations are well-positioned for families, too, including two-bedroom suites with private balconies. There are six different layouts for these types of rooms, proof that the resort knows how to customize for small groups.
"Planners report a 20% increase in attendance when their events are held at Kalahari, resulting from the desirable location for families," says Nicole Slemin, national sales manager at Kalahari Resorts & Conventions. "We see many multi-generational guests enjoying the resort during conventions, with grandparents and kids at the waterpark, while parents are in session. In the evening, the variety of dining venues and activities offers something that appeals to the entire family."
Grand Geneva Resort & Spa, Lake Geneva
"It's the perfect place to learn to ski," says Todd Conrad, Grand Geneva Resort & Spa's director of group sales, about the sprawling property in Lake Geneva. But even beyond The Mountain Top at Grand Geneva is Timber Ridge Lodge & Waterpark, an indoor waterpark, and an Adventure Center that sits on the resort's 1,300 acres. At the center, guests can rent outdoor gear appropriate for any season (for example, scooters and bicycles in the warmer months, and ice skates, snowboards and skis during the winter). Other activities include archery, volleyball, disc golf and walking trails. A vintage trolley helps guests get around the property with ease.
Coupled with the Adventure Center's adrenaline-filled activities are recently renovated villas that range from a studio size up to three bedrooms. "They really give you a calm feel," says Conrad, "with a living area, kitchen, pool [for villa guests only] and deck." Outdoor grills and firepits are right outside each villa's door, and staff can even stock the fridge and cupboards with groceries. These accommodations are also dog-friendly in case the family pet wants to come along.
Grand Geneva's 10,000-square-foot fitness center is another draw for guests, with daily classes, a sauna, a whirlpool and state-of-the-art workout machines. Being a full-service resort, three restaurants (the casual Grand Café, the Italian-infused Ristorante Brissago and the upscale Geneva ChopHouse), a coffee shop and two bars round out the fun. Grand Geneva's Experiences team additionally organizes family-friendly programming that's open to all resort guests throughout the year. This might mean a trivia night, pizza and guacamole challenges, scavenger hunts, bike- and sled- building classes, or chili cookoffs.
"We're a short drive away [from most of the state], but definitely a change of scenery, and away from the hustle and bustle," says Conrad.
Blue Harbor Resort & Conference Center, Sheboygan
"It's easy to make a business trip feel like a vacation," says Susan Engler, general manager of Blue Harbor Resort & Conference Center, which hugs the shoreline of Lake Michigan. "We know how important team bonding is, which is why meetings at Blue Harbor Resort are family-friendly. From the beautiful sunrises, nearby beach, walking trails along the shore or bike rides through the friendly city of Sheboygan, families are sure to find entertainment and relaxation when they tag along for a business retreat."
Back at the 243-room resort, Breaker Bay Waterpark features not only water slides, but also a glow-in-the-dark mini-golf course, arcade and eastern Wisconsin's only double surf simulator, The Riptide. When the weather is warm outdoors, says Engler, the property's expansive lawn consists of giant Jenga games, scavenger hunts and cornhole tournaments, while "paddle surfing, kayaking and charter fishing are all within walking distance." Sheboygan is also home to Above & Beyond Children's Museum and Bookworm Gardens, a botanical garden with vignettes inspired by works of literature written for children.
Then, "when the sun sets, bonfires and s'mores are on the agenda," says Engler, so groups can capitalize on the resort's beachfront perch.
The Waters of Minocqua, Minocqua
The Waters of Minocqua, built in 2001 with 106 hotel rooms, also offers an ideal location and family-friendly resort amenities. While its new conference center won't be complete until 2023, until then, there's an events center and several meeting rooms for the business traveler. For the leisure traveler, there's an indoor waterpark that's open year-round with two slides, a pool, a hot tub, a kiddie area and arcade. During the warmer months, there's an outdoor pool available to guests, too.
"It's a great area to take your family," says Carly Dubek, sales and events manager at The Waters of Minocqua. "We're a very family-friendly destination. Many of our events in town (like Beef-A-Rama, the Fourth of July, Carnival Nights, the Bearskin State Trail and other fun things) bring people to The Waters. I see families absolutely everywhere."
Dubek adds, "The central location is attractive for meeting planners, particularly state government organizations with employees traveling from around Wisconsin. When they come, they want to have a few days at the conference, then they want to unwind with the 'Up North' Wisconsin experience."
On top of the new conference center, the resort is also prepping to unveil a "floor- to-ceiling" interior renovation by the summer of 2022, says Dubek. Meeting rooms, guest rooms and common areas will all be revived. But don't worry, she says, "It's still going to be an 'Up North,' woodsy vibe."