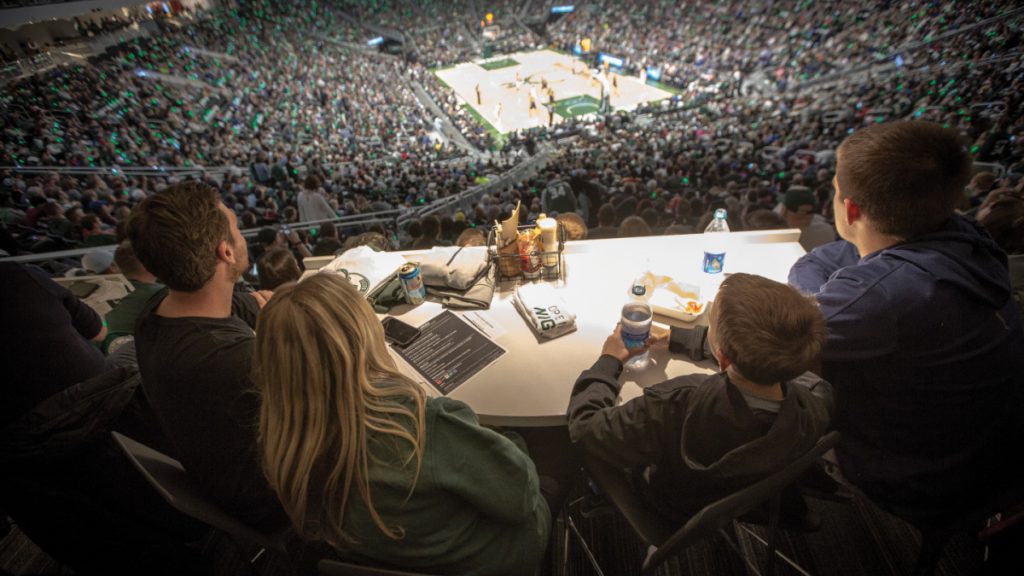 Play Ball at Sports Venues
07/29/2021
By Ronnie Wendt | Photo ©Fiserv Forum
The American Saddlebred Association of Wisconsin draws up to 400 best-of-breed horses and riders to its annual Summerfun Horse Show. Show organizer Vicky Holston says she always turns to Wisconsin State Fair Park for the event. Though a horse show is a sporting event that requires special amenities, such as stalls, and riding and practice arenas, Holston stresses she has other options for those things in Wisconsin for the event.
She chooses State Fair Park every year because of its helpful staff and comfortable facilities. Holston hosts three events during the horse show: a move-in lunch, a United Professional Horseman's Association event and an exhibitors' party. Trainers, riders and their families have high expectations for these events, and Holston never wants to disappoint.
"The staff helps us with setup and caterers, and the facility is beautiful," she says. "Because we host the event so close to the State Fair, every flower is in bloom. The barns being so close to the show arena and the new hotel nearby add to its appeal."
Holston's story is a common theme that plays out at the state's sports arenas, which host everything from fairs to football, baseball and soccer games. These facilities offer "truly unique experiences in flexible spaces," says Kim Chonos, director of catering and events for the Wisconsin Timber Rattlers of Grand Chute. "They allow planners to think outside the box and use different areas around the stadium that are not otherwise being used."
Vern Stenman, president of Big Top Sports & Entertainment, oversees events at Madison's Breese Stevens Field, where Forward Madison plays soccer, and Warner Park, where the Mallards play baseball. He says sports venues provide unparalleled novelty. "There is a unique look and feel in these settings. It's an entirely different atmosphere than a traditional venue. The spaces are cool and interesting, and add a unique flair to events," he says.
Plus, most sports venues offer adaptable indoor and outdoor areas that accommodate large and small meetings. And audiovisual needs are never an issue. "These facilities have incredible audiovisual capabilities," says Chonos. "We have a video board to show presentations, display photos or broadcast company logos. We can use stadium speakers and microphones for on-field events."
Typically, the sites are conveniently located off highways, and near hotels, shopping, restaurants and other entertainment. Moreover, parking is a breeze because sports venues generally offer hundreds to thou- sands of spaces.
LAMBEAU FIELD, GREEN BAY
Lambeau Field has long been a fan favorite for meetings and events. Its five-story atrium accommodates groups of up to 1,000 people for events that range from cocktail receptions to corporate meetings.
Private stadium tours of 20 to 35 people, or a stroll through the hallowed Hall of Fame
inject added flavor for the football lovers on your team. Guests can slip on curator gloves and handle precious archives, view private art collections inside executive-level boxes and even take part in a scavenger hunt. Private alumni tours led by a former Packer player also are available.
FISERV FORUM, MILWAUKEE
The Milwaukee Bucks have seized the spotlight as the team skyrockets to national prominence, but behind the scenes, Fiserv Forum, the Bucks' new sports and entertainment arena, is racking up its share of wins. This new arena can host up to 200 sporting and entertainment events a year, but the 730,000-square-foot space also can host hundreds of meetings in a smorgasbord of exceptional and dedicated meeting spaces.
"We created the building to be as flexible as we could make it," reports Mallory Brigman, director of event sales at Fiserv Forum. "While it has an open design concept, there are rooms or pockets we can scale down for a smaller meeting or event."
She highlights a few popular meeting and event spaces. The arena floor, the building's "most flexible meeting space," accommodates receptions of up to 2,000 people or transforms into a space fit for a 2,000-person dinner. The Panorama Club sits at the top of the arena and offers extraordinary views into the bowl, whereas an expansive outdoor patio provides a panoramic view of the city. This space works well for meetings of up to 84 people, but also can accommodate 450 guests for a reception. Like Lambeau Field, the facility's atrium doubles as a meeting space for up to 280 guests, while an outdoor, open-air plaza connects to the entertainment deck.
A group can additionally take in a VIP tour or game as part of its after-hours activities.
NEUROSCIENCE GROUP FIELD AT FOX CITIES STADIUM, GRAND CHUTE
Neuroscience Group Field at Fox Cities Stadium is home to the Timber Rattlers. Another engaging and entertaining venue for an event, the facility's Fox Club is a private indoor space for upscale or casual corporate events, meetings, holiday parties and receptions. It accommodates up to 250 people with modern finishes and customizable room setups. Glass windows overlook the field and guests can sit outside on the balcony to savor the view. The space includes a full-service bar and professional kitchen where on-site executive chefs can concoct the perfect menu for your event.
The stadium's six temperature-controlled luxury suites deliver a fully furnished indoor experience with couches, tables and chairs, a refrigerator and cable television. These areas accommodate 14 to 20 people and provide an outstanding view of the field. In contrast, smaller professional meetings might prefer a standard conference room designed to accommodate 14 to 20 people. If a casual bar setting is more to your liking, however, the Leinie's Lodge can hold events of up to 50 people on non-game days.
For a special experience, host your event on the field. Staging is set up at the pitcher's mound for speakers to present, and a large video board is used to display presentations, videos, sponsors or slide shows. Guests enjoy the meeting from the seating bowl.
For those looking to infuse a little fun into the day, include tickets to a game, a stadium tour, a mascot appearance or a fireworks display. "You don't have to be a baseball fan to enjoy at day at the ballpark," says Chonos.
WISCONSIN STATE FAIR PARK, WEST ALLIS
As home of the Wisconsin State Fair, most people know Wisconsin State Fair Park as a place where memories are made. And they know it as home to the iconic Original Cream Puff. But they may not realize this facility also offers a treasure trove of spaces for events, among them the Milwaukee Mile.
The Milwaukee Mile is a one-mile-long oval racetrack. Its grandstand and bleachers seat 37,000 spectators. The sky is the limit here. Planners can use the site for bike races, charity walks and more. The Wisconsin Exposition Center, which is just shy of 200,000 square feet, provides flexible meeting space and a blank canvas to create an event uniquely your own. Then there are the Wisconsin Products Pavilion, which offers 32,000 square feet, and a coliseum that hosts sporting events and other activities.
"Anything is possible in our spaces," says Andrea Rowe, director of event services at State Fair Park. "We've hosted boat shows, volleyball events, horse shows and more. If you have something that demands a lot of parking and a fresh look, we can help. We can work some magic and inject energy into your event. And our location is unbeatable. It's just off the freeway, and easy to get to from the North, South, East and West."
WARNER PARK AND BREESE STEVENS FIELD, MADISON
Just eight blocks northeast of the Wisconsin State Capitol lies Breese Stevens Municipal Athletic Field. This multi-purpose stadium is the oldest masonry grandstand in Wisconsin. Meanwhile, the Mallards baseball team plays at a field not far away in Warner Park, on the city's north side. Both venues offer unique settings for planners wanting to knock an event out of the park.
"The baseball field offers a nice meeting setting. We've hosted everything from drive-in movies during the pandemic to weddings," Stenman says. "We also offer the Great Dane Duck Blind Club, which is a large party deck with indoor space on the right field corner of the stadium."
The Duck Blind building features three levels with 12 individual suites in a climate- controlled space. "We put on events for 200+ people in this building and we can do it year-round," according to Stenman.
Summit Credit Union has hosted a major shareholder event right on the field for 3,000 people, for example. The family-focused event takes place before the season begins. "They bring in food, kids' games and credit union leadership who present from the field to people in the stands," adds Stenman.
Planners also can use the field at Breese Stevens for their events. Often, they incorporate a soccer, baseball or kickball game. They can even host a party on the rooftop with great views of the field. And Breese Stevens staff collaborate with planners to host the perfect get-together, networking event, keynote speaker or team-building event. Like many other sports venues in the state, for after-hours entertainment, planners can include tickets to a game or a facility tour.
Get into the theme with baseball concession-type food, or go high end and let Breese Stevens' top chefs whip up a menu that delivers steak, scallops and even lobster.
"People in the community already associate our venues with fun," Stenman says. "We can add that to your events, too. When people come here for a meeting, they're looking for something different and a little unexpected. They are looking for fun."