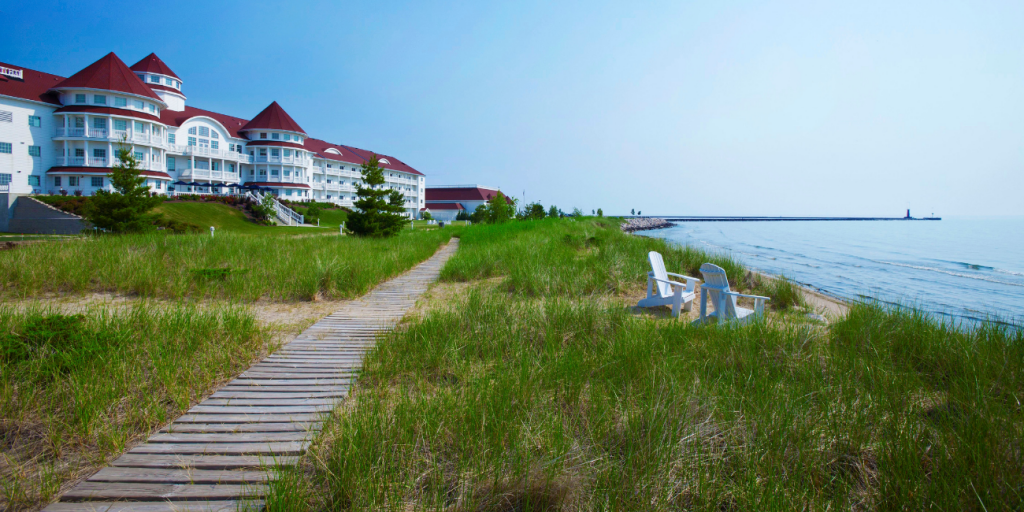 Meet and Relax at Blue Harbor Resort
06/10/2021
From initial concept to flawless execution, a Blue Harbor event involves far more than menus and meeting spaces.
Conveniently located on the shoreline of Lake Michigan in the Harbor Centre District of Sheboygan, the Wisconsin Conference Venue at Blue Harbor Resort provides beautiful and unique indoor and outdoor meeting spaces that are customizable to your needs. The resort boasts more than 16,800 square feet of convention space, an 81- by 127-foot Grand Ballroom that may be partitioned into seven different style meeting spaces and has 16-foot ceilings, and a 4,025 square foot pre-function area that overlooks Lake Michigan.
You will feel right at home in Blue Harbor's stately and comfortable deluxe accommodations. The resort offers 179 guest suites that range in size from 500 to more than 1,900 square feet, and 31 beautiful two-bedroom and four-bedroom villas.
Beautiful Views
Blue Harbor Resort has the unique distinction of being a Wisconsin destination seated right on the shore of Lake Michigan. The spectacular waterfront views provide the perfect backdrop for your event.
Corporate Meetings
Blue Harbor Resort views every meeting as an opportunity to provide unique solutions that not only achieve but also exceed your organization's goals. Whether you're focused on driving sales, conducting a training initiative, introducing a new product, inspiring breakthroughs, or fostering innovation, Blue Harbor Resort's unparalleled professional development and creative resources will help you produce dynamic meetings, imaginative special events, and one-of-a-kind networking opportunities.
Team-Building Activities
Blue Harbor Resort believes that to work better together, you must let your guard down and build relationships with one another. Closeness comes naturally at Blue Harbor Resort. The key to meaningful bonding lies in providing inclusive, engaging activities in a stress-free environment — allowing you to open up, and feel free and relaxed. Blue Harbor is far more than just menus and meeting spaces. Here, you'll experience an eclectic mix of activities including Techno Hunt, The Great Race, In It to Win It, Beach Battle, Shark Pool, Trapped in the Tropics, and more!
Make It a Vacation
Give your meeting attendees the gift of a true meeting destination. Combining unique meeting accommodations and an outstanding array of recreational options including our indoor waterpark, and our adjacent proximity to the many attractions in and around the city of Sheboygan, it is easy to see how Blue Harbor Resort sets the standard for a successful meeting.
Bring your group to Blue Harbor Resort for recreation, relaxation, and a bonding experience they'll never forget. Please browse some of the exciting options available and start making your next trip more memorable.