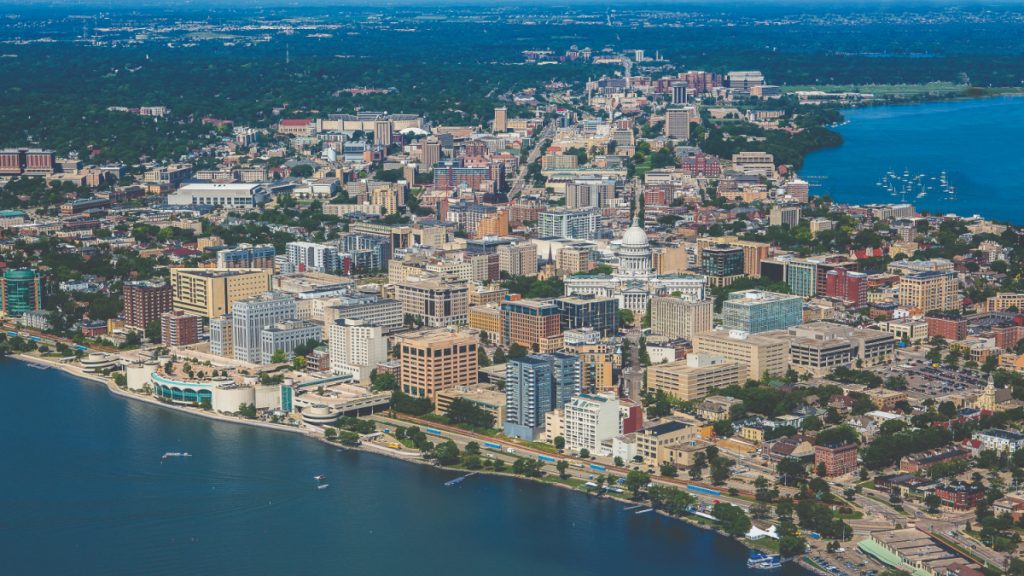 Destination Madison
02/08/2021
By Melanie Radzicki McManus | © MONONA TERRACE
Fresh air and lots of space are hot commodities today, and are likely to remain so. That's great news for Madison, especially as it pertains to the meetings and events industry. Wisconsin's capital, with a population of more than 250,000, is not only home to a wide variety of prime meeting venues, but it's also an outdoor paradise. Downtown Madison is snugged between scenic lakes Mendota and Monona, cradles a 1,200-acre arboretum nearby, and boasts an extensive, sports- centric network of bike paths, water routes, hiking trails and more.
"What Madison has in its downtown that other places don't is easy access to the outdoors," says Rob Gard, director of public relations and communications for Destination Madison. "If you're at a downtown convention here, you can walk out the door and rent a bike, boat or kayak; go for a stroll in one of several parks; or walk down State Street."
And you don't have to worry as much about bumping into the throngs of people you would encounter in a major city, says John Leinen, Destination Madison's vice president of convention sales and services. "You're not out on the sidewalk walking shoulder to shoulder."
Leinen says the city is home to approximately 800,000 square feet of meeting space and 9,000 hotel rooms, with the largest venue being the Alliant Energy Center. The Alliant Energy Center features 100,000 square feet of exhibit space; 150,000 square feet of convention, conference and meeting space; and nearly 300,000 square feet of pavilion space via two pavilions well-suited to agriculture and livestock groups, sporting events and hobby enthusiasts. Two popular clients are the Midwest Horse Fair, which draws more than 60,000 people annually, and the CrossFit Games.
The other major meeting venue is Monona Terrace, a Frank Lloyd Wright-designed community and convention center that took nearly 60 years to come to life. But it was worth the wait. The striking curvilinear facility projects out over Lake Monona, with massive banks of windows that allow the sparkling water to spill inside.
Its rooftop is on the same level as Martin Luther King Jr. Boulevard, which links the building with the city's Capitol Square. And a step outside the back door puts you on the paved 20-mile Capital City State Trail.
Laura MacIsaac, Monona Terrace's director of sales, says the facility has 85,000 square feet of indoor meeting space, including a 37,200-square-foot exhibition hall and a 13,500-square-foot ballroom. A rooftop garden and café adds another 68,000 square feet of space. This means that, even with COVID-19-era space restrictions, there's plenty of room to spread out. In addition, Wright's organic architectural style and warm, earth-tone décor make the space soothing.
"There are no hard corners here, just lots of curves, which are meant to emulate the waves of Lake Monona," MacIsaac says. "Even the shadows that the light throws are curved. People are always delighted at how beautiful and calming it is here."
Recently, Monona Terrace unveiled a new conference studio to facilitate virtual meetings, plus nabbed a prestigious Global Biorisk Advisory Council (GBAC) STAR accreditation for cleaning, disinfection and infectious-disease prevention. "This is like a Leadership in Energy and Environmental Design (LEED) certification, but for cleaning," explains MacIsaac. "We want visitors and our staff to feel safe here."
Lots of Options for Meeting and Sleeping
While the city's two main meeting spaces don't contain lodging, hospitality is not an issue. Several spacious hotels are clustered near the Alliant Energy Center, while the Hilton Madison is conveniently connected to Monona Terrace via a covered walkway. And, of course, many of the city's meeting venues are tucked into hotels like The Madison Concourse Hotel and Governor's Club.
The popular Madison Concourse Hotel sits on the Capitol Square and offers 27,000 square feet of flexible meeting space, including 28 meeting rooms, six hospitality suites and a 10,200-square-foot grand ballroom. The recently renovated Governor's Club completes the offerings. Reserved for guests staying on certain floors, the 12th- floor Governor's Club lounge provides exceptional views of the Capitol.
Steve Zanoni, general manager, says the hotel's sweet spot is hosting groups in the 200- to 350-person range, although it attracts a lot of smaller and mid-sized groups as well. "We have a lot of rooms in diverse sizes and that's a great advantage."
Like Monona Terrace, The Madison Concourse Hotel has a GBAC STAR accreditation. And Zanoni says its culinary options are impressive: "We have a fantastic culinary team that can do things larger groups don't expect, like customize the menus and incorporate a lot of locally sourced products."
Of course, not everyone is looking for a large meeting venue or a traditional one. For smaller groups searching for the unique, Madison has plenty of choices, too. The new Hotel Indigo has one meeting room that can hold up to 80, plus 144 guest rooms. The boutique hotel was created in a building that was once home to Mautz Paint Co. and reflects this heritage, featuring bright pops of color, historic photos, and even a small display case filled with old paintbrushes, paint cans and more.
Garver Feed Mill began as a sugar beet processing facility in 1906, transitioning to a feed mill and granary in 1929. Nearly a century later, in 2019, it reopened as a local artisan food production center after extensive renovations. Today, Garver Feed Mill can host meetings for up to 500 inside, with another 280 outdoors, while guests check out its unique eateries, including Ian's Pizza, Calliope Ice Cream and Ledger Coffee Roasters.
At Olbrich Botanical Gardens, there are three rooms for rent that can accommodate 200 and all of them have beautiful views of the gardens. The Overture Center for the Arts, a spectacular performing arts center and art gallery downtown, has 16 unique meeting spaces that can hold from two dozen to 2,000 attendees. The meeting spaces include several theaters, a lounge and the impressive, light-filled Overture Hall Lobby. But perhaps one of the most unexpected meeting facilities in the area is Holy Wisdom Monastery.
Holy Wisdom is an ecumenical Benedictine monastery with meeting space for up to 300. Even better, it's perched on acres of land that include 4 miles of trails, a glacial lake, restored prairie, apple orchard and killer views of Lake Mendota. It's also adjacent to Governor Nelson State Park.
Monica Jefcoat, personal retreat and event coordinator, says the monastery hosts many spiritual groups, in addition to nonprofit corporations, businesses and more. "We're especially popular with groups looking to do health and wellness or spirituality retreats," she says.
The monastery can accommodate more than 20 people overnight via its retreat and guest house, plus two cottage-like hermitages set in the woods. Guests are welcome to enjoy all of the outdoor spaces, plus use the monastery's library and chapel, join daily prayer services, sign on for any guided hikes or building tours, and even use complimentary snowshoes in the winter.
Not surprisingly, the No. 1 reason people enjoy meeting at the monastery is its beautiful setting and outdoor offerings. But they also love the food, according to Jefcoat. "Chef Robert is outstanding," she says. "He prepares lots of food from scratch, often using produce and herbs grown in our gardens. He's especially known for his brownies and baba ganoush."
Destination Madison Here to Help
No matter where you're meeting and staying, Destination Madison wants to help ensure smooth planning. Recently, the group unveiled its innovative One City. One Contract. program, which helps streamline the meeting process by offering
planners one contract for all of their hotel blocks. The program is for groups using either Monona Terrace or the Alliant Energy Center, and which need more than 200 peak rooms. It also aims to mitigate risk with features such as not needing attrition values to be locked in until 11 months out (through 2024).
Destination Madison was also a major force behind the creation of Essential Madison Experiences, which offer a wide variety of ways for people to immerse themselves in signature Madison adventures. One great example is Bitters Boot Camp. Bitters are an important ingredient in Wisconsin's signature cocktail, the Old Fashioned. During the Bitters Boot Camp, participants enjoy a flight of Old Fashioned drinks, each with a distinct flavor, then blend their own bitters to take home.
The Olbrich Botanical Gardens Experience involves a guided sensory tour of the gardens or conservatory during which participants can see, smell, taste and touch some of the plants, both common and exotic. Before leaving, everyone receives a craft cocktail inspired by some of the plants on the tour. Leinen says many groups use these Essential Experiences as team-building activities or offer them to attendees as after-hours options.
Of course, the current state of business in Wisconsin and across the nation is in flux, thanks to the coronavirus. Regardless, experts across a variety of fields predict that, even after COVID-19 is vanquished, people will continue to look for opportunities to be outside. And that will keep Madison a popular spot for meetings.