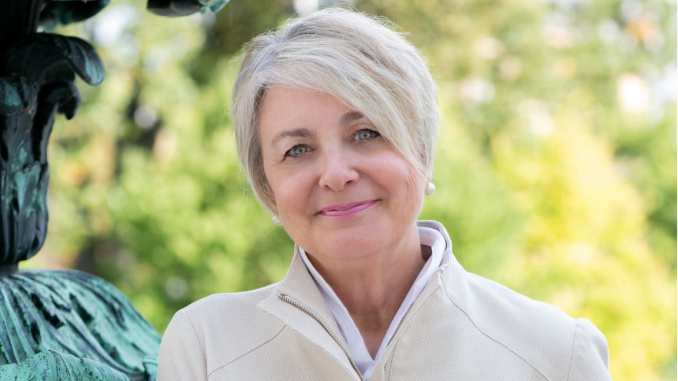 A Lasting Legacy
02/08/2021
By Ronnie Wendt
For 25 years, Deb Archer has been one of Madison's biggest advocates, championing the city as a great destination for leisure travel as well as events. As president and CEO of Destination Madison (formerly the Greater Madison Convention & Visitors Bureau), Archer stepped down from her post at the end of 2020, but not before garnering one last award and a prestigious one at that — the governor's Tourism Legacy Award.
The award follows a remarkable list of achievements. Under Archer's leadership, Destination Madison received recognition as Wisconsin's Most Helpful Convention & Visitors Bureau (CVB) and several Wisconsin Department of Tourism Trailblazer awards.
Jason Ilstrup, president of Downtown Madison Inc., however, lists Archer's greatest achievement as the legacy she leaves behind. "Deb raised the profile of Madison. As a smaller midwestern city, Madison doesn't like to brag, doesn't like to think big, doesn't like to dream. Deb allowed our community to see itself as something bigger, something we should all be proud of and someplace where we should stretch our thinking," he says.
"Deb thinks big and she brings everyone along with her. Her indelible mark is her creativity, her fearlessness and her generosity of spirit, all of which helped create a vibrant Madison for all of us to enjoy."
Greg Frank, board chair of Destination Madison, echoes Ilstrup's sentiments in a statement announcing Archer's retirement, "Deb Archer's mark on Madison and Dane County will last far beyond her years leading Destination Madison."
GROWING MADISON MEETINGS AND EVENTS
Archer came to Destination Madison from Kansas City in 1994 as construction began on the Monona Terrace convention center. It was the incredible opportunity the new building presented and the crystal-clear, beautifully glistening lake that greeted her as she drove into the city that attracted her to the role. (That and a fiancé who already lived and worked in the city.)
She landed the vice president of sales position at Destination Madison after spending nearly 10 years as the associate director of sales for the Kansas City CVB, and six years as the executive director of the Park City CVB and Chamber of Commerce. Because Archer knew and understood the value of a strong sales team, her first act was to build out the sales team in Madison.
"We needed to build a convention and sales department," she says. "Monona Terrace was definitely the catalyst for growth because it brought business downtown. We found that, if you bring business downtown, the sales team can bring business here."
This philosophy bore out in the years that followed. The Frank Lloyd Wright-inspired Monona Terrace opened in 1997 and the Overture Center for the Arts followed in 2004. As these venues and others opened, the city's meetings and events business flourished.
A growing airport and a thriving downtown helped Archer, who was promoted to CEO of Destination Madison in 1995, and her team secure events like the Gold Wing Road Riders Association's annual international Wing Ding event, which brought in over 13,000 Honda Gold Wing riders and other touring motorcycles to Madison in 2014. Furthermore, they helped grow the Taste of Madison into a notable event featuring the fares of more than 80 restaurants and offering over 35 live music performances. It also aided the launch of the Madison Marathon until the CVB sold both events to Madison Festivals Inc.
Then the Ironman Triathlon came to the Dairy State in 2002. The knockout success of this event helped Archer put another feather in the city's cap as she led the formation of the Madison Area Sports Commission (MASC) in 2010. The biggest "get" forming the MASC was the CrossFit Games, an event that led to MASC receiving recognition as National Sports Commission of the Year in 2018.
"The city's presence as a destination grew with the construction of the Monona Terrace, a stunning building that attracted national attention," she says. "But what keeps people coming back is Madison's walkability, its incredible food scene, and clean, beautiful and safe neighborhoods. There are 14 million people within a four- hour drive of here and there is also the allure of the University of Wisconsin- Madison's elite faculty."
COVID-19 IMPACTS
In 2019, Destination Madison and the Madison Area Sports Commission, and the 153 meetings and events they brought in, netted an economic impact of more than $67 million. The visitor spending tally came to $1.4 billion in 2019 and more than $6 billion over the previous five years.
COVID-19 has dampened the 2019 high. Archer describes Madison's hospitality industry as being in "critical condition." At the onset of 2020, 22,600 residents held hospitality-related jobs and hundreds of businesses thrived because of visitor spending. Today, many of those individuals are out of work, or temporarily or permanently out of business. Destination Madison is also suffering the effects, furloughing or permanently laying off one-third of its staff.
Peers recognize Archer for her handling of tenuous moments and tough times, reports Janet Sperstad, meeting and event management program director of Madison Area Technical College, noting she remained calm, steadfast, strong and compassionate during the pandemic. "She is so respected in the industry. It's not what she says — it is what she does and how she does it. With integrity," says Sperstad. "She showed other female leaders that you can be compassionate and strong. She is a hallmark in our industry as a female leader. She mentored many women in our industry, me included."
Even as Madison reels from the aftereffects of the pandemic, Archer remains positive. She credits her positivity to the great Destination Madison team, who she says has been "resilient, innovative and committed. We can only get through this together," she says. "We have to do whatever it takes, so we put on our thinking caps to figure out how we can support public health."
While Archer acknowledges her team for its actions, others (like Ilstrup) applaud Archer's leadership for the area's ability to navigate the new normal. "From the start of the pandemic, Deb understood the devastating effects COVID-19 would have on our community and the tourism sector. She acted quickly and decisively to ensure her community had the resources needed to survive the immediate crisis, all while keeping her own organization going," says Ilstrup. "Deb created coalitions to find commonalities, advocate to local officials with one voice, and gather large amounts of data to find innovative solutions to ensure there is an equilibrium between people's health and the economy."
CORONAVIRUS-INSPIRED CREATIVITY
Years earlier, Archer and her team designed the One City. One Contract. initiative to promote the growth of meetings and events. Through the first-of-its-kind streamlined program, planners sign one master contract for city hotels across multiple brands. The contract outlines terms and processes, such as force majeure, indemnification and how venues administer cut-off dates. Hotels simply issue an addendum to the master contract that secures negotiated rates and concessions.
Since March 2020, Destination Madison has revised the One City. One Contract. program to address the needs of the new normal. The CVB worked with local hotels to create a policy (which is effective through 2024) with no attrition risk until 11 months out from an event. The policy applies to groups needing over 200 rooms, and using either the Monona Terrace or Alliant Energy Center.
"The change says to planners, 'We know you will not know what your room blocks are until you experience them.' Hotels now let planners lock in their rooms, but they don't have to lock in all of them. They can lock in a percentage of the rooms they need, and leave the remaining rooms as a courtesy block until the customer or the hotel needs those rooms," according to Archer.
Destination Madison also launched the Explore Outdoor Madison campaign to direct residents and regional visitors toward local outdoor activities. The campaign highlights the fun activities and natural physical distancing found on the city's five lakes and 240 miles of bike trails, and in hundreds of parks.
"Explore Outdoor Madison got the word out about all of the ways people can enjoy themselves in this great city," she says. "We also supported the Mask Up Madison campaign to promote public health."
Though Madison remains in the throes of the pandemic with many venues partially or fully closed, Archer's optimism remains high. She remarks, "This is the time to plan, to apply and to dream."
She adds that it's also time for someone new to take the reins at Destination Madison. (Ellie Westman Chin was recently named as Destination Madison's new president and CEO. See In the News on Page 6.) In the meantime, Archer plans to join her husband in retirement and focus her energies on her infant granddaughter.
"I know this may not seem like an ideal time for me to depart the organization, but honestly, I think it could prove to be an ideal time," she wrote in a blog announcing her retirement. "As our community and industry strives to recover, there is an amazingly talented group of professionals at Destination Madison, and we have a board and industry and community partners that most organizations like ours would covet. Together with an industry that is eager, hungry and creative, and new leadership, I know this destination will emerge as a leader, and a sought-after place to hold meetings and sports events, and spend leisure time."