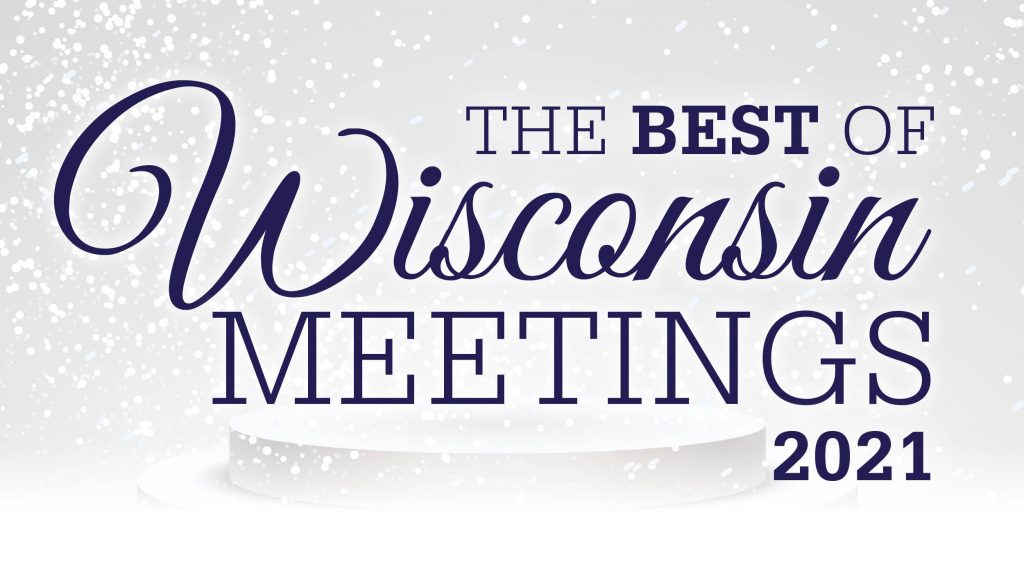 The Best of Wisconsin Meetings 2021
02/08/2021
By Carrie Mantey
Wisconsin Meetings concludes each year by tallying the results of our Best of Wisconsin Meetings annual readers' poll. Discovering our readers' choices for the best the Dairy State has to offer is like opening a gift. Even more intriguing is comparing how sentiments shift from year to year.
Judging from this year's responses, competition in the meetings and events world is fiercer than ever, especially with the onset of the COVID-19 pandemic, a time when uncertainty magnifies the importance of customer satisfaction. Today's suppliers must be vigilant to provide fresh ideas, products, services and amenities, while offering top-of-the-line customer support. And they must innovate while staying within the confines of their budgets. It's even more difficult in a turbulent economy with public safety guidelines in constant flux.
The names that follow are your selections for vendors that meet and exceed customer expectations. While the following properties and organizations may not be fully functional at this time due to varying local health requirements, they have proven their dedication to their customers and the industry in 2020.
BEST LARGE CONVENTION CENTER:
Wisconsin Center, Milwaukee
Located in the heart of bustling downtown Milwaukee, the Wisconsin Center has 188,695 square feet of contiguous exhibit space and a 37,506-square-foot ballroom with capacity for 3,150 diners and ample corporate theater utilities. An additional 39,364 square feet of meeting space can be partitioned into as many as 28 meeting and break-out rooms equipped for satellite links, video teleconferencing, data transmission, and other telecommunications and audiovisual technology. With radiating natural light, unique, local art and the largest ballroom in Milwaukee, the Wisconsin Center has the space and amenities you need — from electricity to internet, catering to cleaning — to amplify your meeting or event. wisconsincenter.com
BEST CONFERENCE CENTER:
The Madison Concourse Hotel  and Governor's Club, Madison
Wisconsin Meetings readers clearly can't get enough of The Madison Concourse Hotel and Governor's Club, the largest convention hotel in Madison, which won this same category last year as well. Capable of accommodating everything from small strategic planning sessions to large conventions, the hotel offers 373 guest rooms and 27,000 square feet of flexible meeting space, including 28 meeting rooms and six hospitality suites. Its meeting spaces are large enough to make arranging socially distant gatherings a breeze, plus meetings and events can easily scale up with virtual meeting technology. Furthermore, guests may feast their eyes on breathtaking views of the state Capitol — which is just steps away from the hotel — from the private Governor's Club lounge. concoursehotel.com
BEST BOUTIQUE HOTEL PROPERTY WITH MEETING SPACE:
Kimpton Journeyman Hotel, Milwaukee
Experience lavish style and amenities at the Kimpton Journeyman Hotel. The hotel, located in Milwaukee's historic Third Ward district, offers several types of event space to choose from — a ballroom, flexible meeting rooms, and a rooftop restaurant and bar — on three different floors, along with ample catering options. If you're looking for a venue with some personality, high-quality food and service, choose from the intimate 486-square-foot La Sala Private Dining Room or the 2,809-square-foot Assembly Hall. If your attendees are feeling adventurous, they can pick up a Journeyman Leather Backpack at reception to accompany them through the city in true urban style. journeymanhotel.com
BEST RECEPTION FACILITY:
The Osthoff Resort, Elkhart Lake
Readers highly suggest you consider The Osthoff Resort, which hugs 500 feet of pristine shoreline on Elkhart Lake in eastern Wisconsin, for receptions. Winning the Best Lakeshore Resort in 2018, the Osthoff features first-class meeting and event space, and well-appointed guest suites for groups from 10 to 1,500. The resort offers 38,000 square feet of elegant function space, group and team- building activities, bicycle and watersports rentals, and all the technology required to make your meeting a success. Its largest meeting room, the Grand Libelle Ballroom, is ideal for theater-style presentations and receptions, yet soundproof sliding panels can divide the ballroom into smaller meeting rooms to increase flexibility. osthoff.com
BEST GOLF COURSE/RESORT FOR AN OUTING:
Wild Rock Golf Club at the Wilderness, Wisconsin Dells
Golf outings held at Wild Rock Golf Club score a perfect round again, having nabbed the same category in 2019. Event coordination staff will assist in setting up your foursomes, coordinating course hole events, booking overnight accommodations and planning your meal service in the rustic dining room. The goal is to take the stress off of the planner, so you can enjoy the day on a beautiful course! As part of the Wilderness Resort, planners have access to the nearby Glacier Canyon Conference Center with over 56,000 square feet of meeting space that can be broken into a variety of meeting rooms, including a large banquet room that can seat up to 1,200 people. For smaller gatherings, there's the Wild Rock Clubhouse, an open-air covered patio that's picture-perfect for pre- and post-golf receptions tied to meeting events. wildrockgolf.com
BEST CASINO WITH MEETING SPACE:
Potawatomi Hotel & Casino, Milwaukee
Wisconsin Meetings readers say Potawatomi Hotel & Casino pays big when it comes to being the best casino with meeting space in the state. Intimate or grand, laidback or lavish, whatever your vision is for your event, you can find it at Potawatomi, which offers over 60,000 square feet of meeting space for events up to 3,000 people in downtown Milwaukee. Its Events Center is the largest option, providing more than 32,000 square feet of space, whereas its Innovation dedicated boardroom is ideal for business meetings of 14 people or less. The casino also boasts of a night scene with an assortment of delicious dining options, gaming action and world-class entertainment. paysbig.com
BEST GROUP OUTING:
Lake Geneva Cruise Line, Lake Geneva
Fresh air and fresh ideas! Readers have consistently chosen Lake Geneva Cruise Line's eight beautiful boats and exceptional service as the top outing for meetings and groups. The fleet of well-appointed boats accommodates groups of one to 200 or charter multiple boats for larger group outings. If team-building is your goal, try the company's popular geo-challenge cruise. Or plan a cocktail cruise that takes you to Pier 290 restaurant for a lakeside dining experience, and cruise back with dessert and an amazing sunset. Host your corporate event in an atmosphere that rejuvenates your staff and impresses your clients. Readers say a day on the water with Lake Geneva Cruise Line can't be beat. cruiselakegeneva.com
BEST LAKESHORE RESORT:
Blue Harbor Resort, Sheboygan
Blue Harbor Resort is the ultimate lakeside retreat. Conveniently located on the shoreline of Lake Michigan in the Harbor Centre District of Sheboygan, the sprawling resort and conference venue provides beautiful indoor and outdoor meeting spaces that are customizable to your needs — from the 9,882-square-foot Grand Ballroom all the way down to the 300-square-foot Captain's Landing Boardroom. The resort boasts more than 16,800 square feet of convention space, an indoor waterpark, a spa and salon, restaurants, retail shops, luxurious accommodations and stunning surroundings — including scenic Lake Michigan right outside your window. Blue Harbor also offers a ton of team-building activities on both land and water. blueharborresort.com
HOTEL WITH THE BEST SERVICE:
Cambria Hotel Milwaukee Downtown, Milwaukee
According to Wisconsin Meetings readers, the Cambria Hotel Milwaukee Downtown prioritizes its customers above all else. "Cambria Hotel Milwaukee is built on the concept of threading our property into community. We pride ourselves on ensuring that our team is armed with the knowledge of the market we call home, as well as the extensive history of our city. We take the '10-5 rule' to new levels by ensuring we interact with all of our guests, and go above and beyond, which includes ensuring that every guest is a part of our 'camfam,'" says Tara Wurtz, director of sales and marketing. The 10-5 rule is a guideline widely used in the hospitality industry that dictates that staff members smile and make direct eye contact when 10 feet from guests, and verbally greet the guest when within 5 feet. choicehotels.com
BEST PROPERTY FOR A CORPORATE RETREAT:
Grand Geneva Resort & Spa, Lake Geneva
Like in 2019, Wisconsin Meetings readers recognize Grand Geneva Resort & Spa as being the state's best property for a corporate retreat. Readers like that the former Playboy Club offers a host of options for attendees after hours. Being situated on 1,300 acres in the woodlands affords guests a variety of options for both group and free time — from horseback riding, biking, hiking and golf in the summer to skiing in the winter. Meanwhile, the resort's 62,000 square feet of meeting and event space can accommodate from 10 to 1,500 guests in style. Team-building opportunities include hiking, rock climbing, sand volleyball, picnicking and more. A variety of restaurants suit every culinary taste. grandgeneva.com
VENUE WITH THE BEST OUTDOOR RECEPTION SPACE:
The Ingleside Hotel, Pewaukee
Holding a meeting or event in Lake Country offers plenty of opportunities for beautiful outdoor scenes and facilities, as well as contemporary hospitality. The Ingleside Hotel offers a refreshing change of pace from the conventional meeting and conference destinations with trails for hiking and wide-open spaces for team- building right outside your door. Whether you host a dinner banquet, boardroom session or tech-savvy sales presentation, the hotel provides an inspirational setting with more than 40,000 square feet of indoor and outdoor space, and 20 private event spaces, accommodating events for groups of two to 720 people. theinglesidehotel.com
CONVENTION AND VISITORS BUREAU WITH THE BEST MEETING AND CONVENTION SUPPORT:
VISIT Milwaukee, Milwaukee
VISIT Milwaukee knows how to help host an event. Its sales and event experience teams consistently score high on post-conference surveys — an achievement they're incredibly proud of. Peggy Williams-Smith, VISIT Milwaukee president and CEO, says, "VISIT Milwaukee takes pride in providing first-class service to conventions and events from the first proposal to the event wrap- up. Our sales team goes above and beyond to assure planners have chosen the right venues, hotels and timing for their events. Once a planner decides to book, the power of our full staff is behind them to support their event and ensure it's their best yet. From pre-promotion to the day the event begins, our event experience team handles the myriad details that make events successful. Lastly, our team of 100+ volunteers are ready to roll out the red carpet for guests as soon as they land at Milwaukee's General Mitchell International Airport." visitmilwaukee.org