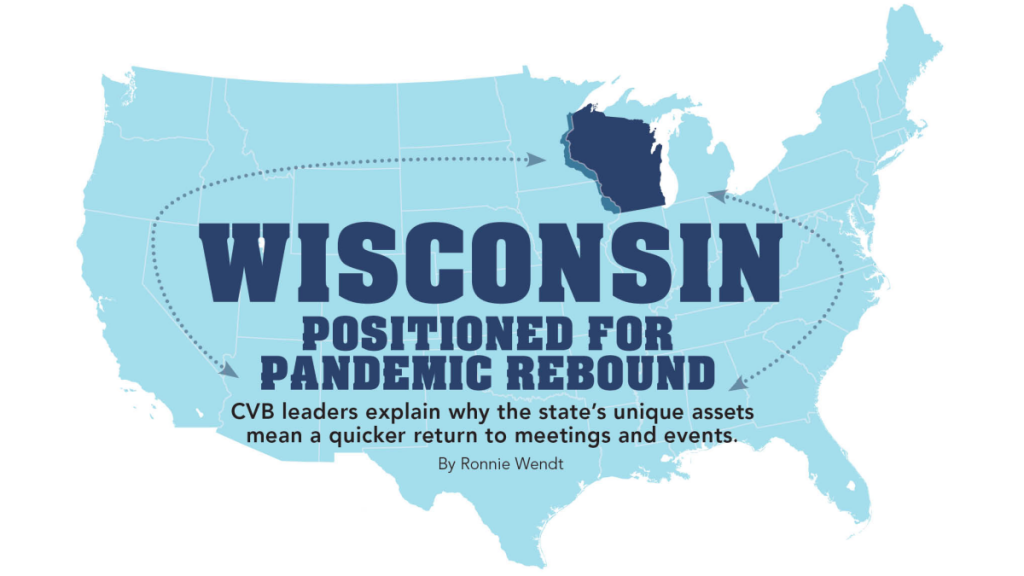 Wisconsin: Positioned for Pandemic Rebound
10/02/2020
By Ronnie Wendt
Announcements of major event cancellations have rocked Wisconsin's tourism industry and local economies since March.
From the EAA AirVenture in Oshkosh, to Summerfest in Milwaukee and the World Dairy Expo in Madison, the hits from the COVID-19 pandemic keep piling up.
The economic fallout from the pandemic mounts as well, especially in the hospitality industry.
Wisconsin Economic Development Corporation (WEDC) CEO Missy Hughes describes a "crisis that hits every person, every region, every economy in our state, and beyond our borders" in the organization's pandemic impacts report. The WEDC study finds state businesses reported $22.2 billion in income losses, and another $37.8 billion in other economic losses.
However, representatives from the state's convention and visitor bureaus see a silver lining amidst the doom and gloom. They predict a comeback for Wisconsin's meetings and events industry. The rebound, they say, will come from innovation and the unique meeting and event opportunities across the state.
"In every challenge there is opportunity. The pandemic forced the hospitality industry to move outside the box and reimagine their spaces," says Leslie Johnson, director of sales for VISIT Milwaukee. "It will be interesting to see how venues reinvent themselves and use their spaces differently than they have in the past."
A Driveable Destination
"I can only speak for Wisconsin Dells, but our location in the state puts us in an ideal position for meetings and conventions moving forward," says Jessica Rieflin, sales manager of the Wisconsin Dells Visitor & Convention Bureau.
Rieflin explains Wisconsin Dells is centrally located in the Midwest and easily accessible by automobile, train and even plane, with the Madison airport being less than an hour drive away. The Amtrak train stops in downtown Wisconsin Dells, and there are four easy on/off exits from Interstate 90/94.
Destinations farther north echo Rieflin's sentiment. Penny Strom, executive director of the St. Germain Chamber of Commerce, reports business picked up quickly after the shutdown. She adds, "People are cancelling their long-range, destination travel. They don't feel comfortable getting on a plane and traveling, but they feel comfortable driving to a destination."
Strom continues, "The Northwoods is an easy drive from surrounding states. We are four hours away from Minneapolis, six hours from Chicago and seven hours from Indianapolis."
The Fox Cities also attracts planners hoping to seat meetings in a drivable destination. Alison Hutchinson, group sales manager of the Fox Cities CVB, reports that being a smaller, nearby destination attracts planners to the area. "It will take time for people to gain confidence and travel to more distant destinations," she says.
Johnson also finds Milwaukee ready to return. The city of 602,000 is centrally located in the United States and a short drive from Chicago, Minneapolis and Indianapolis. The destination's easily accessible international airport and world-class amenities remain a big draw. She predicts "leisure travelers will come back first."
COVID-19 struck Madison hard. The city of 233,000 lost two big events — the Wisconsin Interscholastic Athletic Association's boys basketball tournament and the Wisconsin Governor's Conference on Tourism — within weeks of the shutdown. Even so, as a drivable destination with a sizable regional airport, it stands ready to welcome back events, though at press time indoor gatherings were still limited to no more than 10 people per local health regulations. Likewise, its more loosely packed urban density allows for social distancing.
"Attendees can practice social distancing in a very walkable environment and that provides some comfort to people, and several of our key partners are adopting the highest safety standards possible, including the GBAC [Global Biorisk Advisory Council] protocols," says Deb Archer, president/ CEO of Destination Madison.
The Great Outdoors
"Outdoor venues are seeing a big surge," says Hutchinson. "People feel there's less risk if they're outside."
The Wisconsin State Park System, which includes both state parks and state recreation areas, offers 66 state park units, covering over 60,570 acres.
"These areas are available for outdoor events," Johnson says.
Even the state's larger cities offer plenty of outdoor opportunities for meetings and events, and activities after the meeting ends. "We offer kayak rentals, paddle taverns, Duffy boat rentals and fishing charters — all great opportunities for team building events," says Johnson.
Fishing, boating, biking, kayaking and other outdoor activities also abound in Madison, where Archer reports the CVB has launched the Explore Outdoor Madison promotion. The campaign highlights the fun activities and natural physical distancing found in the city that offers five lakes, dozens of parks and 240 miles of bike trails.
"We are pushing outdoor activities because we're hearing from both leisure and business travelers that people feel safer outdoors than inside a meeting space all day," says Archer.
Madison's efforts also include its "Streatery" restaurant program, which allows restaurants to expand outdoor dining onto sidewalks, on-street parking areas and in privately owned parking lots. "It's expanding, which is awesome, because people feel more comfortable eating outside right now," Archer says.
Wisconsin Dells pushes planners to select intimate outdoor activities. Rieflin recommends seeing the iconic sandstone bluffs and Wisconsin River on a Dells Boat Tour. The tour company will customize outings to a time schedule and include shore landings upon request. The Ducks will pick up conference attendees at area hotels and resorts to explore the area on land and water.
Smaller Size Venues
Planners are moving meetings to smaller venues, reports Hutchinson. Here, Wisconsin also stands out.
In Wisconsin Dells alone, for example, the Sundara Inn & Spa offers event space for smaller meetings as does Coldwater Canyon, with 700 square feet of meeting space. The Northwoods Children's Museum in Vilas County offers a Celebration Room for up to 60 people. More sizable venues, such as the Wisconsin Center, Alliant Energy Center, Kalahari Resorts & Conventions and Glacier Canyon Lodge at the Wilderness Resort, stand ready to host larger meetings, but also offer flexible space for smaller events.
Milwaukee offers a number of large and small venues, all of which offer indoor and outdoor spaces in a variety of sizes, reports Johnson. VISIT Milwaukee partners with venues to help them develop sanitation practices that keep attendees healthy. "People will be more mindful of safety and sanitation. Planners do not want to pack people into a general session anymore," she says.
Whether venues are large or small, Hutchinson advises planners to ask about sanitation and cleaning practices. "The venue should be upfront about it," she says. "If it is like pulling teeth to get information, they are not prepared. But if they say, 'We provide masks and gloves to all employees, we added hand sanitizer stations, here's how we space people six feet apart, we fog the room during your lunch break,' and things like that, they are ready for you."
Cost Effective
Destination Madison took steps to expand the city's value for meetings and events before the pandemic took hold. Its innovative and customer-centric One City. One Contract.TM program allows planners to sign one master contract for all city hotels. The singular contract standardizes force majeure, indemnification and cut-off date administration.
"The contract addresses a key concern of planners: risk mitigation," states Archer. "We offer a no-attrition policy on room blocks until 11 months out through 2024. Other cities offer no attrition through 2020 or into 2021. We are taking a different approach. We are saying we know you won't know what your room blocks are until the future. This allows planners to lock in a percentage of the rooms and leave the remaining rooms as a courtesy block until the customer or the hotel needs them."
Madison also revised the contract's core force majeure clause after the pandemic. "We've adjusted our force majeure clause to 90 days out," Archer says.
Besides protecting risk, Madison and other destinations protect the pocketbook. "Planners have two main concerns: How the pandemic will affect attendance and the bottom line," Archer says. "Planners cannot believe it when I tell them our coffee is under $40 a gallon."
Food and beverage cost savings are possible across the state, when compared to venues in other states, Archer adds.
Hutchinson says cost savings magnify in smaller regions, like the Fox Cities. "Our services are very cost effective. Parking, for instance, is $5 versus $20 for a day, and everything is easy to get to because of our small size," she says.
Pandemic or not, CVB leaders agree Wisconsin's many pluses position it for a rebound. They say Wisconsin's meeting and events industry will recover as the pandemic pushes planners to seek drivable destinations, outdoor and smaller-sized venues, at a price they can afford.