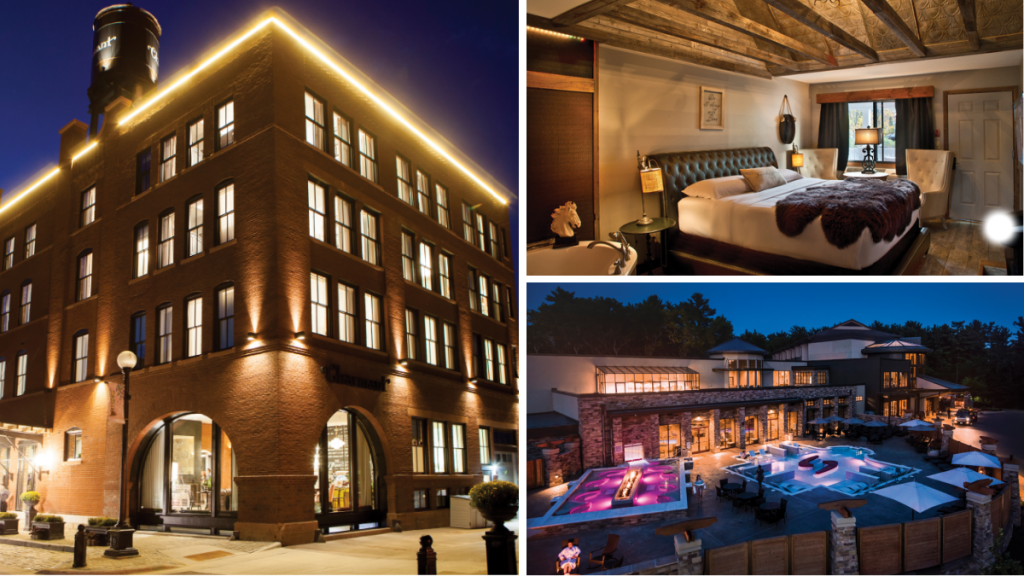 By Ronnie Wendt
A Social Tables article promoting the benefits of boutique hotels named location, facilities, amenities and venue space as primary differentiators when compared to hotel chains. But in the post-pandemic new normal, planners may also cite the health atmosphere of these smaller, intimate spaces.
Planners desiring an authentic, local experience for their meeting will find it at a boutique hotel. Locally sourced food, florals and furniture, and a rich local history are prominent at these trendy spaces. Likewise, planners on a mission to provide meeting attendees with a personalized experience can deliver it at a boutique hotel. These smaller, 25- to 100- room hotels specialize in personalizing guest experiences.
Boutique hotels also inject a unique flavor not found in most hotel chains. Owners locate these hospitality options in historic buildings or innovative modern structures and fill them to the brim with eye-catching artwork, live music and historic relics.
Nearly every tourism destination in Wisconsin offers a boutique hotel experience or even two. Here is a sampling of some favorites across the state.
SUNDARA INN & SPA, WISCONSIN DELLS
Sundara Inn & Spa is tucked away in an 80-acre pine forest on the outskirts of Wisconsin Dells. Much awarded by the readers of Travel + Leisure and Condé Nast Traveler magazines, Sundara is intimate by design, with 34 suites for overnight guests, a restaurant and rooftop green- house, light-filled fitness studio, indoor and outdoor heated pools, 26 treatment rooms including four Spa Together rooms and a salt therapy treatment room. Complimentary fitness and wellness classes, an adjacent championship golf course and flexible meeting spaces for small groups with inspiring views of surround- ing woods round out the experience. This destination spa resort is adult-only and electronics-free in the common areas. sundaraspa.com
THE OXBOW HOTEL, EAU CLAIRE
In the heart of downtown Eau Claire lies the Oxbow Hotel and The Lakely. The property comprises two distinct buildings — The Main House and The Flats — joined by a courtyard and a comfortable, woodsy patio. The Main House hosts The Lakely — a locally sourced restaurant, bar and music venue — and an on-site outdoor outfitter offering bikes and other adventure gear. The property features flexible spaces for meetings and events, including The Lakely dining room, complete with a stage for presentations, and The Gallery, an inspiring space that features local artwork and a modern atmosphere. Full audio/visual functionality and complimentary Wi-Fi access are available. theoxbowhotel.com
KIMPTON JOURNEYMAN, MILWAUKEE
The Kimpton Journeyman Hotel is a new venue in a historic district that respects the past while incorporating the best of the present. Visitors are greeted by expansive windows, a grand chandelier, thoughtful art, a concrete stenciled floor and conversational seating. A rooftop restaurant and bar, The Outsider, and a Mediterranean-inspired American restaurant, Tre Rivali, dish up culinary delights. Eclectic guest rooms feature well-worn carpets, plush footstools and rough, hand-hewn desks. Guests enjoy amenities such as morning coffee hour, evening social hour, in-room yoga mats, complimentary bicycles and pet-friendly policies. The Milwaukee hotel offers a group package called "Meet with Confidence," which allows groups to book with easy cancellation. journeymanhotel.com
MAXWELL MANSION, LAKE GENEVA
Maxwell Mansion is one of the first mansions built in Lake Geneva, features beautiful gardens, lounges, outdoor fireplaces, a heated pool, croquet and bocce ball amusement. The historic mansion offers six traditional rooms with exquisite antiques, en-suite baths and old world sophistication, while the Carriage House & Stable Suites are more modern and dramatically designed with an equestrian "urBarn" (urban/barn) style featuring unique furnishings, sleek accents and reclaimed Wisconsin barn finishes. The mansion's most luxurious rooms are located in the stables with Dutch door access, heated floors, two person peek-a-boo steam showers and decadent decor pieces. All rooms mix century-old charm with modern sophistication, with full amenities and personal touches. The Italianate mansion is also an exquisite and historic location for events up to 120 guests. maxwellmansion1856.com
SAINT KATE—THE ARTS HOTEL, MILWAUKEE
Saint Kate – The Arts Hotel is a luxury boutique hotel boasting spacious suites, panoramic views and fine dining in the heart of Milwaukee's arts and financial district. Located just a few blocks from the convention center, Fiserv Forum, Milwaukee Art Museum and the lakefront, Saint Kate is ideally placed for guests to explore downtown Milwaukee. Saint Kate features spacious guest rooms with high- end amenities, three restaurants, two bars, and four art galleries with exhibitions all year long. Saint Kate is created by artists for artists. The moment visitors step into Saint Kate, they experience the heart of the creative inspiration behind the space itself. The hotel's seven meeting rooms offer 5,000 square feet of exhibit space and 11,600 square feet of meeting space. saintkatearts.com
HOTEL GOODWIN, BELOIT
Hotel Goodwin mixes history and modern luxury for a unique guest experience.
Each room is filled with distinctive eye- catching art, turntables and unique record collections, and glass showers. Geronimo Hospitality Group manages the 34-room hotel. The venue is steps away from Beloit's varied shops offering everything from handmade quilts to bestselling books and spiritual crystals, and to nearby restaurants, which serve deli foods to seafood and steak. For those who want to stay in, the hotel's in-house restaurant, Velvet Buffalo Café, dishes up a variety of flavors. Hotel Goodwin offers spaces for smaller events. Its trademark rooftop banquet space delivers breathtaking views of downtown Beloit. The 1,000-square-foot Grand Room accommodates 48 guests. hotelgoodwin.com
COPPERLEAF BOUTIQUE HOTEL & SPA, APPLETON
From the moment visitors step into Appleton's CopperLeaf Boutique Hotel & Spa, they understand this is no ordinary hotel. Modeled after small, family- owned and operated European hotels, CopperLeaf offers personalized service in a warm, inviting and unique atmosphere. The comfortable venue lies steps away from vibrant downtown Appleton, with over 60 distinctive shops and more than 30 pubs, clubs and live music venues. The hotel is also a prime location for smaller group events, ranging from four to 84 guests. The Globe Boardroom features an executive table that seats 10, while the Autumn Room accommodates up to 84 guests but can divide into two smaller rooms. copperleafhotel.com
HOTEL NORTHLAND, GREEN BAY
Hotel Northland opened in 2019 after a $50 million update. The four-star, 160-room hotel in Green Bay features restored historic woodwork, plaster, terrazzo floors and accents. Its modern amenities include valet parking, a fitness room and luxury suites. Developers pay homage to the venue's football past by weaving football memorabilia throughout the hotel. The venue offers 11,000 square feet of flexible meeting space in beautifully appointed rooms. The popular Crystal Ballroom, which seats up to 140 people, brings back the grandeur of the 1920s with soaring high ceilings, stately chandeliers and towering floor-to-ceiling windows. The Walnut Room Bar and Restaurant features dishes made from locally sourced ingredients. Poke The Bear restaurant delivers fresh, full- flavored food with a sports history theme. hotelnorthlandgreenbay.com
THE CHARMANT HOTEL, LA CROSSE
The Charmant Hotel offers 67 distinctive and attractive guest rooms. The rooms feature reclaimed maple wood flooring, exposed wood beams and brick, and lofted ceilings. Each room is slightly different due to the hotel's underlying structure. The décor combines comfort, convenience and charm, from thoughtfully curated furniture to retro-style lighting fixtures to memorabilia celebrating the history of La Crosse and the building's origins as a candy factory. The Charmant Hotel also makes a fine backdrop for events with its modern event spaces, creative banquet menus, diverse dining options, exceptional staff and well-appointed guest rooms. In addition to being within walking distance of countless restaurants, bars and breweries, the hotel offers dining options on-site. Its restaurants source from regional farmers and purveyors, and work with local breweries and spirit makers. thecharmanthotel.com
5 Benefits of Boutique Hotels
SMALL SIZE: Boutique hotels are smaller than most corporate hotels, with 10 to 100 rooms. Their intimate size frees hotel staff to cater to guest needs and deliver customized experiences.
CHIC AND CULTURAL STYLE: Boutique hotels leave the same-old- same-old behind to create a chic vibe that reflects local culture and trends.
UNIQUE OFFERINGS: Boutique properties offer a distinct vibe, varied amenities and unique experiences like roof-top terraces, trendy music venues or art galleries.
A WORTHWHILE ESCAPE: Boutique hotels are more than a place to sleep. Owners situate these hotels in historic buildings or modern new builds for a unique home away from home.
HEALTHY MEETINGS: Their intimate meeting spaces appeal to pandemic conscious planners. Smaller meetings and fewer guests add to attendee comfort levels as they return to face-to-face meetings.