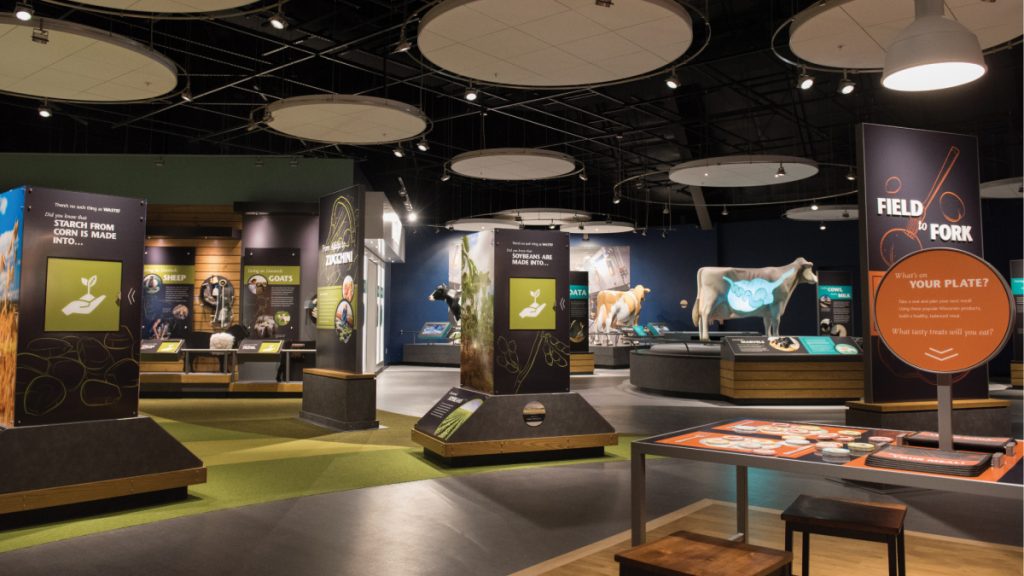 A New Take On Tradition
10/02/2020
By Ronnie Wendt
The brilliant hue of sunflowers reaching for the sun highlight that there is something unique about a massive barn located just off Highway 43 near Manitowoc. The structure isn't a barn; it is home to the Farm Wisconsin Discovery Center, opened in 2018, to educate visitors about the state's rich agricultural heritage.
Time for Kids named the 29,000-square-foot ag museum as one of the "50 Coolest Places of 2019," but the $13 million agriculture education center offers experiences for both young and old. This happening place doubles as a site for corporate meetings and events, and delivers an experience that attendees won't soon forget.
The Farm Wisconsin Discovery Center offers impressive and comfortable meeting spaces for intimate receptions to large-scale events, from 10 to 300 guests. But should planners desire a less traditional event experience, meetings can include entry to 10,000 square feet of interactive ag exhibits, a calf birthing barn and bus tours to nearby Grotegut Dairy Farm, which milks 2,500 cows daily.
"When you book a conference rental with us, you get admission into the center for $5 [per attendee] versus $16," Katie Wade, program director at Farm Wisconsin Discovery Center, explains. "Attendees can tour the center during breaks or after the meeting ends."
She says the center can be an eye opener for those separated from rural life and unaware of modern farming practices. Though the ag industry represents $100 billion to the state's economy, Wade states many people remain unaware of the state's varied agricultural industry. Educating others about agriculture, from alfalfa to zucchini, is the center's chief purpose.
Wade explains Norval Dvorak proposed opening the center after visiting Fair Oaks Farms, a 25,000- acre Indiana farm experience center known as the "Disneyland of agriculture." "Dvorak devoted his life to improving agriculture and educating the public and pushed for the educational center," Wade says. "Sadly, he passed away before the center opened."
The center rounds out its educational offerings with a fully equipped meeting and event center. Farm Wisconsin reserves the north conference room for larger events (up to 200 people), and the south conference room for smaller ones (less than 100). But by removing a wall between the spaces, the center can accommodate up to 300 guests. A separate entrance, a coat rack, bathrooms, parking and lobby area allow attendees to skip the Discovery Center's public areas and head directly to their meeting.
Planners also secure access to Farm Wisconsin event staff who help customize the space. "We are a relatively new venue to the area and can transform the space into what our guests are envisioning," Wade says "Fresh ideas are always welcome."
Planners can book any part of the center for an event. Wade explains some planners have hosted cocktail hours in the lobby area near a grand sculpture of a farmer's hands holding the earth, while others have used the theater to play personalized videos. "We have multiple spaces that can be transformed for a group's needs," she adds.
Because the rental fee covers everything from utensils to napkins, tables and chairs, planners can leave the worrying to event staff, who set up the rooms for them. The center plans for audio visual needs with microphones, conference phones and three 85-inch televisions available to display PowerPoints, videos or corporate branding.
The center caters food and beverages. The kitchen presents a varied banquet menu with dishes prepared with locally sourced Wisconsin ingredients. Menu customizations are available to meet dietary restrictions. An on-site bar serves up drinks for cocktail hours.
To inquire about reserving space at the Farm Wisconsin Discovery Center for your next meeting or event, please call (920) 726-6009 or email [email protected]