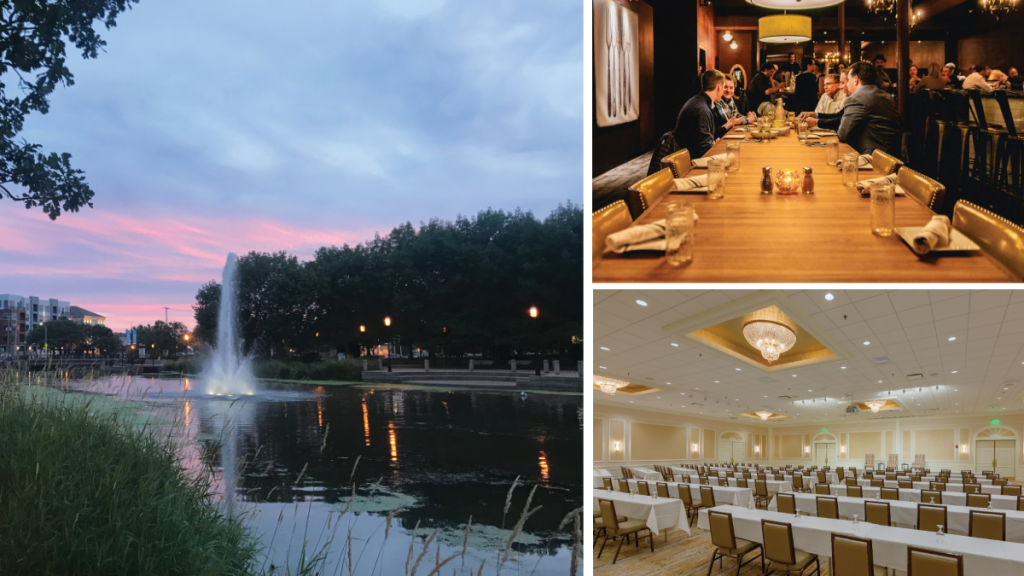 Destination Waukesha County
10/02/2020
By Ronnie Wendt
Just minutes west of Milwaukee is Waukesha County. Home to a number of Milwaukee suburbs, including the communities of Brookfield, Pewaukee and Waukesha, this area is just a short drive down the interstate from General Mitchell International Airport, the Lake Express ferry and the Wisconsin State Fairgrounds, among dozens of other attractions and points of interest.
While each community has its own unique identity, they all share commonalities, including their ability to host successful meetings and events.
Nancy Justman, president/CEO of Visit Brookfield, explains, "Our obvious plus for meetings and events is location, location, location… We're located just off the interstate which makes us extremely easy to find. We have well over 2,000 hotel rooms, and our available meeting space can accommodate small corporate events to large-scale conferences with up to 1,800 attendees."
Add in Pewaukee and Waukesha's varied venues and eclectic amenities and planners encounter a true meeting and events trifecta.
Waukesha and Pewaukee are hidden gems nestled in the heart of Lake Country. Visitors will delight in the area's many lakes, rivers, parks, shopping, art studios and fine dining, states Tammy Tritz, executive director of the Waukesha Pewaukee Convention and Visitors Bureau.
Tritz also cites location as Waukesha and Pewaukee's strengths. "We're about halfway between Milwaukee and Madison, and all of our properties are right off the interstate, making it very easy for meeting planners and attendees to find us," she says.
Waukesha-Pewaukee's 10 hotels offer 1,100 guest rooms, a mix of both large and small event spaces, and diverse activities. Attendees won't want to retire to their rooms when they can explore Pewaukee Lake, the largest lake in Waukesha County, stroll along the Fox River in downtown Waukesha or take in the area's fine dining and unique shopping.
"The Fox River runs through historic downtown Waukesha, and there's about a one-mile walk around the river through Frame Park. It is a beautiful experience, and not the sort of experience one expects to find in a suburban setting," Tritz says.
A Venue for Every Meeting
People use the term "new normal" to de- scribe post-pandemic life. But in Brook- field, with the recent addition of the Brookfield Conference Center, the phrase means something different. The Brookfield Conference Center's towering ceilings, banks of floor-to-ceiling windows, shiny terrazzo floors, and walls of hand- glazed terracotta set a new normal for the conference industry.
At 54,000 square feet, the conference center, seated on the south end of Brookfield Square, is the largest event space in the city. It features an intuitive and flexible design that accommodates events up to 1,800 attendees.
Its 18,000-square-foot Connect Ballroom splits into 11 configurations, while the center's smaller, 6,000-square-foot Collaboration Ballroom splits into three configurations. "The center's flexibility accommodates requests from clients who sought a divisible space they could use for different functions," Justman says.
A state-of-the-art boardroom, 9,000-square-foot outdoor garden and an 8,000-square-foot outdoor ballroom add to the center's adaptability.
The Hilton Garden Inn, with 168 rooms, attaches to the conference center and the Sheraton Milwaukee Brookfield Hotel is just steps away. The Sheraton offers nearly 20,000 square feet of meetings and event space, with the largest being the Brookfield Ballroom, holding up to 900 people.
"We can host events that use multiple hotel properties. There are 2,000 hotel rooms within a one-mile radius of the conference center," says Justman. "We work with the Sheraton for breakout sessions and other opportunities."
The Residence Inn reopens this fall after an extensive renovation. Also opening soon are a Fairfield Inn and a Holiday Inn Express in The Corridor, a new development located just I-94 in Brookfield. Room counts will rise to over 2,500 once the hotels open.
The Ingleside Hotel is the largest venue in Pewaukee-Waukesha. Owners renovated the former Country Springs Hotel two years ago. The hotel offers 40,000 square feet of indoor and outdoor meeting space and 20 private event venues to serve groups of two to 720 people.
"The Ingleside Hotel speaks to the association [meeting] market," Tritz says. "It provides general session and breakout space. The on-site waterpark makes it an excellent family destination too."
The hotel sits on 40 acres sprinkled with walking trails. "We have a lot of outdoor space, which is great for people wanting to hold an outdoor meeting," says Tiffany Woodward, director of marketing and waterpark sales at The Ingleside Hotel. "They can move the meeting outside and do a group or a team building event, and we can help them with that."
Nearby, the renovated Marriott Milwaukee West offers 281 guest rooms and 11,000 square feet of meeting space. Its ballroom breaks down into two smaller ballrooms or two small ballrooms and a breakout space. The site also offers boardrooms for breakout sessions.
"This hotel has a very corporate feel," says Tritz.
Down the road, the Holiday Inn, a Frank Lloyd Wright-style building, features a sizeable meeting room in the lower level and several smaller meeting spaces. "This hotel offers 119 guest rooms and serves the corporate traveler," Tritz says. "It's a great location for committee meetings, strategic planning and smaller association events."
The Holiday Inn's sister property with a Northwoods feel lies nearby. Wildwood Lodge sits next to the popular Machine Shed restaurant and offers space for smaller meetings and events.
"All four properties sit across from one another," Tritz says. "Attendees have choices of hotels and great dining experiences in the same area."
Varied and Unique
The Clark Hotel in downtown Waukesha combines contemporary sophistication with old-world charm. The Irish-themed hotel, built from several historic properties combined into one, offers 20 unique guest rooms, conference rooms and a 2,000-square-foot ballroom.
"It's fun to have a boutique property amongst our properties," Tritz says. "It offers a unique look and feel for guests."
Tritz points planners to Waukesha's historic courthouse built in 1893 as another option. Planners can rent this elegant beauty, which offers space for up to 300 guests. "The courthouse is stunningly beautiful and can be used for social events or a combination thereof," she says, adding that The Rotunda in downtown Waukesha also is a unique space. The site of the original Waukesha post office delivers rich history and historic elegance for meetings up to 250 guests.
The Sharon Lynne Wilson Center for the Arts also offers many beautiful event spaces. Its Harris Theater offers a posh place for performances, corporate meetings, and other private events while the Kuttemperoor Grand Hall's exposed wood beams and floor- to-ceiling fireplace provide an open, airy space for gatherings. The Burke Colonnade is available for outdoor events, while the Elmbrook Rotary Fireside Lounge and Ploch Art Gallery provide space for intimate gatherings.
Shop & Play
Brookfield ranks high among shoppers for good reason. The area boasts over 3 million square feet of shopping.
The two biggest draws are Brookfield Square and The Corners, two major shopping centers that bookend a 4-mile stretch of Bluemound Road. Recent expansions at Calhoun Crossing, The Corners and The Corridor added nearly 250,000 square feet of shopping opportunities. Ruby Isle, Galleria West and Fountain Square also remain as local shopping favorites.
"The area has over 150 restaurants and over 250 shopping opportunities. We also have some new attractions that are very exciting. We have Whirlyball, the Marcus Movie Tavern and a gamut of unbelievable restaurants," Justman says.
Whirlyball combines whiffle ball, lacrosse, hockey, basketball and bumper cars into what's described as a game of skill coupled with a touch of chance. The facility also offers bumper bowling where the aim is to hit the bumpers as the ball rolls down the alley, and laser tag; all of which make great team building opportunities, reports Kim Casey, sales manager at Visit Brookfield.
"There's plenty of golf here in Brookfield, if anyone is looking to golf, and all Milwaukee venues are very close and available for different functions," Justman adds.
In Waukesha, locals say the start of Friday Night Live signals the onset of summer. The event, held downtown on Friday nights from June to August, offers live music on every street corner, late night shopping and delicious food.
But downtown Waukesha offers an eclectic mix of businesses and unique dining experiences every night of the week. Visitors can experience rooftop dining or outdoor cafes, sip wine at a local wine bar or smoke a stogie at the cigar bar. Boutiques, bookstores and antique shops complete the downtown experience.
Tritz recommends taking in the guitar displays throughout the downtown. "Artists have given quite a nod to Les Paul, who was the inventor of the electric guitar," she says. "There are 10-foot, artistically decorated, fiberglass guitars on display, and a series of murals focused on Les Paul and the history of Waukesha."
Allô! Chocolat hosts fun, educational and tasty classes for groups. "Many of our groups have taken part in these classes where you can learn about making chocolate or using chocolate in your cooking," Tritz says.
Pewaukee Lake presents opportunities on the water and on the shore. The lake boasts the best musky fishing in southeast Wisconsin and there are fishing charters and guides available to take groups out fishing. Koha Yoga offers paddleboards for rent, paddleboard yoga classes and sunset paddleboarding for groups.
The lake also offers plentiful opportunities for the traditional Wisconsin fish fry. Tritz recommends checking out Artisan 179 for a farm-to-table dining experience, and the 5 O'Clock Club for its daily fish fry.
Planners hosting a meeting in Brookfield, Waukesha or Pewaukee areas are in for a treat. These suburban settings deliver an experience that is only captured when country living collides with city chic.
---
NECA 2020 Winter Meeting
The Wisconsin Chapter of the National Electrical Contractors Association (NECA) held its 2020 Winter Meeting at The Ingleside Hotel in Pewaukee. The meeting's 100 attendees deemed the event a success. Tara Ripp, NECA administrative manager, shares more of the group's Pewaukee experience.
WHY DID YOU SELECT WAUKESHA- PEWAUKEE FOR THE EVENT?
To be honest, it was The Ingleside Hotel that brought us to Waukesha-Pewaukee. We are always on the lookout for a nice hotel or resort, especially one willing to offer concessions.
WHY WOULD YOU RECOMMEND THIS AREA TO OTHER PLANNERS?
The area is an easy drive, located off I-94 with nice hotels and unique shops downtown.
WHY WILL YOU RETURN TO THE AREA?
We will return for the overall experience of a small-town atmosphere with charm, venues with friendly staff and the dedicated team at the Waukesha Pewaukee Convention and Visitors Bureau.
WHAT ATTRACTIONS MIGHT OTHERS BE UNAWARE OF?
Waukesha is the home of Les Paul who is famous for developing the first electric guitar, and if you look around town, you will find decorative guitar statues in his honor.
WHAT DO YOU LIKE ABOUT THE AFTER-HOURS ACTIVITIES?
Having a waterpark at the hotel was a hit. There is also an abundance of restaurants in the area.