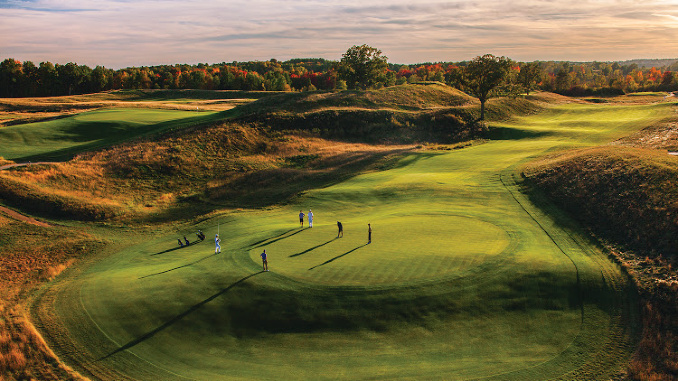 Golf where the Pros Play
04/13/2020
By Kristine Hansen | Photo credit: Erin Hills
It's no secret Wisconsin is a golf mecca. Yet, it wasn't until the last five years — bolstered by the U.S. Open coming to Wisconsin for the first time in 2017 — that the rest of the world found out about the state's stunning greens and fairways. Now the state hosts major championships like the PGA Championship and Legends Tour, Ryder Cup and more.
When golf celebs arrive in Wisconsin and these championships air on national television, this brings more exposure to the state's designer golf courses and community of top golfers. The resorts that host the tournaments also shine in the spotlight, giving a boost to the hospitality sector.
The possibilities are endless for corporations and businesses that wish to entertain clients or host incentive gatherings for employees during these star-studded events. Corporations and businesses also may want to host their own golf tourneys to give clients and employees a chance to golf the courses the pros do.
WHISTLING STRAIGHTS
Come late September (Sept. 25-27), the Ryder Cup 2020 swings into Wisconsin for the first time.
Whistling Straits in Kohler, the site of three past PGA Championships, will host the biennial men's golf competition between teams from Europe and the United States. About 200,000 spectators are expected to converge on Kohler for the Ryder Cup, says Mike O'Reilly, golf operations manager at Kohler Hospitality and Real Estate.
Designed by Pete Dye, "the Straits Course is a physically challenging and visually intimidating golf course that tests even the best players in the world," O'Reilly says. "You have to strategize. Some holes may require a long iron off the tee to position yourself for a better shot into the green while others will require a driver off the tee."
Overlooking holes No. 9, 10 and 18 — along with the Lake Michigan shoreline — the Irish Barn at Whistling Straits will host more than a few intimate social gatherings (up to 120 inside; 200 with additional tent space) during the event.
"Guests can easily flow in and out, perhaps glimpsing sheep roaming the course," says O'Reilly. "The fieldstone structure is reminiscent of the Irish countryside, with the east wall open to the elements. Canvas walls with windows can be pulled down and space heaters turned on if needed."
Another space for hosting events is the Champions' Locker Room, which in addition to having lockers, also includes a small kitchen area, televisions, lounge- style seating and a main room anchored by a fireplace.
ERIN HILLS
Erin Hills Golf Course ratcheted up its exposure by hosting the U.S. Open in 2017, marking the first year the event was held in Wisconsin. Around 200,000 fans flocked to the standard, 18-hole course in Erin, which is seven miles south of Hartford and 37 miles west of downtown Milwaukee. The crowd also included 165 players, 5,300 volunteers and 840 credentialed media.
Designed by a trio of architects (Michael Hurdzan, Ron Whitten and Dana Fry), "it's a difficult course because they designed it to challenge the best golfers in the world," says John Morrissett, competitions and marketing director at Erin Hills.
Tournaments aside, the course is unique in that "there are very few places open to the public that have only one golf course and also have lodging," he says. "It allows for a nice, intimate atmosphere, without shuttles going here and there."
At the 2017 U.S. Open, the intimate atmosphere enticed companies to host their own events on site. "There are over 25 hospitality tents that companies can buy to entertain key staff," says Morrissett.
The USGA selected Erin Hills as the host site for the 2025 U.S. Women's Open, set for May 29-June 1, 2025. Morrissett calls the tournament "the female equivalent of the U.S. Open." And notes that on the peak days (of the tournament), the event draws around 40,000 spectators. Erin Hills will offer hospitality tents, just like at the 2017 U.S. Open, for this event.
The course will also host the 2022 U.S. Mid-Amateur championships. Golfers will play the 2022 U.S. Mid-Amateur Sept. 10-15, 2022, with Blue Mound Golf and Country Club in Wauwatosa, Wis., serving as the stroke-play, co-host course.
Even if a tournament is not taking place, companies can book a meeting at Erin Hills. "We're a great venue for a board meeting or a presentation for between 20 and 25 people," says Morrissett. One option is to play after hours at a new putting course installed last year, which lights up at night. This is especially attractive for non-competitive golfers in the group.
"Sometimes people can feel intimidated if they're not as accomplished as other golfers in the group. People can go out there with a drink in hand and have a good time," he says. The course takes about 45 minutes to complete, at a relaxed pace.
GENEVA NATIONAL RESORT & CLUB
This May, Geneva National Resort & Club in Lake Geneva — which hosted the Ladies Professional Golf Association Cup Finals in 2019 — rolls out 32 new on- course suites designed for entertaining during tournaments. With sleek, modern interiors and nature views, they range between 630 and 850 square feet and are either a Deluxe King Suite or a Deluxe Two-Queen Suite. Guests can also stay at The Ridge Hotel, a sister property that features 146 guest rooms.
The resort will introduce the suites in time for the LPGA Amateur Cup (July 29-Aug. 1), with 400 women competing, says Director of Sales Rob Booth. In 2019 Geneva National hosted the Wisconsin State Open on its Palmer and Trevino courses.
Arnold Palmer, a starchitect in the golf- design world designed the Palmer Course at Geneva National. The other two courses were designed by golf greats Gary Player and Lee Trevino.
"Legends designed our courses," says Booth. "We have 54 holes. Few facilities in the state have three courses on property. This allows us to host larger events. Our courses are definitely challenging. However, we have five sets of tee boxes to accommodate all golfers, from beginners to pros."
Companies often use the club's 12,000 square feet of function space, including "our classic Lowell Board Room, clubby Lake Geneva Room, refined-rustic Legends Room and three well-appointed banquet rooms," says Booth. Groups of between five and 500 people can easily find an option that fits.
As a site for state PGA tournaments, Grand Geneva Resort & Spa (also in Lake Geneva), offers the 7,000-yard Brute course, "one of the most challenging layouts in the Midwest and is considered one of Wisconsin's best golf courses. The greens can be quick and challenging," says Golf Sales Manager Ben Pinzer. "The hilly, tree-lined terrain features sloping fairways punctuated by large sand traps and sculpted water hazards that add aesthetic beauty."
Described as a "tight, shot-makers' course," the Scottish-inspired, links-style Highlands — the resort's other course, designed by Pete Dye and Jack Nicklaus with a later transformation by Bob Cupp — "transports golfers to Scotland, without them having to own a passport or 'hop the pond,'" says Pinzer.
Hospitality extends to meetings and events for business groups in attendance. Overnight accommodations and dining at five venues — including Geneva Chophouse — are in addition to 62,000 square feet of conference space. Groups can tack on a round of golf during the warmer months and unique team-building activities come winter, like an indoor climbing wall or extreme sled-building.
UNIVERSITY RIDGE
University Ridge plays host to the American Family Senior PGA/Legends Tour every year. This year is no exception with the tour stopping in Madison from May 30-June 7.
The course, named by Golf Week as the No. 5 campus course in the nation in 2019, is home to the men's and the women's golf teams for the University of Wisconsin-Madison. The front nine holes meander over lush grasslands while the back nine work through the densest of Wisconsin's woodlands.
Steve Stricker, 12-time PGA TOUR winner and five-time PGA TOUR Champions winner, will again play and host the 2020 event. Proceeds from the event are donated to the Steve Stricker American Family Insurance Foundation, with a portion going to the American Family Children's Hospital and the rest to other state-wide charities. The events from 2016 through 2018 raised nearly $5 million for 185 charities.
---
Other Notable Courses in the State
SENTRYWORLD, STEVENS POINT

SentryWorld, an 18-hole parkland course, hosted the USGA's 71st U.S. Girls' Junior Championship to great acclaim in 2019. Though this year, the tour will not stop in Stevens Point, it is still a notable course to play. Robert Trent Jones Jr. designed the 18-hole course in the early 1980s, then returned 30 years later to update and improve its design. The 22-month shutdown in 2013, yielded an improved course that kept its original feel (and renowned flower-bed hole) but added four new holes and more room for fairway play, ground game approaches and diverse recovery. SentryWorld offers banquet facilities, a restaurant, and a sports complex on the grounds already but will break ground on a new boutique hotel soon. SentryWorld plans to open the hotel in 2021.
SAND VALLEY, NEKOOSA
Open since 2017, and designed by Ben Crenshaw and Bill Coore, Golf Magazine dubbed Sand Valley Golf Course "the best new course you can play" the year of its opening. Mammoth Dunes received the same honor when it opened in 2018.
WILD ROCK GOLF CLUB, WISCONSIN DELLS
Will Rock in Wisconsin Dells is a rugged, 18-hole championship course designed by Mike Hurdzan and Dana Fry (creators of Erin Hills), that winds through and around a former quarry. Greens are expansive and fast. Five sets of tees allow for a variety of skill levels. Check out the 30-mile view available—on a clear day— from the elevated sixth tee.
TRAPPERS TURN GOLF CLUB, WISCONSIN DELLS
Designed by two-time U.S. Open champ Andy North, on June 1 this golf club's Lake and Canyon courses (nine holes each) host the Trappers Turn Pro-Am. (There is also the Arbor course.) Next summer, North's 12-hole short course opens for play.