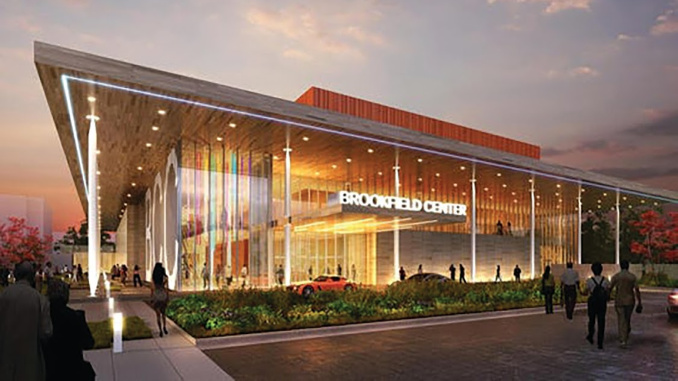 Breaking The Norm
04/13/2020
By Ronnie Wendt
Bathed in light and alive with color are rarely words used to describe conference centers. However, the new Brookfield Conference Center breaks outside the norm, greeting meeting goers with towering ceilings, banks of floor-to-ceiling windows, shiny terrazzo floors with splashes of bright color and walls of hand-glazed terracotta from Germany.
"We're not an expo center," stresses Nancy Justman, president and CEO of VISIT Brookfield, which recently moved its offices to the conference center. "Both of our ballrooms are carpeted and completed with high- end finishes."
It's the amenities the 54,000-square-foot facility offers that really set it apart. Built on a site at the south end of Brookfield Square Mall, the center offers an intuitive and flexible design that makes it suitable for events of many sizes.
"The 18,000-square-foot main Connect Ballroom is the largest functional space in the [Milwaukee] suburbs," says Justman. "We can split it into 11 different configurations. Our smaller 6,000-square-foot Collaborate Ballroom splits into three configurations. This accommodates requests we received from clients. They called for a divisible space that they could use for different functions."
A dramatic and colorful atrium in the main entrance, state-of-the-art boardroom awash in light and a 9,000-square-foot outdoor garden continue the center's versatile offerings. Clients can rent each space and make it their own.
For instance, the beautiful outdoor plaza, aptly named the Celebration Plaza, provides permanent lighting fixtures and benches, green space and string lights for ambience but leaves plenty open for guest interpretation. "There isn't a permanent tent there," Justman explains. "But we can tent the plaza. Guests can make the space look and feel the way they want."
The 8,000-square-foot Celebration Atrium with lofty ceilings and glass on three sides offers a grand reception area that guests can "use on its own or with a ballroom," she adds.
The boardroom also builds in flexibility. While most boardrooms come with a permanent table, the boardroom at the Brookfield Conference Center does not. Guests can opt for a larger table, groupings of tables, or even comfortable soft seating arrangements. "We can convert the boardroom into whatever the client needs," she says.
Food options also are limited at some conference centers, but not at the Brookfield Conference Center. Executive Chef Bill Wilkinson prepares a creative menu from locally sourced ingredients in a state-of-the-art kitchen equipped with Alto-Shaam warming tables, and vector and cook-and-hold ovens.
"We have set banquet menus, but Chef Bill also works with groups to customize a menu that matches specific budgets and dietary needs," Justman says.
The conference center's proximity to hotel rooms is also a plus. There are 2,000 hotel rooms within a one- mile radius. The center links to the 168-room Hilton Garden Inn via a glass walkway, while the Sheraton Brookfield Hotel is just shy of 100 feet away.
"There is an abundance of places to stay, which is nice because some of our guests are very brand specific and may prefer a Marriott product over a Hilton product or vice versa," she says. In addition, planners can tap into hotel event spaces for smaller intimate meetings that are part of their larger event at the conference center.
"We are not looking to take away any current business happening in Brookfield," Justman explains. "Our hotels do a tremendous job of working with smaller meetings and functions. We want to attract larger functions that we couldn't accommodate in Brookfield before. That was the focus early on; to build something large enough to accommodate 1,800 people at a time and complement, not compete, with the events the hotels were already holding."
To inquire about reserving space for your next meeting or event, call (262) 789-0220.