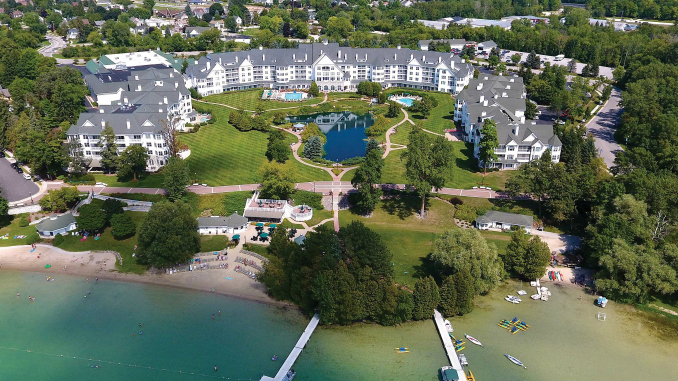 Make Your Meeting Attendees Feel Like They Received a Complimentary SUITE Upgrade! 
03/01/2020
Unlike most hotels and resorts that offer standard guest rooms and a limited number of suites, The Osthoff Resort primarily offers all suite accommodations, at the same or similar rates and with no resort fees!
So, instead of the standard guest room, your meeting attendees will enjoy the spaciousness of a one-bedroom suite featuring a living room with gas fireplace, dining area, kitchen/kitchenette, bedroom, bathroom, and private balcony, many overlooking beautiful Elkhart Lake.
Do your meeting attendees need to share a room? Instead of the standard guest room with two beds and one bathroom, The Osthoff Resort offers two-bedroom suites featuring private bedrooms, bathrooms, living room with gas fireplace, dining area, full kitchen and balcony.
In addition to our spacious, comfortable suite accommodations, our lakefront location and natural surrounding offers the perfect setting for productive meetings. We offer beautifully designed meeting rooms and ballrooms, as well as meeting spaces providing natural light, outdoor patios and casual living spaces. Expansive lawns are perfect for outdoor meals and receptions while our lakefront is a great place to connect with others enjoying s'mores 'round a bonfire or taking in a pontoon cruise of picturesque Elkhart Lake.
The Osthoff Resort also embraces wellness. With almost two acres of organic gardens, we produce over 13,000 pounds of produce including tomatoes, peppers, potatoes, squash, leeks, pumpkins, beets, cucumbers, shallots, garlic, zucchini, asparagus, and numerous herbs that are used in the restaurants, L'école de la Maison cooking school, Aspira Spa Cafe and spa services. The same focus on creativity, flavor and freshness that you'll find in our restaurants carries over to our banquet menus.
The elegance, beauty and state-of-the-art technology at The Osthoff Resort offers inspiration and connection to create an extraordinary experience for your guests.
Centrally located between Madison, Milwaukee, Fox Cities and Green Bay, let our experienced staff assist you in making your next meeting productive, memorable and healthy!
The space and support you need … the accommodations and activities they want.
For more information on The Osthoff Resort, call our Group Sales Office at (920) 876-5864 or visit us at OsthoffMeetings.com.