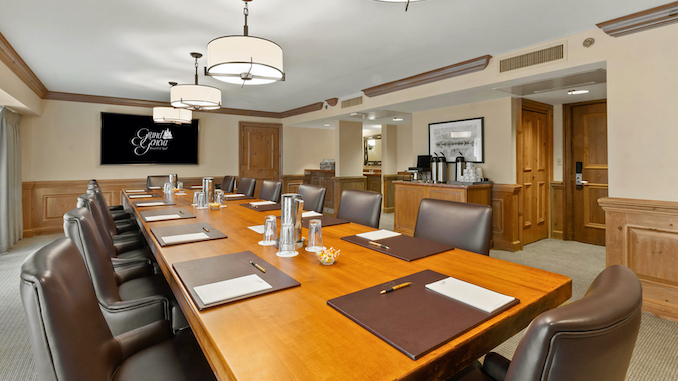 Strategy Is Always in Season at Grand Geneva Resort & Spa
The following article is sponsored by Grand Geneva Resort & Spa.
The Wisconsin seasons can blur together sometimes, but one Lake Geneva resort is designed to thrive with the changing weather.
At once, Grand Geneva Resort & Spa is both celebrating what remains of winter and gearing up for the start of spring. With a full skiing and snowboarding venue and two championship golf courses, the resort is well-equipped to accommodate travelers all year long.
But it's what Grand Geneva offers on the business side that's getting the attention of meeting planners throughout the region.
Strategic Spaces
For starters, the resort recently unveiled its newly renovated Forum, a 13,770-square-foot convention center with a theater-style capacity for up to 1,800 guests. The Forum is bright and airy with contemporary lighting, clean wall lines and new carpet. It features a private entrance, large pre-function space, outdoor patio, easy access from guestrooms and parking, large bathrooms and convenient registration areas, making it the complete package for any event.
Meanwhile, groups are enjoying the plentiful perks offered with the Strategic Planning Package, which includes:
Use of the Executive Boardroom for eight hours.
A 75-inch LED monitor with wireless connectivity.
A Polycom speaker phone.
A continental breakfast and executive lunch.
In addition, guests get a taste of the season with 15% off lift tickets for skiing or snowboarding at The Mountain Top.
Each attendee also receives a $25 credit at WELL Spa + Salon, one of the most preferred spas in the Midwest. The facility offers a wide variety of soothing massages, revitalizing body treatments and professional salon services, as well as access to a steam room, sauna and whirlpool. It's adjacent to a modern fitness center, equipped with all the latest weight and cardio machines.
Strategic Decisions
Even after the meeting itself is over, some strategic planning decisions still remain:
Italian or Steakhouse?
There are plenty of intriguing dining options at Grand Geneva, but two full-service restaurants are at the center of the conversation. Ristoranté Brissago is an intimate destination that prides itself on authentic Italian cuisine. Geneva ChopHouse, on the other hand, serves up Lake Geneva's finest steaks and seafood in an upscale steakhouse atmosphere. Each boasts an unbeatable wine selection, irresistible desserts and elite service.
The Brute or The Highlands?
Depending on when the meeting is booked, the ski hills might give way to sloping greens. Grand Geneva is home to two championship golf courses, The Brute and The Highlands. Created by world-renowned designers, the courses are among the region's most popular — and most challenging.
Summer or Fall?
Guests who experience Grand Geneva often find they wish to come back — for business and leisure alike. The resort changes dynamically with the seasons, from products at the spa to dishes at the restaurants to programming at the various outlets. Teams might enjoy a summer retreat in the Ski Chalet — which serves as a refreshing event space when ski season is over — or a teambuilding session by an autumn fire at Embers Terrace.
Visit GrandGeneva.com/Meetings to learn more about the resort's event spaces and to book the Strategic Planning Package.