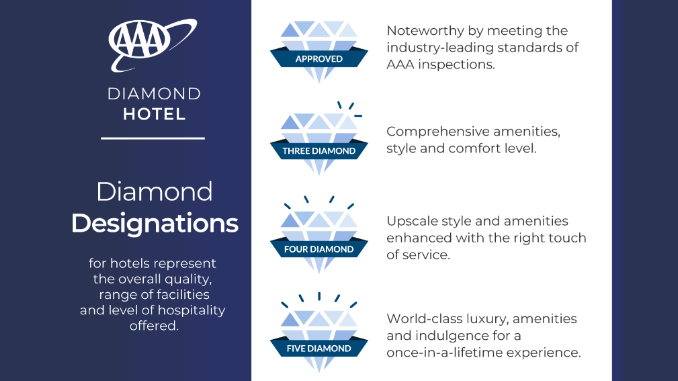 New AAA Diamond Program Revealed
AAA recently unveiled a transformed version of its AAA Diamond Program. The program will remain backed by professionally trained inspectors using member-driven criteria to recommend clean, comfortable, hospitable hotels and restaurants.
What is new? Replacing ratings with designations. A Diamond designation reflects AAA's professional inspector reviews using updated member-centric guidelines, setting the program apart from services that leverage unverified hotel and restaurant ratings.
"We've transformed the AAA Diamond Program to help travelers better understand the overall quality, range of facilities and level of services offered by a property," said Stacey Barber, executive director, AAA Travel Information and Content. "Unlike ratings from unknown users sharing their opinions, the Diamond designations are provided by experienced professionals using consistent guidelines to tell travelers what a property offers."
Under the new system, previously One and Two Diamond hotels and restaurants will transition to the Approved designation, while Three, Four and Five Diamond establishments will retain their designations. However, the 2020 inspection cycle will be the determining factor for all properties' future designations.
The modernized AAA Diamond Program guidelines for hotels and restaurants reflect the latest in traveler expectations and industry trends. AAA has removed outdated criteria in favor of factors that more directly relate to guest comfort, design and layout. For example, AAA inspectors will now look for sufficient storage space and shelving for clothes and personal belongings in guest rooms, and not for ironing boards or printed guest information, to reflect modern guest expectations.
The AAA Diamond Program comprises nearly 60,000 properties in the United States, Canada, Mexico and the Caribbean, including nearly 27,000 hotels and more than 30,000 restaurants. To be included in the AAA Diamond Program, properties must pass an unannounced, on-site evaluation. Hotels must provide acceptable cleanliness, comfort and hospitality, and restaurants must meet requirements for cleanliness, food preparation and service.
"Only the best hotels and restaurants are included in AAA's Diamond Program — professional inspectors eliminate substandard places from consideration as a service to our members. For more than 80 years, travelers have relied on AAA's trusted recommendations, and these latest changes only strengthen AAA as a go-to source for relevant information and advice for all trip planning needs," added Barber.
For more information, please click here.