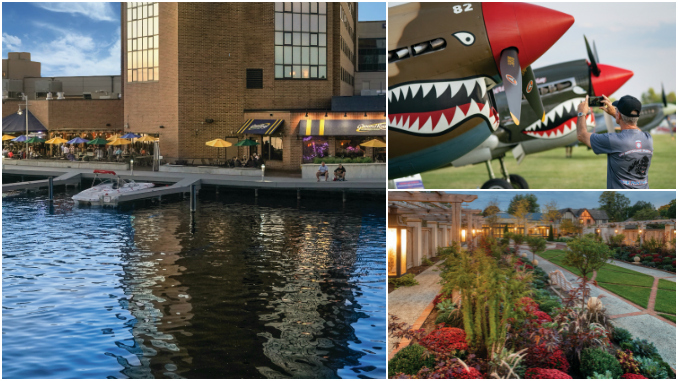 Destination Oshkosh
01/26/2020
By Shelby Deering | Photos: © Oshkosh Convention & Visitors Bureau
Amid lavish theater surroundings — classic seating in plush, red fabric; opulent décor; and a chandelier hanging overhead — 300 attendees enjoy historic ambiance while taking in an event that's as modern as it gets.
The event, TEDxOshkosh, lets the audience listen to TED talks given by inspiring speakers, while staring in awe at the theater's interior, first constructed in 1883.
TEDxOshkosh co-organizer Michael Rust, who is also CEO of the Winnebago Conflict Resolution Center, chooses The Grand Oshkosh for these popular, yearly events because of its historic appeal.
"The Grand has been an ideal partner for TEDxOshkosh because of the history that the theater provides," Rust says. "The same stage graced by Mark Twain has now had Nobel Prize winners and high school students expressing ideas that are worth spreading to the world."
This classic-meets-modern feel is something that can be experienced throughout Oshkosh. Tucked between Lake Winnebago and Lake Butte des Morts, the Fox River flows through this city of 66,000, brimming with historic buildings and current-day amenities alike. Full of personality and charm, this community is an ideal place to hold a meeting or event.
Got-It-All Venues
Cathy Cluff, sales director of the Oshkosh Convention & Visitors Bureau, explains why Oshkosh is a home run when it comes to meetings and events.
"Oshkosh's convenient and central location within Wisconsin makes it easily accessible," she says. "Unlike large cities, Oshkosh is easy to navigate, and it's home to affordable hotels and unique venues."
Unique venues indeed. With a mix of hotels that provide accommodations and convention spaces, along with historic buildings that serve as event destinations, Oshkosh really has it all.
Oshkosh is nicknamed "Wisconsin's Event City," but its biggest draw is undoubtedly its yearly AirVenture event held at the grounds of the Experimental Aircraft Association, better known as the EAA. AirVenture, the largest airshow in the world, sees upward of 600,000 visitors, and that spirit and passion for all-things- aircraft-related can be experienced in the EAA's event spaces as well.
Lori Allman, EAA's manager of events and sales, shares that the EAA offers meeting spaces ranging from a small, formal conference room for five to 25 guests to exhibit hangars that can facilitate large-scale meetings and expositions for 1,000 or more. She says, "Surround yourself with World War II aircraft and artifacts in our highly demanded Eagle Hangar, where your guests are sure to be astounded. For those seeking high-tech capabilities, utilize our Founders' Wing or Vette Theater with built-in equipment for your next speaking engagement."
The EAA staff can help plan an event down to the tiniest details, including linens, décor, security and audiovisual needs. The organization even has a culinary team in place so you can satiate your attendees with food and beverages. As Allman explains, the EAA is "more than just facility space."
She adds, "We deliver an experience. During your visit, enjoy a variety of offerings, including inspirational speakers, a flight simulator, cockpit climbs or museum tours in a one-of-a-kind atmosphere."
Another memorable Oshkosh locale for a meeting or event is Paine Art Center and Gardens. Once a grandiose 1920s estate, today the mansion and 3.5-acre property are home to art exhibitions and beautifully maintained gardens. Amid the stunning architecture, you can hold a truly distinctive event in a variety of spaces.
Laura Rommelfanger, Paine Art Center and Gardens director of events and patron engagement, says, "The most unique amenity offered at the Paine is access to our 20 different botanical gardens throughout your event. Groups can incorporate mindfulness into their programs with time to stroll in the gardens, igniting all the senses. Kick off your morning with yoga on the Great Lawn, or plan breakout sessions near the Rose Garden and inside the Formal Garden. Enjoy a refreshment break or cocktail reception in our Carriage House Courtyard with umbrella tables and stunning views of our gardens."
Rommelfanger says, for an additional fee, the company can arrange mansion and exhibition tours. Food and beverages are provided through a local catering partner, Zuppa's Café, and you likely won't have to worry about décor: "Every space at the Paine is architecturally beautiful, so there is often not much more needed in terms of meeting décor," Rommelfanger notes.
Another historic-building-turned-events-venue in Oshkosh is The Waters. Originally constructed in 1903, the Georgian Revival building offers lakeside views and space for 300 guests.
"The Waters has many amenities that make it an ideal place for a meeting or event," says Kate Wyman, marketing and community relations manager. "We only host one event per day, and the guests have the full first and second floor to use. We are a great place for an intimate event for 25 guests and we are also ideal for big groups up to 300. The view is pristine any time of year."
The Waters works with five preferred caterers that vary in price. The venue includes tables, chairs and even bartenders in the pricing.
For a 19th-century setting that's striking, yet comfortable for an event, look to The Grand Oshkosh. Shawna Terry, program and events manager, sums up the feel, saying, "If you are looking for a unique space with some history, The Grand can be an ideal location."
Terry adds that The Grand has two primary spaces dedicated to events. She says, "The theater seats approximately 550 people, and is equipped with a fully operational sound and lighting system. The lounge can accommodate approximately 50 to 100 people, and has a full bar, mini stage setup and flat-screen television monitors."
The interior acts as décor, so she says that little to no decorating is needed for most events. Events must cater food into the venue and The Grand provides a list of preferred caterers.
For convention space with accommodations baked right in, consider one of Oshkosh's hotels geared toward events. The Best Western Premier Waterfront Hotel & Convention Center, with renovated interiors and state-of-the-art audiovisual equipment, provides 25,000 square feet of flexible meeting space and Fox River views to boot. Food is handled in house. And you can't beat the location.
"We are located just 1 mile from the University of Wisconsin-Oshkosh campus, which is down a riverside walking trail from the hotel," says David T. Helgeson, CMP, the director of sales for Best Western Premier Waterfront Hotel & Convention Center.
The Hilton Garden Inn Oshkosh boasts a 4,800-square-foot banquet hall that can hold up to 350 guests or it can be broken down into smaller sections to fit an event's needs. It offers on-site catering, along with tables, chairs, linens, and setup and takedown included in the pricing. The locale is also convenient.
Valee Xiong, director of sales at the Hilton Garden Inn, says, "We are located within five to 10 minutes of most popular Oshkosh destinations and attractions."
Activities & Fun
Although it's not the largest city in Wisconsin, Oshkosh can easily compete with more populated areas with its myriad attractions and recreational activities. Besides the countless events held throughout the city, here you can find attractions, museums, supper clubs, breweries, wineries and delicious dining options.
Invite your guests to take a leisurely paddlewheel riverboat cruise or take part in water sports. Go on a nature hike or take it indoors at Art Spot Oshkosh, where attendees can make their own paintings or jewelry creations. And you can always keep them laughing at The Backlot Comedy House.
EAA's Allman summarizes that this area abounds with things to do, saying, "Oshkosh is an ideal destination due to its central location in the heart of Wisconsin. The city gives guests an array of year-round activities similar to a large city, but in a small-town setting. Guests can explore the outdoors, including many activities around Lake Winnebago, catch a dinner show at a local theater, shop at many local businesses or boutiques, visit a variety of museums or indulge at the farmer's market."
Since Oshkosh is aptly called "Wisconsin's Event City," between AirVenture and other popular events, it can pay off to book an event far in advance.
"You won't be able to find a date without something else going on in town. This also means that venues book early," Rust says.
Rust sings the praises of the Oshkosh area, listing its rich history, natural beauty and water activities as prime reasons to throw an event in the region. He adds, "Another great aspect of Oshkosh is its people. Hardworking, humble and friendly — Oshkosh is warm and inviting to visitors and event organizers."
---
After-Hours Fun
When the meeting ends, there's plenty to do in this college town. You can:
Visit The Outlet Shoppes at Oshkosh. The mall has more than 50 name-brand outlet stores, such as Carter's, Coach, Eddie Bauer, Jockey, Michael Kors, Nike, Old Navy, Tommy Hilfiger, Under Armour and Yankee Candle.
Check out Country USA if you're in Oshkosh between June 25 and 27. The annual country music celebration at Ford Festival Park offers entertainment by dozens of country music acts. Toby Keith, Little Big Town and Lauren Alaina are among the entertainers on deck in 2020.
Treat yourself to the Experimental Aircraft Association (EAA) AirVenture Oshkosh, from July 20 to 26. The event draws more than 600,000 aviation enthusiasts from 60 countries to Wittman Regional Airport every year. Learn more about the past, present and future of flight during this six-day event.
Take a walk on the wild side and visit Menominee Park. Not only is the park one of Oshkosh's largest and bordered by beautiful Lake Winnebago, the park has a free zoo, paved walking and bike trails, amusement rides, and kayak and stand-up paddleboard rentals.