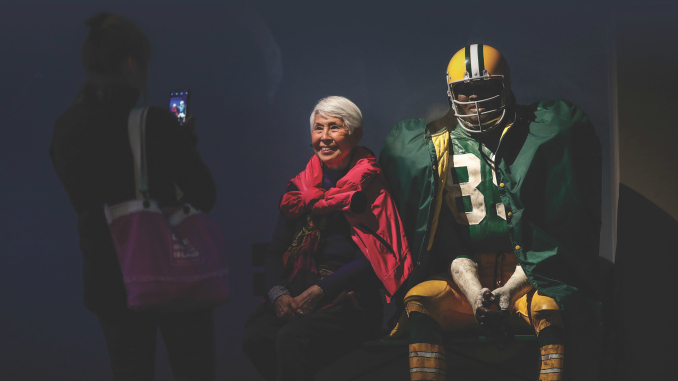 Go Behind the Scenes
01/26/2020
By Kristine Hansen | Photo: © Green Bay Packers
One way to keep energy zipping during a meeting is to arrange a behind-the-scenes tour of a local attraction. There are many options for planners to tap into around the state. There are behind- the-scenes tours of specialty interests, like a stadium tour of the legendary Lambeau Field, to tours providing a window into a niche industry, like watching Amazon's robots in action.
Arranging the tours is a matter of picking up the phone or registering online. Attractions that offer tours know how to work with groups and often employ dedicated staff to facilitate them.
Drew Denney, senior investment advisor with Baird Financial, organized a private tour of Lambeau Field for a group last summer. It was a hit.
"I had several clients call and tell me that 'The day was perfect,'" Denney says. "In my 28 years of doing local client events, this one went over the best."
Denney recalls that Frank Winters, a former Green Bay Packers player, led the tour. "Behind the scenes with an alumnus made the tour extra special," he says, noting that Winters made extra efforts to make a wheelchair-bound client feel comfortable.
"We learned that Lambeau has the highest point in Green Bay — a great location to take a selfie. All my clients got selfies there with Frank Winters," he says.
As a bonus, Denney mentions the tour "also enhanced some of my business relationships."
Wisconsin Meetings takes a closer look at six tours worthy of consideration. However, there are a plethora of behind-the-scenes activities available across the state. And if a location doesn't publicly state that it offers behind-the-scenes tours, planners can often arrange one just by asking.
Amazon Fulfillment Center in Kenosha
Five years ago, coinciding with its 2015 opening, tours debuted at this 1-million- square-foot fulfillment center, running January through mid-November (the remaining six weeks of the year are busy for the holiday season). Tours take place at 10:30 a.m., 1 p.m. and 3:30 p.m. About 1,000 employees work around the clock at this bustling business. The tour covers where the company stores and processes products sold on Amazon.com.
"The tours show guests the magic that happens after they click 'buy' on Amazon.com," says Donna Beadle, an Amazon public relations specialist at Rylem. "Most people enjoy watching humans interact with our robotics."
Planners can book free tours for groups of up to 10 people by signing up at amazonfctours.com. For larger groups, contact [email protected].
Lambeau Field in Green Bay
Even if you have been to a Green Bay Packers game at Lambeau Field, and even if that visit included checking out the Packers Hall of Fame, a stadium tour for a small group (between 20 and 35 people at a time) is still special. Experiences include slipping on curator gloves to handle archives, viewing private art collections inside executive-level boxes and taking part in a scavenger hunt, which is great for team building.
There are four tours, ranging from $12 to $26 a person, that last one to two hours. Planners can also book a private alumni tour, led by a former Packers player. Make reservations at least two weeks in advance to secure a spot. Call 920-569-7145 or email [email protected] to get on the schedule.
Harley-Davidson in Menomonee Falls
Check out Harley-Davidson's storied history in a tour of the 117-year-old company's Pilgrim Road facility in Menomonee Falls, where the company makes its high-end motorcycle engines. Tim McCormick, who handles public relations for the Harley- Davidson Museum, likes the plant's 90-minute Steel Toe Tour, which takes visitors through employee-only areas.
"This means guests are walking directly alongside the machinery and working operations on our plant tour," he says. "This provides a perfect photo op for those looking to get up close and personal with how the heart of a Harley-Davidson — our engine — is made. Steel Toe Tours communicate our manufacturing and assembly processes, while guests see the work being done." The tours are at 10 a.m. and noon, Monday through Friday. Call 262-502-8239 to book a tour.
The company offers special rates for groups of 15 or more, in addition to a one- hour Engines 101 class (which requires no mechanical ability) for $20. Planners can book the class for their groups through h-dmuseum.com. Otherwise, planners can select a free tour at h-d.com/factorytours.
Overture Center for the Arts in Madison
Overture Center's Behind-the-Scenes Tour showcases what ticketed guests at its performances don't see, including backstage.
"The architecture, the history and the state-of-the-art technology are second to none in the Madison market," says Gary Kohn, Overture Center's director of public relations, about the 15-year-old contemporary building. "From the over 90-year-old Capitol Theater to the Kids in the Rotunda stage to Overture Hall to the five galleries, the building is a marvel and a must-see. Each tour may be a little different based on what venues are available, as well as the tour guide giving the tour. Each tour guide has their own little spin."
A two-week notice is required to book a group tour during business hours. Visit overture.org/about/tours or email [email protected]. Overture Center also offers free drop-in tours on the second and fourth Saturdays of each month at 11 a.m.
Miller Park in Milwaukee
Home to the Milwaukee Brewers, this stadium — one of only six parks in the league with a retractable roof — hosts 90-minute tours for $15 a person. The tour shows off the park's Visitors' Clubhouse, bullpen, exclusive Club Level and Uecker's broadcast booth, says Jonelle Johnson, the guest services coordinator at Miller Park. Completed in 2001 (replacing Milwaukee County Stadium), the new stadium offers tours between late March and late September only.
"Miller Park's tour guides are baseball aficionados," says Johnson, "and are well-versed in the exciting history of the Milwaukee Brewers Baseball Club."
There are also two pre-game experiences available: Bernie's Slide Experience (up to five Bernie's Slide rides per person, plus a ballpark tour, for $150 to $175 per person) and the VIP Experience (a ballpark tour before the game and on-field viewing of batting practice for $75 to $100 per person). Groups of over 20 need to complete an online request form and pay a $100 deposit. Call 414-902-4635 or email [email protected].
Wisconsin Maritime Museum in Manitowoc
Many Wisconsinites aren't aware you can walk onto a World War II (WWII) submarine, part of the permanent collection at Wisconsin Maritime Museum, along the Lake Michigan shoreline in Manitowoc.
"We're one of the few historic submarines in the country that offer guided tours," says Karen Duvalle, the museum's submarine curator and retail manager. Included in the 45-minute tour is a taste of what life was like on a WWII submarine. A guide narrates stories about daily life on board — including a peek at sleeping quarters — as well as the mechanics in how a submarine of this size operates. "A huge perk to having a guided tour is visitors can ask questions throughout," says Duvalle. "Also, every tour is different so if you come back again, you'll always learn something new."
The guided tour is $10. A group of 10 or more should book two weeks in advance to receive discounted rates, which include museum admission for the day. Visit wisconsinmaritime.org/visit/groups-and-tours to learn more.