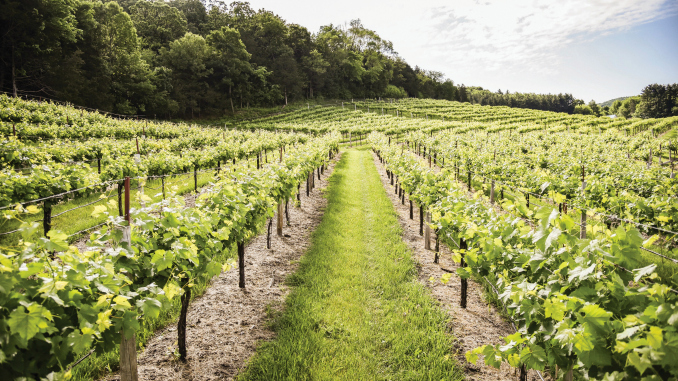 Events to Savor
10/03/2019
By Shelby Deering | Photography by Wollersheim Winery
When Mark Olivieri, customer experience and key opinion leader manager at American Orthodontics, hosts upwards of 65 international visitors and wants to plan a distinctive event in the Sheboygan area, he turns to an unexpected location: The Blind Horse Restaurant & Winery in Kohler.
"The unique setting of a winery, along with having a multi-course, paired wine dinner, provides my guests with something they wouldn't expect," Olivieri shares.
Amid wine barrels, hanging lights, music and beautiful table settings, Olivieri says The Blind Horse always does an excellent job with transforming a room intended for wine production into an elegant setting for an event.
Although it might seem like a far cry from the event spaces and convention halls you may be accustomed to, Olivieri explains that planning a winery event isn't all that different from traditional locales.
"There aren't many differences when compared to a normal banquet location," Olivieri says. "It's one of the things I like most about The Blind Horse. It offers a different event style, but has many of the similar aspects that you would rely on when planning an event."
When planners set an event at a winery, the reasons behind that decision can be numerous.
Cameron Delaney, co-owner and tasting room manager of Trempealeau's Elmaro Vineyard, believes that a winery event is a tranquil, one-of-a-kind experience.
Reflecting on his winery, he says, "Hosting an event at a vineyard is a fantastic way to make your event stand out. Fantastic views of the vineyard and river valley let your attendees feel transported to a relaxing location where they can just enjoy."
As the owner of Cottage Winery & Vineyard in Menomonie, Teresa Jorgensen observes the social benefits of holding a winery event.
She says, "Many planners choose our winery because they want to have a wine social after their event. Guests enjoy the quaint atmosphere for mingling. This brings a fun and new experience to the same old business meetings."
Events manager Cindy Ballweg says that Wollersheim Winery & Distillery's events in Prairie du Sac are the whole package: "We are unique with having both a winery and distillery on the property, so it's nice when planners can incorporate enough time for guests to visit both, and sample our wine and spirits."
Sandy Leske, the marketing director at The Blind Horse Restaurant & Winery, with its rustic, stylish surroundings, says that a winery may appeal to planners because little to no additional décor is needed.
"Honestly, our space is already beautiful, so very few clients have brought in décor," she says.
Whatever your motivation, here are some things to keep in mind as you plan an unforgettable event at a winery.
Sips & Snacks
A winery event isn't complete without a selection of libations, of course. And food to go along with them.
Some wineries, such as Elmaro Vineyard, provide tasting packages. "Elmaro offers wine-tasting packages that include seven wine and light food pairings," Delaney says. "For full meals, guests are welcome to use any licensed caterer of their choosing."
Other wineries have their very own restaurant on site that can prepare a menu for an event. Wollersheim Winery, for instance, is planning to open a bistro this fall. "We'll work closely with our chef and client to offer specialty food items that will complement our wine and our client's taste buds," Ballweg says.
The Blind Horse's restaurant is geared toward those who desire a full culinary experience with a focus on food inspired by California's Napa Valley at their event. Leske says, "Sometimes the client just wants appetizers, and of course, we have plenty of those to offer. As for our wine and food pairing dinners, our chef prepares that menu a week or two prior to the event using the most in-season fruits and vegetables."
There are wineries that require planners to arrange for food. Jorgensen says, "At Cottage Winery, larger events are required to hire their own licensed caterer. Smaller events can choose to hire a professional or bring in their own prepared food. This allows them to fit the food to their needs."
Even if you aren't a wine aficionado, you may be pleased to know that, if you plan an event at a winery, an expert can always be available with recommendations, down to how many red and white wines you should plan on for the event.
"With a wide variety of wines offered, Elmaro is happy to suggest wines to pair with any occasion," Delaney says. "For a mixed approach, we commonly suggest serving one white, one red and one sweet wine to please all palates."
Adding Ambiance
When it comes to décor, creating atmosphere at a winery event is a breeze. Since wineries already have charming aesthetics in place, many planners don't feel the need to bring in additional décor.
Jorgensen says, "Because our venue is naturally gorgeous at Cottage Winery with country vista views, planners say they don't have to plan much for décor. Centerpieces and some signage are about all I see them do. This makes the workload easier."
Many wineries assist planners with tables, chairs and other event must-haves.
"Elmaro's event team works with organizers on the ideal setup for each event. Our staff will set up the tables, chairs and linens for each event, and also take care of the cleanup," Delaney says.
A Flavorful Event
In addition to the food, wine and setup, there are a couple more considerations you need to wrap into a winery event.
Since attendees may be enjoying wine, transportation should be arranged. "Some groups rent shuttles so guests can enjoy wine tastings without worrying about driving," Delaney says.
You may also need to keep in mind that wineries are designed for downsized gatherings as opposed to sizeable convention spaces.
"While we have a large property at The Blind Horse, each of our spaces can only accommodate so many guests," Leske says. "We do not have a grand ballroom that can accommodate hundreds of people."
What they lack in spaciousness, wineries make up for in small, intimate gatherings that feel cozy for your guests. Jorgensen says, "It's pleasant to socialize in a quaint space. It's so nice for guests to arrive at something other than your typical event space."
---
Food & Wine Pairings
Wisconsin Meetings asked our wine experts to share their favorite food and wine pairings at their venues. Get ready to have your mouth water.
Cameron Delaney of Elmaro Vineyard: "Elmaro's light, crisp and refreshing La Crescent white wine is a perfect pairing with a green salad and a lemon chermoula dressing."
Teresa Jorgensen of Cottage Winery & Vineyard: "My favorite wine pairing is our Evening Blush, which has a rosé that is semi-sweet with a soft cranberry note, and our cranberry and cheddar cheese cracker basket. The cranberry flavors pair nicely and the cheese cuts the sweetness of the wine."
Sandy Leske of The Blind Horse Restaurant & Winery: "I recommend our double gold medal Vintner's Blend with our filet. It's perfect!"
Cindy Ballweg of Wollersheim Winery & Distillery: "Our charcuterie and cheese board will be a great choice for many guests to enjoy. A nice pairing would be our Dry Riesling, Dry Rosé or our estate-grown dry red Domaine du Sac."