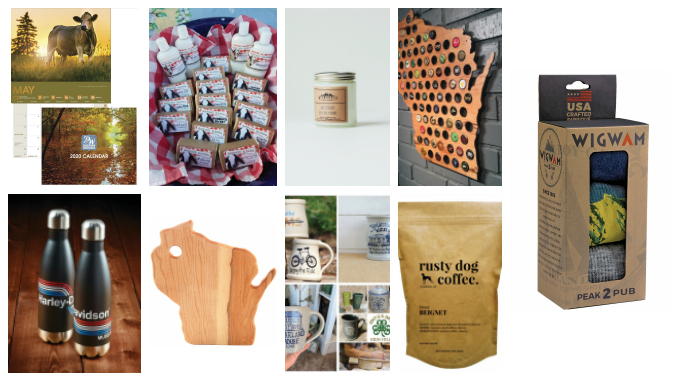 9 Corporate Gifts Clients Will Love
By Ronnie Wendt
No one wants to send tchotchkes destined for the dusty corners of a client's office, or gifts of food and drink that are set out in the employee breakroom where they are quickly consumed and forgotten. Wisconsin Meetings scoured the state for a handful of unique gift ideas that are sure to be appreciated and used by clients for some time to come.
When they open these trendy gift options, clients are going to thank you for your originality and thoughtfulness. They may even thank you for not subjecting them to another tin of nuts or cookie tower!
Summer Scents
In the heart of Milwaukee lies Jazz in the Park, an outdoor music festival that quenches the thirst of revelers with flowing red and white wine, is furnished with meandering blankets and cheese plates, and is endowed with a myriad of familiar faces, dancing and music. Milwaukee Candle Company's new soy candle, Jazzmine in the Park, is inspired by Milwaukee's favorite free outdoor
summer music series. This unisex scent combines jasmine flowers, musk and sandalwood to bring you back to those warm summer nights in Cathedral Square, Milwaukee—even in the dead of winter.
Put out the Pottery
Make a statement with your gifting this year with custom pottery. Rowe Pottery handcrafts custom pottery using your logo to create unique gifts for clients or events. The end product is personalized and memorable, and designed to stand out. The functional pottery is microwave-, oven- and dishwasher-safe. The 40-year-old company offers short lead times and low minimums for its locally made and locally sourced custom pieces.
Suds Up
Barnyard Blessing Goat Milk soaps and lotions are made with love on a farm in northwestern Wisconsin. The family-owned company uses the finest ingredients, starting with the milk from its own small herd of dairy goats. Each product is made in small batches in the farmhouse kitchen using pure ingredients and essential oils. The rich and creamy lather, along with the long-lasting quality of the soaps, will win you and your clients over! Contact Barnyard Blessing for lead times and pricing information.
Bottoms Up
Collect beer caps during your meeting or event, and display your collection with a Wisconsin map from Beer Cap Maps. The Wisconsin Beer Cap Map is 20 by 21 inches and holds 89 bottle caps, perfect to showcase your favorite breweries across the state. The Beer Cap Maps lineup has expanded to include all 50 states, 12 countries, 14 cities, games, coasters and other beer-related products, and is made in Milwaukee, a city known for beer.
Happy Hiking
Keep your clients' feet happy with the Wigwam Paradox lightweight mid-crew sock for hiking. With Wigwam's patented Ultimax technology, these socks keep feet dry and comfortable, while preventing blisters. The socks are styled with a retro vibe with blocked colors on the sole, and a fun color selection including Turtle Green and Ultra Violet. They are available as a single pair or as one of three of the company's favorite styles offered in the Peak 2 Pub Gift Box for $44. Paradox mid-crew socks retail for $16.
Save the Date
Everyone has a calendar on their phones, but there's something about an actual, physical, paper calendar that is both functional and decorative. Give your attendees something they'll use and enjoy all year. Every month, the 2020 Discover Wisconsin wall calendar features a different photo taken by visitors and residents of the state. The calendar showcases the beauty of Wisconsin's countryside, while tracking important dates throughout the year.
https://shop.discoverwisconsin.com/
Wet Your Whistle
Give your connections a Harley-Davidson Stripes Tank Logo Thermal Bottle for Christmas. Affixed on the thermal bottle is a replica of the Harley-Davidson stripe logo pattern, circa 1975. The 17-ounce, double-wall stainless steel thermal bottle keeps cold drinks cold and hot drinks hot with copper thermal insulation, a threaded stainless-steel insulated lid and stainless-steel base.
www.harley-davidson.com/us/en/museum.html
Cut the Cheese
Wisconsin Cheese Mart's durable cutting boards are perfect for showcasing your favorite Wisconsin cheeses and sausages! This Wisconsin-shaped cutting board is made of recycled hardwoods and measures 14 by 12 inches. Make your client's day by supplementing this great cutting board with a sampling of Wisconsin cheese and sausage.
Tasty Brews
What can make anyone's day brighter? A great cup of coffee. Craft-roasted coffee from Wisconsin coffee roaster Rusty Dog Coffee makes a delicious addition to any corporate gift. Rusty Dog Coffee has more than a dozen rotating varieties of signature blends and single-origin coffees. Rusty Dog Coffee, named for the roaster's beloved dog, uses only the highest quality beans and roasts them to the highest standards. Its unique mild roast, Beignet, is a New Orleans-inspired blend of coffee and chicory, which includes the health benefits of the chicory root. Include tea drinkers in your gift purchases, too, with a selection of 6 & 12 tea, Wisconsin's gourmet, organic, loose-leaf tea line. The ginger lemon herbal tea by 6 & 12 is a savory, sugar-free, healthy choice, and can be prepared hot or iced.