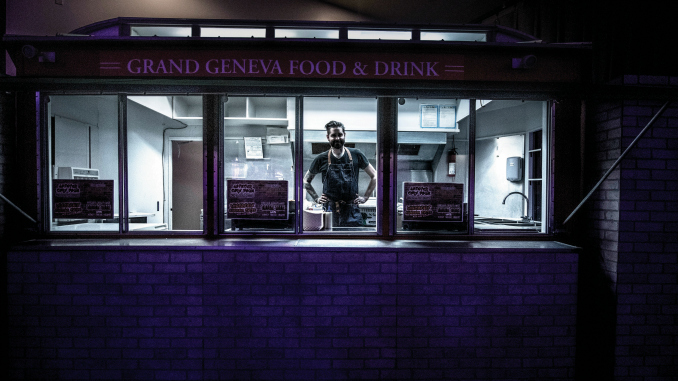 Meals on Wheels: Food Trucks for Meetings
By Maura Keller
As meeting and event patrons become food savvy, crave variety and demand a wider range of flavors, unique food and beverage options are now viewed as an easy avenue to please attendees and keep clients coming back for more. And, food trucks are proving to be a perfect way to do just that—by offering unique dining options that make lasting impressions.
Gone are the days of rusty food trucks dotting the landscape of county fairs. Today's food trucks are often distinctively designed gems that provide eclectic gourmet eats at reasonable prices at a variety of venues. In fact, food trucks are a great way to enhance an event theme or showcase the local foods and flavors of a destination. If meeting attendees are traveling to an event in Wisconsin, where brats, beer, cheese and German fare reign supreme, food trucks might showcase local German flavors, award-winning craft beers or unique ice cream flavors from local dairies.
It is this inherent uniqueness that is making food trucks a bigger draw at today's meetings and events. They are becoming so popular that meeting and event venues, such as the Grand Geneva Resort & Spa, are getting in on the action. The resort now offers the Grand Grille to enhance culinary offerings at group events. The Grand Grille's offerings, for example, can be customized to include things such as taco night, a burger bar, barbecue or dessert options. Personalized themes with custom options also can be arranged.
Fiorella Neira, event planner at Neira Event Group, says food trucks have been popular for a while because of the variety they create by being so different and even visually appealing.
"Food trucks are being used in creative ways," she adds. For example, if a conference doesn't include meals for attendees, planners can bring in food trucks to create a cafeteria—offering a variety of foods, beverages and desserts—in the parking lot or among the exhibits. If a meeting runs late into the evening, food trucks can be used to deliver late night snacks or fresh gelato for dessert.
"Food trucks really are a novelty for attendees," Neira says.
The need for novelty in food and beverage offerings is increasing. The Rodeo Wagon is a rodeo-themed catering company based in Madison. Locally owned by Kay-Tee Olds, the Rodeo Wagon offers fare inspired by Oklahoma and Texas. As someone who has coordinated conferences and meeting events, aside from owning a catering business that started as a food cart, Olds states she has seen event coordinators increasingly working toward creating a unique and valuable food and beverage experience.
"A common complaint of attendees is the 'chicken and mystery sauce' that is often the lunch at a full-day conference. Considering that food is a factor that can greatly sway someone's perception of the event experience, it is not surprising that coordinators are looking for alternative options," she says.
Olds has provided catering for conferences in Chicago, Madison and Milwaukee that have created interactive dining options for their guests by working with food trucks. She has also noticed a growing trend to bring in food trucks during internal training days or corporate events.
Most often, Olds reports, she sees conference organizers hosting the meal served by a food truck, but she's also aware of conferences that guarantee a minimum sale to the vendor and allow attendees to purchase their own meals. "We have provided both hosted and vendor services," she says.
"Food trucks really are a novelty for attendees."  —Fiorella Neira, Event Planner, Neira Event Group
In either case, it's essential to budget appropriately to ensure enough food and beverage choices are available to attendees. "When budgeting and planning how many food trucks should be available to guests, consider that if a food truck is making less than $250 per service hour, they are likely operating at a loss. Some may have additional minimums that must be met before they will block off a day to provide private service. Many food trucks that provide private catering or vending services will ask for a deposit or minimum guarantee if the meal is not hosted."
Alfonzo Jones, owner of Whimsy Dish Catering in Wisconsin Dells, says the great part about food trucks is that event attendees can walk around to socialize while listening to music and enjoying the outdoors. The food cart that Jones uses at events allows him to physically serve 200 people a day depending on the audience and what he is preparing.
"To make the food truck experience work well, the meeting planner needs to know the number of people being served at the event and the logistics of where the event will be located in reference to where the food truck is coming from," Jones says.
IMPORTANT CONSIDERATIONS
To make food trucks an effective and efficient means of providing food for meeting or event attendees, meeting planners need to make sure the food truck company is set to cater to large numbers. Not all food trucks know what it takes to serve large crowds at once, so checking their experience is key.
In addition, meeting planners need to follow the regulations of the venue, city, county and state. A common place to start, if you are unsure of regulations, is the city or county clerk's office. As a rule of thumb, hosted events are usually considered catering while vending or public events have additional local regulations.
Olds recommends communicating clearly with the food truck or caterer and remembering that it is a win/win for everyone if all details are defined prior to the event. It's also important to ensure there are enough food trucks to feed the audience efficiently. The food may need to be pre-made in some cases, which is not always how food truck vendors are accustomed to preparing their offerings. So, it takes some extra conversations with the different vendors to ensure that food can be prepared quickly enough to fit in the allotted time for the meal.
"An experienced food truck or similar foodservice provider will have a process in place for working with organized events and be able to provide menu and logistics guidance," Olds says. "Budget $10-$40 per person for a conference luncheon to achieve a memorable experience for the guests."
Electrical and footprint needs are other important considerations. Most event food trucks need to bring their own generators because electrical boxes are not always available. And considering the size of the footprint of the actual vehicle is important so planners can strategically place them without imposing upon other vendors or event activities.
Many food trucks are self-sufficient by using gas or generators, while others may require access to electricity and still others may want to setup grills or additional equipment to cook on-site and dazzle the audience.
"If you are running an event where the trucks must be present for long periods of time you need to consider an additional fridge for storage," Neira says. "This will give the food trucks the ability to store their food and prepare more as needed."
Weather can be unpredictable so it's important to have a backup plan, as weddings do, for inclement weather. Some food trucks or caterers have additional awnings or tents while others may be able to move their operation indoors.
Make sure food truck operators have a place to arrive and exit without being blocked in. "Figuring out the arrival and departure should be added to your event flow," Neira says. "Do not put vendor or activities too close, they will need space for people to line up and stand around and they will also need space for their generator, electrical box or electric running to a building."
MEETING UNIQUE DIETARY NEEDS
In today's world of various dietary restrictions, food truck operators are usually well versed with unique dietary needs because they serve so many people at various locales.
However, it is common for a food truck to share a commercial kitchen with other businesses, so they may not be able to guarantee that products did not get contaminated by peanuts or other allergens either in their kitchen or throughout the supply chain. Olds says planners need to ask guests about food allergies and other dietary requirements and share these needs with food truck operators in advance.
"Providing vegetarian, gluten-free and vegan options is a common request and one that can usually be accommodated during the planning process," Olds says. It also is helpful to have attendees select a dish or list dietary preferences during an event's RSVP process, so the foodservice provider can best accommodate specialized dietary requirements.
"The unique consideration for meetings and events as it relates to food trucks is what type of audience will be at this event or meeting," Jones says. "Knowing your audience and the food vendors' capabilities is the most important part to making an event successful."