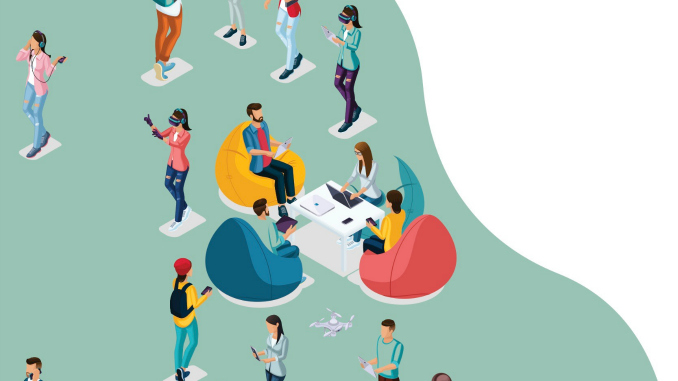 Calculated Risk
07/11/2019
By Amy Wunderlin
There's an old saying in the events business that in your first year you will lose money, in year two you might break even and by year three, you should be making a profit. The same is true for adopting technology. While no one wants to be first, those who take the leap now will reap benefits in the long term.
"All decisions in business are based on risk," says Jamie Turner, an internationally recognized author, speaker and CEO of 60 Second Marketer. In adopting technology, "I may not see my return on investment for five years, so the question becomes, 'Am I willing to take that risk?'
"Yeah, you can overspend and invest in things and it may not turn out the way you want, but you're never going to be the next big event if you keep trying to find ways to cut costs," he adds.
And over the next few years, the competition in the space will only grow more intense. According to CWT's 2019 Meetings & Events Trend Report, demand for meetings will grow 5% to 10% in 2019, and group sizes are predicted to increase by 14%.
In order to stand apart from this growing pack, the implementation of new technology initiatives will be crucial. Technologies such as artificial intelligence (AI), virtual reality (VR) and augmented reality (AR) are creating new ways to engage attendees and deepen their relationship with your event.
"The No. 1 goal for any event is to get people deeply engaged in that event," Turner says. "If you have a competitor down the street running the same event, everything being equal, the organization that deepens the relationship with the attendees and gives them something more experiential is going to be the organization that sells more tickets next year."
Corbin Ball of Corbin Ball Co., a speaking, consulting and writing firm focusing exclusively on technology for events, exhibitions and meeting venues, agreed wholeheartedly with Turner's sentiments as he spoke to a group of planners attending a recent MPI Wisconsin Chapter educational event. He predicts, "AI, VR and AR will have a significant impact on the events industry in the next year or so. There are major changes coming in this area."
Now let's look at how some of the most attention-grabbing technologies are making that more enriched experience possible.
ARTIFICIAL INTELLIGENCE (AI)
According to Turner, AI has become a broad umbrella term for a computer or a computer-controlled robot that can perform tasks usually done by human beings. Several technologies fall under this umbrella, including machine learning, natural language processing, chat bots and robotics.
When most people think of AI, they commonly are referring to machine learning, Turner says, which he defines as an algorithm on a computer or series of steps that continuously improve as the computer learns more and more about the outcomes.
For example, when you search for images on Google, the search engine is using machine learning to deduct what images best fit into the intended search term. When the very first person did a search for puppy dogs, a picture of a wolf and a line drawing of a puppy may have popped up. But because that person did not click on those images, Google's machine learning assumed that those images must not be correct, and it removed and replaced them with new ones.
That same idea can be applied to the way in which an event or meeting planner targets people they want to invite to an event.
"When you use any digital technology like Facebook or YouTube or even email marketing, the software program behind the scenes uses artificial intelligence to help you do a better job targeting those people who might be candidates to come to your event," Turner explains.
As far as using AI at an event, Turner says the future is with robots that can perform customer service-oriented tasks, such as helping people find trade show booths or acting as security.
"Eventually they will program it so people can go up to it and ask, 'Can you take me to the Microsoft booth?' and it will be say, 'Sure, follow me,' and take you to the correct booth," Turner predicts.
While technology comes with a cost, it also has a return, adds Ball. "Technology can reduce the number of people you need to put on an event," he says.
AUGMENTED REALITY (AR)
While the days of service robots are still a few years away, the use of AR to navigate the show floor is available today.
AR is used to enhance what one sees in their real-world environment. So instead of asking the robot for directions to the Microsoft booth, Turner says attendees this year will use AR via their smartphones to navigate the show floor. AR can map out the show floor with arrows and visual cues that attendees can follow on their phones.
Another example of AR use at events is for a scavenger hunt, which Turner says planners may use to get people to visit the different trade show booths. Participants simply download an app on their smartphones, which provides clues and directions through the trade show.
VIRTUAL REALITY (VR)
VR and AR are often mistaken for each other. While they both provide an enhanced user experience, VR uses goggles to insert users into a virtual world.
Of the three technologies mentioned, Turner says VR will see much growth this year as it has become more cost effective.
Today, most event planners are using VR to get people to stay at and engage in an event—whether that's through a game or some other type of activity.
"Your goal at any event is to get people engaged on a deep level so that they want to come back next year," Turner notes. "That's how events grow; the deeper the feeling with that event, the more it grows."
For example, VR could be used at a travel trade show to immerse attendees into the destination the organization is representing. Instead of an attendee simply grabbing a brochure and walking away, they can put on a pair of goggles and take a virtual journey to Italy.
"They just went from having a short experience of grabbing your brochure and walking away, which takes 10 seconds, to a five-minute experience where they're engaged and immersed with Italy. Studies show that the conversion rate goes way up when you get people engaged in something like that," Turner adds.
VR is also quickly becoming a part of event and meeting locations. In 2017, Kalahari Resorts & Conventions in Wisconsin Dells installed a virtual reality experience to raise the bar for guest experiences. Called "The Arena," the space is a free-roam, warehouse-scale, multiplayer, virtual reality gaming experience that allows up to six people to simultaneously explore, conquer and challenge one another for high scores and skill evaluations, all tracking in real time.
According to Tifani Jones, corporate director of sales for Kalahari Resorts & Conventions, planners hosting events at the convention center currently use The Arena for experiential team building activities and after-hours fun.
"The multi-player adventure allows teams to work together and challenge one another for a group experience," she explains.
An early adopter, Kalahari is already showing concrete results in their investment. According to Jones, this experience and other attractions at the resort have proven to increase attendance at events and meetings.
"Kalahari Resorts combines the best in family-friendly resort amenities with massive, state-of-the-art convention space leading to an average 20% increase in meeting attendance. And overall, our groups consume 108% of the number of group rooms they contract," Jones notes.
As VR, AR and mixed reality applications continue to grow in the event space, Jones further adds that The Arena is providing initial exposure for event planners and attendees, which "helps them see how the technology could work to meet their specific event goals."
Ball predicts VR could significantly impact meeting planning as well. Today planners visit sites during the venue selection and planning phases, but in the future, they might tackle this virtually. "It's the next best thing to being there," he says. "They can see the venue and hotel rooms. They can see their event space come to life and visualize their preparations in advance," he says.
For planners trying to land a big event client, VR, he says, could help them "sell the dream. They can use VR to sell the event that hasn't happened yet."
So, whether you are still exploring and learning about technologies from early adopters such as Kalahari, or ready to move ahead with investment, Turner emphasizes the importance of patience.
"All events are struggling to out-do each other. The organization that adopts this early and can do it without the expectation of an immediate return, will be the organization two or three or four years from now that is well ahead of its competitors," he concludes.