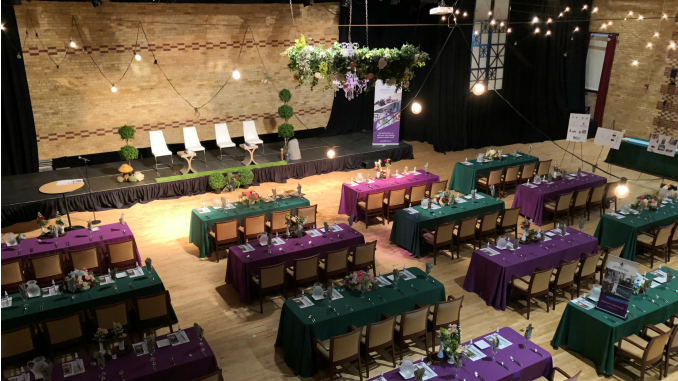 Janesville Offers Meeting Planners a Variety of Options
Janesville features a variety of meeting venue options including unique and one-of-a-kind settings that are sure to make your meeting or special event distinctive and unforgettable.
From meetings held in locations filled with a rich history such as the Rock County Historical Society's Lincoln-Tallman House or the Janesville Armory, to meetings surrounded by nature at the award-winning Rotary Botanical Gardens, to meetings held in a conference center with state-of-the-art technology, Janesville offers an impressive assortment of options. Our selection of spaces can accommodate meetings ranging in size from 10 to 1,300 attendees.
We know that meeting and event planners also need diverse locations and entertainment for evening receptions and group activities. Luckily, Janesville offers a variety of appealing venues to suit groups of all kinds.
You will find a truly unique experience for your group at O'Riley & Conway's Irish Pub. It doesn't just offer fantastic Irish fare and fresh seafood, it hosts private parties and tasting events in the Twisted Chimney room. This space offers great seating for conversation-making, as well as its own bar.
If you need a dinner for making deals or for board relations, Lark is the place to land. Locally-sourced, seasonal ingredients drive the menu with both small plate and entree items, not to mention the plethora of diverse cocktail mixology. Quiet, contemporary, and appealing to all the senses, Lark offers an ideal backdrop for creative discussions.
Give your attendees the "In Wisconsin" experience with catering from the Milwaukee Grill. Wisconsin Cheese Curds and the all-around Best Fish Fry are staples of the state, and your group will love them too. Pair with local brewery offerings from Gray Brewing and Rock County Brewing for a "Taste of Wisconsin" evening. These are just a few of the diverse opportunities for meeting locations and entertainment in Janesville.
In addition, planners looking for offsite activities find Janesville prime for shoppers. Janesville's downtown is home to multiple boutiques and antique shops to explore. A walk along Main Street allows attendees to explore shops like Angie's On Main and Carousel Consignments.
Across the river, on West Milwaukee Street, Raven's Wish, a contemporary art gallery and shop featuring more than 75 regional and national artists, delights many with the array of art pieces available. Velvet & Tulle Boutique offers fashion savvy accessories and closet inspiring pieces along with great gift items.
Whether you're planning a business meeting, conference, retreat, fundraiser, reunion, wedding, sports or other special event, Janesville is the ideal location and our staff is here to help you.
Be sure to ask about our "Get Money Back" promotion that could get you a $200 rebate just for holding your meeting in our community.
Visit janesvillecvb.com for more information or give us a call today at (800) 487-2757. We're here to help you create a valuable, memorable experience!