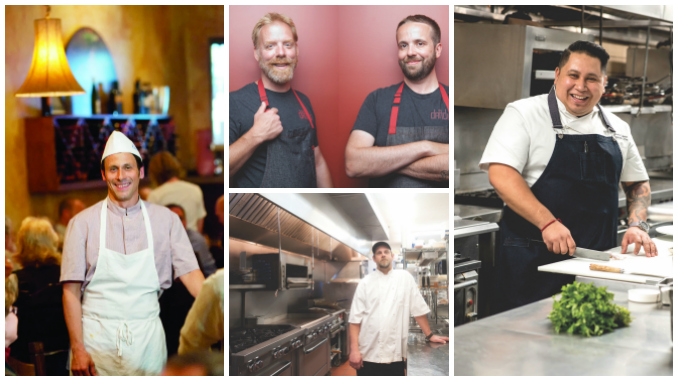 Wisconsin Chefs Dish on Local Cuisine
04/04/2019
By Ronnie Wendt
Food is a central point of every meeting, but equally important are the restaurants attendees dine at after hours. With 12,796 restaurants in Wisconsin from which to choose — according to the National Restaurant Association — picking a place to dine can be complicated. Wisconsin Meetings recently chatted with a few of Wisconsin's top chefs to get a flavor for what's out there. Two chefs recently returned as executive chefs to the places that gave them their start; and two have big plans in 2019 that will bring new options to Wisconsin's dinner table.
Chef Nelly Buleje: Back where he began, at Grand Geneva Resort
Chef Nelly Buleje remembers well the checkered pants of a chef de partie or line cook. He remembers them because at the time he wore them, he longed for the day when he'd wear black pants, have his name embroidered on a double-breasted white jacket, and no longer would have to don a hat. Why? Because this is the uniform of an executive chef.
It's a role he's held in kitchens in Virginia; Hilton Head, South Carolina; and Cleveland, Ohio. It is not, however, the role he held at Grand Geneva Resort & Spa, at least until now.
Buleje began his career at the Lake Geneva resort at 17. But when he left to take a position at the Milwaukee ChopHouse, he didn't know then that his culinary journey would eventually return him to his roots. Sixteen years later, the 33-year-old chef has landed back at the resort, only this time he is wearing the white jacket and is the one in charge of the resort's 11 kitchens and culinary staff.
What was your first culinary job?
My first job was in Lake Geneva at Annie's Ice Cream Parlor, where I worked as a soda jerk. I joined the Grand Geneva when I was 17; that's where I started my culinary career.
Did you always love the kitchen?
I'm half Guatemalan, half Peruvian with Mexican roots. Food has always been a part of my heritage. My mother learned to cook Peruvian cuisine from my grandmother, who taught her to make dishes for my Peruvian father. My father wanted me out working with him, doing all the outside work. But I always wanted to be in the kitchen.
How do you feel about your return to Grand Geneva Resort & Spa?
This is where I learned who I am. With 11 kitchens on the property there was always someone who needed help and was willing to teach me. Working here shaped me into the chef I am today. It's an honor for me to return as executive chef.
What are your plans for Grand Geneva's restaurants?
Each Grand Geneva restaurant has its own DNA. I will be introducing new techniques and flavors to existing dishes to give them a modern twist. I am also working on new menu items. My sous chef built a custom dry-age box for our whiskey-aged rib steaks, and people love them. But being in Wisconsin, where we love our brandy, we are also looking at doing some dry-aged brandy rib eyes
Chef Stefano Viglietti: Looking toward the future
Chef Stefano Viglietti made headlines in 2018 when he was nominated for the highest culinary honor in the country, the James Beard Award. This award celebrates the best American chefs in a variety of categories; Viglietti was nominated for best chef in the Midwest for his restaurant Trattoria Stefano.
Though he didn't win, being recognized as a finalist is a distinction that is well deserved for the chef who has been cooking award-winning fare for nearly 25 years.
Viglietti did not study cooking professionally; he studied history. But on a whim and a prayer, at the age of just 24, he and his wife, Whitney, opened their first restaurant in downtown Sheboygan. The couple now owns four thriving restaurants in Sheboygan, including Trattoria Stefano, the one that began it all, and have racked up countless culinary awards and accolades.
Why cooking instead of history?
History was my first love, and I initially considered going on to further my education and eventually teach. But I decided not to. I was always running back to my place to cook. I was always cooking and always getting excited about food.
How does someone open a restaurant at age 24 with no culinary training?
You live upstairs and you work from 4 a.m. in the morning until 12 at night. We closed twice yearly and traveled to Italy, where we would eat obsessively. I read the "C.I.A. Cookbook" from the Culinary Institute of America and every cooking magazine I could get my hands on. And I cooked from 5 or 6 in the morning till the end of the night. I also hired three chefs to work with me as I was learning to work on the line. I watched everything they did, and I kept making food, experimenting and getting better and better.
Do you have a signature dish?
I love making ragus. I love making soups. While I love the produce of the summer, I love the cooking styles of the winter. When people come to the restaurant, I recommend our veal osso bucco. It's a beautiful veal shank dish, made from local veal.
Or the veal chop, called the Vitello Stefano, which is a 12-ounce veal rib chop stuffed with truffle, cheese and prosciutto and sage, then breaded and pan fried.
What makes your restaurants stand out?
We bake all our own breads. We roast all our own coffee beans. We do a lot of things that other restaurants do not, and I think that sticks out. People expect this in Chicago or New York or LA, but they don't expect it in Sheboygan.
Future plans?
We recently purchased a 7,000-square-foot building. We plan to use the space to create a forward-looking grocery. It will have a fish counter, a meat counter and a rotisserie, and we will sell all our baked goods here. It will offer prepared meals and semi- prepared meals. We have a lot of great chefs, and when we open this grocery store, it's going to be unique … and very chef driven.
Chef Steven Keen: From Alaska to Hawaii to his hometown
Chef Steven Keen took an unusual path to becoming a chef. He graduated with a conflict mediation degree from Northland College, which he jokingly says, "can come in handy in the kitchen." But all kidding aside, he worked his way through college at restaurants on Madeline Island and in Bayfield, and that's where his love of cooking began.
Keen recently took on the role of executive chef at Landmark Restaurant, an upscale restaurant known for its mouth-watering American and French cuisine, situated within Bayfield's five-star Old Rittenhouse Inn. He has big plans for the restaurant based in the popular northern destination for meetings and events.
How did you move from conflict mediation to cooking?
I had a chef ask me one night if I liked to travel. When I said "Yes," he informed me that this is a job that will allow you to go anywhere. I started leaving every winter, and this took me to culinary stops in Alaska, California and Hawaii before returning to Bayfield.
What do you like about the kitchen?
Initially, I enjoyed the pressure and the fast pace of a busy kitchen. As I learned more about food and the history of what I was doing, it started to mean more to me. It wasn't just a job that was exciting, it was a job that had meaning.
How does travel impact your cooking?
Food trends show up in places along the West Coast and Hawaii before making their way to the Midwest. A lot of our clientele come from the Chicago/Minneapolis areas where those trends arrive first in the Midwest, and they expect to see those trends in the food here. Traveling helps me bring them here.
What are your plans for the restaurant?
When I returned to the restaurant, I inherited a menu. My sous chef also came on board last August. We both brought fresh ideas to the table, and we've been incorporating these new ideas and techniques to put modern twists on classic dishes. We will introduce a new menu this spring, where dishes can easily be dairy-free, gluten-free and egg-free if they need to be.
Chefs Dan-Dan: Four restaurant openings in two years
Chefs Dan Jacobs and Dan Van Rite didn't open their first restaurant together until 2016, but once the train left the station this dynamic duo quickly opened three more in Milwaukee's Third Ward. The first endeavor was a Chinese restaurant named Dandan, followed by a restaurant within a restaurant named Esterev; Batches Bakery; and finally, Fauntleroy, a French restaurant with a 1970s flair.
The two met as cooks at local culinary events. At the time, Jacobs worked at Roots, as a sous chef then executive chef, and Van Rite, as executive chef at Hinterland. They left those restaurants in 2015 to forge their own path together.
Did you always want to be a chef?
Van Rite: As a boy, I wanted to be an accountant; once I got older, my passion turned to architecture. While pursuing an architectural degree, I started working at a local restaurant, first as a server then as a cook. I knew I'd found my calling. I left architecture school just shy of graduation and enrolled in the Western Culinary Institute.
Jacobs: As a kid, I wanted to be a cop; my brother, a robber. But after taking courses at the Cooking and Hospitality Institute of Chicago (now Le Cordon Bleu), I began working at Carlos', where I spent two years learning technique from Carlos Nieto.
Why did you decide to open a restaurant together?
Van Rite: We were friends, and we got along. And, in 2015, we didn't want to work for anyone else anymore. We wanted to do more. We wanted to do something else.
What surprised you when you opened your own restaurant?
Jacobs: You think you know how to run a restaurant, but you don't know s—. We did a lot of learning on the fly. I had opened a restaurant as a sous chef, but I quickly realized I had a lot to learn.
Why did you open your second restaurant?
Jacobs: Dandan was a challenge on its own, but it was pigeonholing us into one kind of cuisine. We're creative guys and we wanted to do more. EsterEv is named for my great-grandmother Ester and Dan's grandmother Evelyn. We feed people communally, just as we did at my home growing up when Dad brought his buddies or work friends to dinner at our house. We offer one nightly seating for up to 20 diners on Thursdays, Fridays and Saturdays.
What are your favorite dishes?
Jacobs: I don't know that I have one. I hate pigeonholing myself into one thing.
Van Rite: I'm attracted to wild game and seafood.
Where do you find inspiration for your dishes?
Jacobs: I travel, read magazines and look on the Internet. In the old days you had to buy a cookbook, now you can find inspiration on Instagram. We also find inspiration from each other and bounce ideas off each other well. We end up with a better product that way.
Van Rite: Traveling and eating out is a great way to find inspiration for new dishes. Every time you go out you see a new way of doing something.
What's next?
Jacobs: We are introducing catering this year, French to Chinese to four-star dining experiences. We have catering trucks that can feed up to 200 people. The best way to serve food when catering is family-style as opposed to plated meals. No one really wants to eat from a buffet. Family style also keeps costs down. When it's plated, you need more hands to get the food out to people.
Van Rite: Catering is a revenue stream we haven't had before. We have developed a catering wing. People were asking about it. It made it an easy decision for us.