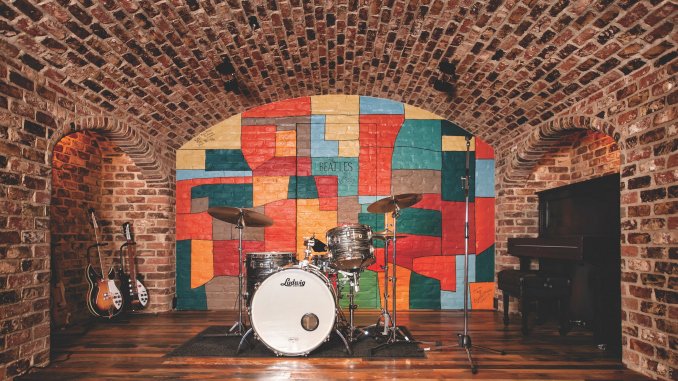 Venue Pays Tribute to the Beatles
04/04/2019
By Ronnie Wendt
The British Invasion began in 1964 when the Beatles landed in the states for a two-week-long promotional blitz. As the country celebrates the 55th anniversary of Beatlemania, it seems fitting to share information on a hot new venue in Hartland that commemorates the subterranean Liverpool club, known as The Cavern Club, where the Fab Four got their start.
Technology entrepreneur Dave Meister spent the last four years fashioning a replica of The Cavern Club in an office building on Hartbrook Drive. The space lies below Blue Sky Jazz, a small club Meister also created. Both floors can be rented, separately or together, for corporate meetings and events. And, once planners learn the unique details of these well-appointed spaces, it will be hard for them to "let it be."
The plans for these venues took root when Meister found himself struggling to fill vacant office space in the building. Rather than let the space sit empty, he decided to bring in a pool table, install a small kitchen and stage, add a flat-screen TV and use the area to hang out. However, plans changed as the project quickly took on a life of its own.
He first built a swanky jazz club on the first floor, complete with custom artwork celebrating Ella Fitzgerald and a large mural of 1920's-era New York City. This posh hideaway also offers modern amenities, including a top-of-the-line sound system, a 75-inch flat screen television hidden behind remote-controlled panels, and an electronic window shade system that raises and lowers throughout the day.
Later, Meister landed on the idea of recreating The Cavern Club downstairs. He hired an architect to draw up exacting plans to the original club's specifications. "We got as close as we could to the original dimensions, but it's actually about eight inches lower and two feet narrower because we had to work around the trusses in the basement. We also had to pull in the vault a bit to have the same arch as the original vault," he says.
Meister then packed the room with Beatles memorabilia. There is a Hofner violin bass guitar like the one Paul McCartney played; a Ludwig drum kit like Ringo Starr's; and Rickenbacker guitars, which George Harrison and John Lennon once favored. And, there are exact copies of the drum and the uniforms from Sgt. Pepper's Lonely Hearts Club Band.
Even the stairwell leading visitors to the lower level offers a visual treat. Visitors pass a mural of Buddy Holly, Ritchie Valens and The Big Bopper, take a few steps on Abbey Road, then take a nostalgic trip down a stairwell lined with British Invasion-era album covers.
The Cavern Club features a gorgeous wood bar equipped with a custom-designed refrigerator made to look like an old British phone booth and an array of opulent wood cocktail tables with leather-covered chairs. Warm lighting washes the entire area with a golden ambience.
Both Blue Sky Jazz and The Cavern Club are available to rent for events. Each space comfortably holds approximately 50 people. Planners can rent one area or both for their meeting or event. All that's required is a $500 donation per space to Blue Sky Jazz, a 501(c)(3) devoted to furthering the musical education of area youth.
"Blue Sky Jazz will use the money to provide scholarships and educational opportunities for young musicians," Meister says. "The fee covers the space itself, but planners must cater in food and beverages, set up and clean up. We will have a representative from Blue Sky Jazz at every event to make sure the doors are locked and to answer questions as they arise."
To discuss hosting a meeting or event at Blue Sky Jazz or The Cavern Club, call (414) 640-1024 or email Meister at [email protected].