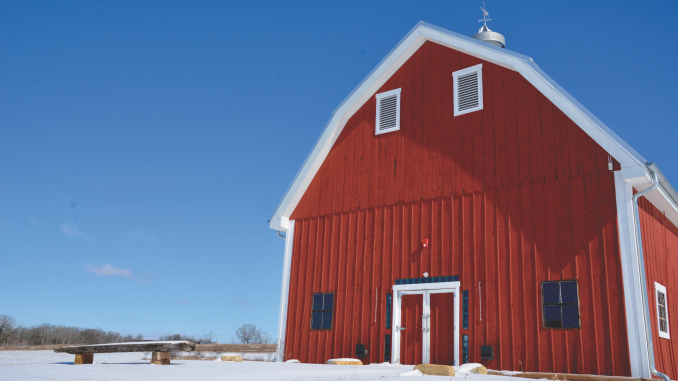 Barns with Charm
04/04/2019
By Shelby Deering | © White Oak Savanna
As the colorful leaves fell outside on a cool October day last year, planner Shanna Edwards saw the Elegant Barn Wedding Expo she planned become a reality. As the owner and creative director of Rustic Rhinestone Events, the barn at Sparta's Justin Trails Resort overflowed with 500 delighted attendees, where they perused 31 vendor booths outfitted with wedding ideas and inspiration. And all the while, the beautiful barn surroundings acted as the star of the show.
"Barns can offer a remarkably unique opportunity for any event," Edwards says. "I find time and again that the essence and feel of a barn can be so inviting, create excitement and fun, and allow attendees to feel like they are getting away from the norm. Many barn venues have charming and warm characteristics, a gorgeous natural environment and tons of curb appeal for promoting and celebrating just about anything."
If you're planning a meeting, conference or event, a barn is certainly a way to surprise and enchant your guests. Wisconsin Meetings recently asked planners and barn venue owners and operators to share their thoughts on what makes a barn a magical venue for events, and they had several thoughts to share.
"Clients just love the flexibility of a blank canvas space that incorporates elements of the outdoors," note Andrea VandeBerg and Sarah Sarbacker, owners of Cherry Blossom Events.
Paul and Audrey Gaynor, owners and operators of Dodgeville's White Oak Savanna Events Farm and Sanctuary, say, "[A barn] facilitates personal connections between work and professional colleagues without the usual confines of generic buildings, conventional food and atmosphere."
Katie Klitzke, venue manager at Wisconsin Dells' Vennebu Hill (a hilltop barn with views overlooking the Wisconsin River and Baraboo Bluffs), echoes this sentiment, saying, "I think overall the advantages to holding a meeting or conference in a barn venue are that it inspires creativity and offers a unique venue to discuss business."
A barn can captivate attendees with its natural surroundings and outside-the-box feel, but there are considerations that differ from planning an event at a standard facility.
As VendeBerg and Sarbacker say, "[A barn] is a bit more work than a traditional hotel ballroom event, but it's totally worth it for the incredible ambiance that a barn venue provides."
FOOD & FUN
Barns are similar to convention centers and halls in that each and every one of them handles catering and liquor differently. But since a barn is a rustic, distinctive environment, there may be more considerations to think about while planning.
Located on 87 acres of historic farmland once owned by Frank Lloyd Wright's cousin, White Oak Savanna opened in 2017 readied with a restored 1920's barn, tents and additional buildings.
Between providing spots for live music performances and outdoor areas for group discussions and bonfires, the Gaynors say it's important to keep in mind Mother Nature when hosting events at barn venues. "[Planners] do need to consider weather as we are mostly an outdoor, seasonal place."
Planners then need to think about one of the biggest components of any event: the food. Barn venues tend to be across the board in providing food options. For example, White Oak Savanna is a licensed restaurant and also has strong relationships with many area caterers.
The Barn at Harvest Moon Pond, a timbered barn sitting on 10 acres in Poynette, just north of Madison, offers flexibility and allows groups to bring in their own food, choose their own caterer or ask the venue operator for assistance. They've also seen their fair share of food trucks, and there's even an on-site pizza oven.
Dave Muehl, owner and operator of Deerfield's Badger Farms, a working farm that doubles as a barn venue, has sage advice to share as well. He says, "It's extremely rare for a barn to have a commercial-grade kitchen, so most will require food to be catered in, since their kitchens are classified as warming kitchens. Some venues only allow caterers from a pre-selected list, while the rest are usually open to sourced food. Watch out for catering commissions that may be invoked. We are open-sourced, but do not charge a commission."
The moral of the story? Each barn venue has its own approach to catering and food, so be sure to talk everything through with the barn venue operator before planning your menu.
As for libations, it can be a tricky subject when it comes to barns. As Muehl explains, "Venues without liquor licenses are presently permitted to allow liquor on site for private parties, like weddings or most meetings—but there can be no sales of alcoholic beverages. Those without liquor licenses are not permitted to have liquor served if the public is allowed to attend, even if the liquor is given away." However, recent debate on a statewide level is pushing for barns to be required to carry liquor licenses. That discussion is ongoing, so be sure to discuss thoroughly with the venue operator to stay on top of the possibly changing issue.
SETTING THE SCENE
Beyond food and alcohol, as an event planner, you know there are lots of other details involved and covering those details in a barn setting can differ from other events you've planned.
If you'd like to include presentations, Wi-Fi access and other technology offerings to your guests, keep in mind that a barn is not naturally a high-tech place. But many venues, like the Barn at Harvest Moon Pond, are fully outfitted for modern needs.
Renee Whirry, who owns the venue alongside her husband, Gary, and daughter Marsha, says, "We offer Wi-Fi throughout the venue with redundant high-speed Internet and secure routers. This connectivity, coupled with our in-house speaker system, projection system and staff, keeps our conferences running smoothly."
Wi-Fi is available in several barn venues nowadays, but some planning ahead doesn't hurt. Klitzke says, "We recommend that groups come prepared with their own laptops and HDMI cords."
No event is complete without décor, which can include table set-ups, linens and other aesthetic items. Again, these elements can differ from barn to barn, so it would be wise to confirm the barn's policies before getting deep into the planning.
For example, Vennebu Hill will work with planners to create a floor layout and order linens, but the décor is up to the planner. The Barn at Harvest Moon Pond includes extra time in contracts for set-up and take-down. At White Oak Savanna, some of the set-up is included in the rental fee, but some outdoor set-ups may require additional fees.
Edwards points out even more considerations when planning a barn event, and lists questions to ponder: What is parking like? Is the barn temperature-controlled? What's the weather back-up plan for outdoor spaces? What are the restrooms like? She adds that many barn venues offer fun extras that you can think about, too. "Maybe you can feed the llamas, camp overnight on the property, play the golf course or go sledding."
A UNIQUE EXPERIENCE
Klitzke shares that holding an event at a barn has pros and cons, which is true of any venue. She says, "Considering that big conference venues have the infrastructure for large-scale events, a planner needs to think slightly outside-the-box at an alternative venue. The mere fact that planners are interested in doing events at unique venues means that there is a need to create a different environment for attendees, and with that comes a trade-off."
That trade-off can include room to get creative with a theme, as Whirry points out. She says, "We have seen several conferences with themed days, which brings an added level of enjoyment for attendees and makes the event even more memorable. Themes are much easier to carry out in a venue that is in the country, with room for these themes to grow."
Edwards summarizes planning a barn event, saying, "Being part of an event at a barn is a truly one-of-a-kind experience. Many of us do not have access to nature and the relaxation a barn property can offer. It feels like a small getaway. In my experience, a barn venue always delivers the combination of the comfort of home and carefree enjoyment of the moment."