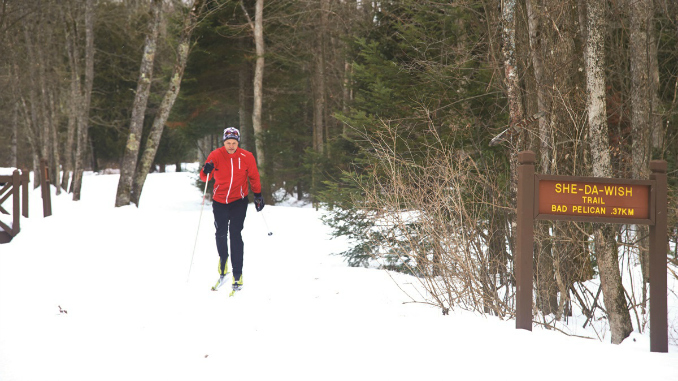 Wisconsin's Winter Wonderland
01/04/2019
By Mary Bergin | Photo ©Minnesuing Acres
Forget about hibernating during winter. The start of a new year is a prime reason to retreat from the routine and bring people together. A nip in the air invigorates, and a dusting or blanket of snow adds to the allure of the season.
So, strategize with hot chocolate or a hot toddy. Talk shop around the fireplace. Promote teamwork with a fun and revitalizing bout of exercise outdoors.
All of these settings are scenic. Some are beautifully secluded, an excellent environment for concentrating on a mission, meeting or project itinerary.
NORTHWOODS NIRVANA
About 25 miles south of Lake Superior is Minnesuing Acres, where only one group —optimal size 30 to 60—is accommodated at one time. Bonfires to wine tastings are arranged at this executive lodge with 35 guest rooms.
The property was built in 1961 as a getaway for the Curt Carlson family, owner of Radisson Hotels, Carlson Wagonlit Travel and other notable businesses. "The lodge is full of nooks and crannies, and secluded spaces, perfect for small group sessions," says Geoffrey Carlson Gage, a third-generation owner. Driving to the retreat is one option. Flying is another: On the grounds is a lighted runway for private aircraft.
Among the indoor diversions are a bowling alley and indoor swimming pools. Outdoors, it's pretty much whatever activities your group desires, from broomball to trap shooting. Or let staff organize a unique version of the "Winter Olympics," games that can include bowling on outdoor alleys of snow and ice, using a frozen turkey.
Dogsledding across frozen Lake Minnesuing can be arranged too, and "guests who partake likely will be talking about their adventure and experience for the rest of their lives," Gage says. "That is our hope anyway."
For snowmobile enthusiasts, Eagle River is an ideal match. The community of 1,500 annually hosts the World Championship Snowmobile Derby and is in Vilas County, home to more than 600 miles of snowmobile trails, many through Chequamegon-Nicolet National Forest. Bring your own motorized snow sleds or arrange a guided trail ride on rentals.
A favored winter roost is Wild Eagle Lodge, which houses up to 400 in one-, two- and three-bedroom units and has event coordinators. Snowshoe rentals are available too. The biggest on-site, indoor meeting space has room for 50; if your group is larger, consider booking the downtown Northwoods Center's mix of classrooms and 180-seat theater with projector equipment.
Two private lakes and the Namekagon River are spectacular lures for Heartwood Conference Center and Retreat, near Trego, where 52 guest rooms have views of water. The rustically elegant destination began as a three-story summer home, built with locally harvested logs in 1923.
Today, Heartwood is a modern retreat of cabins, cottages, guest rooms and enough meeting space to host groups of up to 300. On the 700-acre, woodland property is a sledding hill, ice skating and cross-country ski trails. Surrounding the lodge are 20 miles of trails for hiking, cross-country skiing or snowmobiling. End the day in a 10-person hot tub or relax around a fire pit. Indoors are fieldstone fireplaces. The Upshot on Downhill Wausau has long been a charismatic match for lovers of downhill skiing, thanks to the 74 runs and vertical rise of 700 feet at Granite Peak Ski Area in Rib Mountain State Park. Expect challenges for beginner to advanced skiers. Skis to snowboards are for rent.
High-speed chair lifts allow more time on the slopes, and skiing is possible in moonlight as well as daylight. Don't presume the schussing ends when the sun sets: Downhill action continues until 9 p.m. daily.
Best base camp? That would be Jefferson Street Inn, a downtown, 100-suite boutique hotel with day spa and easy access—on foot —to shopping, art galleries and theater. Up to 400 can get down to business via board rooms and reception areas.
Groomed downhill and cross-country ski courses are part of the 800-plus acres at Christmas Mountain Village, just west of Wisconsin Dells. Cyber tubing turns slip-sliding into a 5,000-foot-long thrill ride, complete with music, lasers and color-changing lights. Arrange ski or snowboarding lessons, rent sledding tubes or simply enjoy the view from indoors.
Reserve rustic-looking log cabins to contemporary townhouses of up to three bedrooms as an employee reward for work well done. Overlooking the resort's ski hill and championship golf course is a banquet hall that seats up to 250 diners.
Grand Geneva Resort and Spa, Lake Geneva, bills its Mountain Top area as a judgment-free zone for giving downhill or cross-country skiing, snowboarding and ice skating a try. It's ground zero for lessons and equipment rentals (some specifically designed for beginners). Take a break from the rink and 20 ski runs by ducking into the cozy chalet.
Also, on the resort's 1,300 acres is 62,000 square feet of flexible meeting space, enough to accommodate up to 2,000. Onsite staff are well versed on creating on-target and fun team-building events for any season of year. Name your game or goal and take it indoors or outdoors. Set up teams for a chili cook-off, for example, or extreme sled building.
Choices for overnight stays vary too: standard resort guest rooms to three-bedroom villas with a full kitchen and optional grocery delivery. To balance your indulgence in wintry sports, make time for the indoor waterpark at Timber Ridge Lodge, which also is part of the resort complex.
DISTINCTIVE SETTINGS
Although The Edgewater is in downtown Madison, it can feel a world away because the historic and 202-room hotel faces pretty Lake Mendota, where ice boats skim the frozen waterway in winter and the annual Frozen Assets Festival invites fat-tire bike riders, runners and walkers who gingerly race on the ice.
Frozen Assets is one of the many reasons why Madisonians and hotel guests gather at The Edgewater's popular outdoor plaza, where sunset views are especially spectacular. Open all winter to the public, as temps cooperate, is an ice-skating rink that faces the lake at one turn, then the State Capitol dome. Skates are for rent or bring your own. Watch the action from the comfort of indoor lounging areas too: A wide range of ages and skating ability find their way here.
Celebrities who perform in Madison—Elvis Presley to Elton John—have stayed at the hotel since it opened in 1948 As a meeting destination, expect adaptable spaces that can handle up to 500 in one room. Consider the intimate Sky Bar or Red Crown Club when seating 50 or less. Whatever you choose likely comes with a gorgeous lake or cityscape view.
In Green Lake, population 960, the mood is peaceful and welcoming at Heidel House, whose 177 rooms on 20 wooded acres are next to the deepest inland lake in Wisconsin. Across the street is Tuscumbia Golf Course, the oldest in the state, and that enhances the serene setting.
Arrange a fun introduction to ice fishing for trout and more through Mike Norton's Fishing and Hunting Adventures, which provides transportation to and from heated fishing shanties, plus all fishing equipment, tackle and bait. The outfitter also promises to clean and package whatever fish are caught.
For rent at Heidel House: snowshoes, ice skates, cross-country skis, sleds and bikes with tires chunky enough to barrel through snow. Recreation trails are plentiful in the area, and the resort's roomy Evensong Spa makes it easy to unwind. It's big enough for a group to simply lounge or take a contemplative walk along the indoor labyrinth (you can match that with a yoga or meditation class).
Heidel House's 18,000 square feet of meeting space includes board rooms for 12 to ballrooms with theater seating for up to 540. In some meeting areas are large windows with lakefront views.
Next to Lambeau Field in Green Bay is the sporty and fashionable Lodge Kohler, which anchors the 34-acre Titletown District, an interactive area that encourages outdoor play. Take advantage of it to break up or reward a hard day of work.
Snow-making equipment ensures that Titletown District's 46-foot-tall slope for tubing will be in prime condition whenever temps are not too warm. Rent skates or an ice bike to traverse the adjacent ice rink and skating trail. Much of this is the view from many of the 144 Lodge Kohler guest rooms.
Each of two private dining rooms at the hotel can be converted into a meeting space for 20. Fifth-floor areas with walls of windows accommodate up to 50 and come with a view of the football stadium.
Need more space? Lambeau, merely 100 yards away, rents board rooms, suites and banquet space for hundreds. Rockwood Terrace, on the second level of the manmade sledding hill, overlooks the ice rink and seats 200.
It all is evidence that you can't paint winter just one way in Wisconsin. Setting and mood are only limited by the imagination.