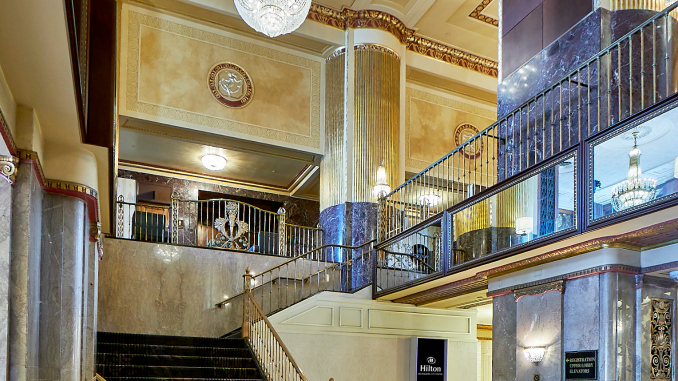 From Meetings to Masterpieces: Marcus Hotels & Resorts are classic Milwaukee
01/01/2019
In Milwaukee, Marcus Hotels & Resorts has long been the signature name for the quintessential hotel experience. From classic properties to legends in the making, there's something for every traveler and every taste.
Hilton Milwaukee City Center
The Hilton Milwaukee City Center boasts a prime location for impressive, immersive gatherings. It is connected via skywalk to the city's main convention center, The Wisconsin Center, and the hotel's conference center features more than 280,000 square feet of meeting rooms and banquet halls. This allows associations and groups to utilize a combination of convention center space and hotel space, depending on their needs. What's more, every Hilton meeting is highlighted by a visit from a very special guest. Millie, our goldendoodle canine concierge, is available to stop by during breaks.
During the winter months, we're offering Cold-Weather Coffee: the cost of a gallon of coffee will be equivalent to that day's highest temperature. If it's below zero, we'll even credit your bill!
Saint Kate: The Arts Hotel
Our lives are made richer through experiences, through letting go of the comfortable and the familiar and embracing the process of creativity and beauty of what could be.
Saint Kate is the place for that. A place to discover. A place to create. A place that connects you to the aliveness of creativity in the city of Milwaukee. A place that connects you to the creative spirit that unites us all.
Formerly InterContinental Milwaukee, Saint Kate — opening in 2019 — is an independent hotel and venue focused on celebrating the arts and the creative process.Located in the heart of downtown Milwaukee, it's close to everything the city has to offer: theaters, stadiums, restaurants, and the stunning Riverwalk.
Event Planners who are looking for something new, need not look any further. Saint Kate is perfect for conferences, meetings, private events or weddings. It's a one-of-its-kind destination that welcomes travelers, artists, and the community. It features 219 art-inspired guestrooms, 13,000 square feet of meeting space, 11 event rooms, three restaurants, and two bars.
Can't decide which venue works best for you? No problem! Our extraordinary service and unique city will give you plenty of reasons to come back, and plenty of opportunities to explore our other venues. For full details and to submit an RFP, please visit MarcusMeetings.com.