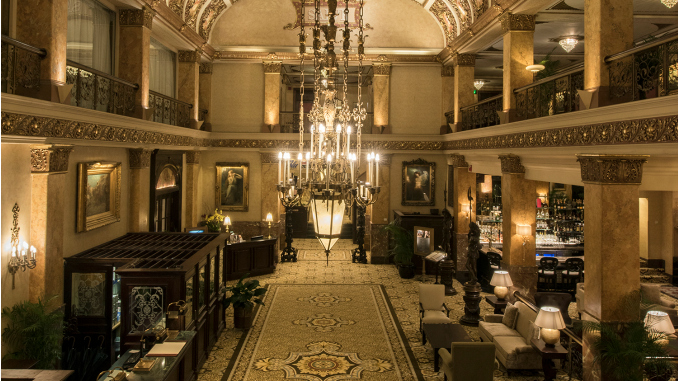 Marcus Hotels & Resorts: The most trusted name in Milwaukee meetings
Marcus is a Milwaukee household name, and for good reason. Its unique properties have long exceeded groups' expectations with award-winning food and beverage, magnificent meeting spaces, and prime downtown locations: The Pfister Hotel and Hilton Milwaukee City Center.
Regardless of which historic hotel you choose, we'll deliver an experience that suits your style. With our excellent perks and competitive group pricing, you'll see why a Marcus meeting means a successful Milwaukee meeting.
The Pfister Hotel
The Pfister Hotel is the premier venue for your next Milwaukee convention, meeting or event. Our seventh-floor meeting rooms, banquet halls, conference rooms and event spaces highlight the rich European flavor of Milwaukee's Victorian era and feature state-of-the-art technology and amenities fit for any event.
As one of the city's most historic hotels, The Pfister's décor showcases lavish chandeliers, marble accents and stunning Victorian artwork. Those classic appointments are elevated by modern features that include national and international teleconferencing capabilities, individual climate controls, blackout draperies, private entrances and group registration areas. It also has an impressive sound and light system, and an elevator large enough to transport a car.
While you're here, we invite you to explore our paintings, sculptures and historical items with The Pfister Augmented Reality Tour (PAR) — the first of its kind in the hotel industry. Use a phone app to reveal videos, games, and more throughout the hotel.
Hilton Milwaukee City Center
The Hilton Milwaukee City Center boasts a prime location for impressive, immersive gatherings. It is connected via skywalk to the city's main convention center, The Wisconsin Center, and the hotel's conference center features more than 280,000 square feet of meeting rooms and banquet halls. This allows associations and groups to utilize a combination of convention center space and hotel space, depending on their needs. What's more, every Hilton meeting is highlighted by a visit from a very special guest. Millie, our goldendoodle canine concierge, is available to stop by during breaks.
During the winter months, we're offering Cold-Weather Coffee: you'll receive a gallon of coffee with pricing to match the day's high temperature. If it's below zero, we'll even credit your bill!
From festive holiday cheer to world-class events throughout 2019, there's never been a better time to plan a Milwaukee meeting with the city now more accessible than ever. The Hop — Milwaukee's new streetcar service — is open for business. Now, downtown is more connected to the surrounding areas, which makes neighborhood exploration a breeze. Jump on and experience the Historic Third Ward, the vibrant Walker's Point neighborhood, the Milwaukee Art Museum, and so much more. Not only is it easy to ride, it's also free for its inaugural year.
Can't decide which venue works best for you? Then don't! Our impeccable service and incredible city will give you plenty of reasons to come back, and plenty of opportunities to explore several of our spaces. For full details and to submit an RFP, please visit MarcusMeetings.com.