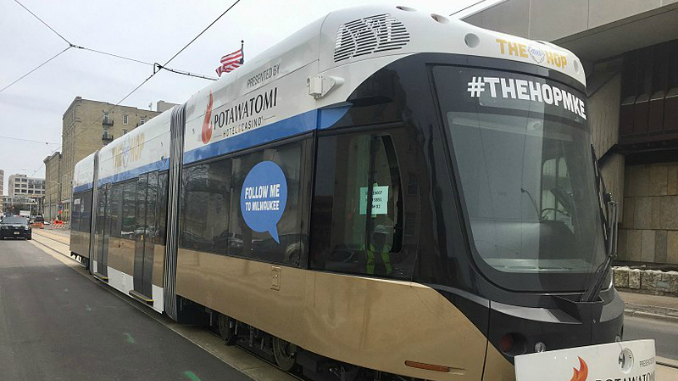 Ride The Hop in Downtown Milwaukee
The wait is over for the public to ride The Hop, the new Milwaukee streetcar. The $124 million project includes five streetcars, 18 stations, tracks, overhead wires and a new maintenance facility. The first folks in line to ride the new Milwaukee streetcar included a grandfather enjoying an outing with his grandsons and an Alverno College professor finding a new way to get to work.
The three — and dozens of others in line for the first public rides on the $124 million streetcar — waited more than an hour on the platform at the north end of Cathedral Square Park while the grand opening speeches were delivered. And then they waited while a line of more than 150 politicians and other VIPs loaded into the first car. The public boarded a second car headed in the other direction. The Hop will run on a loop through downtown and the Historic Third Ward between the Milwaukee Intermodal Station, 433 W. St. Paul Ave., and Burns Commons, at East Ogden and North Prospect avenues.