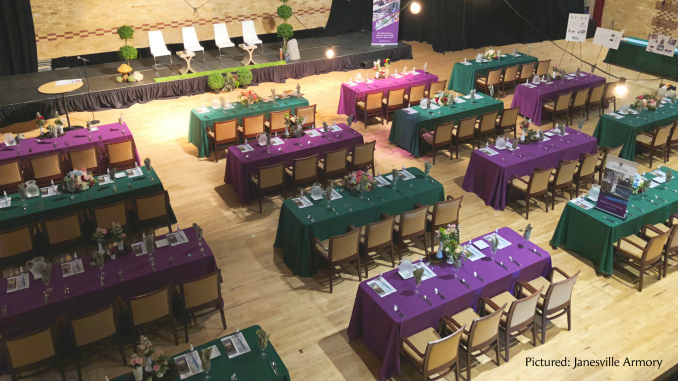 Find everything you need in Janesville, Wisconsin
Janesville is conveniently located with easy access and lots of transportation options. Situated directly off of I-39/90, Janesville is less than one hour from major travel hubs Milwaukee, Madison, Rockford, IL, and less than 2 hours from Chicago.
The selection of meeting spaces in Janesville is versatile, unique and offer incredible value. Meeting planners will find a range of meeting venue options to choose from, including unconventional, one-of-a-kind locations that are sure to make your meetings or special events distinctive and unforgettable.
Whether you're planning a business meeting, conference, retreat, fundraiser, reunion, wedding, sports or other special event, the Janesville Area Convention & Visitors Bureau is here to help you every step of the way. From welcome packets and name badges for your guests to assistance locating the perfect venue, pavilion or overnight accommodations we're ready to assist and our services are completely complimentary.
From meetings held in locations filled with a rich history such as the Rock County Historical Society's newly renovated Carriage Barn, The Janesville Armory or The Venue, to meetings surrounded by nature at the award-winning Rotary Botanical Gardens, to meetings held in a conference center with state-of-the-art technology such as the Pontiac Convention Center, there is an impressive assortment of options. If you're looking for a meeting venue that is atypical you may also want to consider one of our exceptional local breweries or wineries, our beautiful performing arts center, outstanding botanical garden or even at a local farm. Our diverse selection of spaces can accommodate meetings with up to 1,300 attendees.
The Janesville community takes pride in providing visitors with the best experience possible. Rest assured that during your visit you can expect to be treated to our friendly Midwestern hospitality while enjoying comfortable accommodations, great value and no fees for parking.
Looking for the ideal meeting destination? Janesville is a charming and picturesque community set alongside 36 miles of the scenic Rock River in the gently rolling hills of south central Wisconsin, just minutes from the Illinois border. It's known as "Wisconsin's Great Outside," and features miles of peaceful trails, thousands of acres of scenic parkland, and an award-winning botanical garden. These qualities make Janesville an exhilarating and popular year-round destination for those who love to explore the outside in various ways, including biking, hiking, nature walks, golfing, kayaking, water and snow skiing, and more.
This quaint community is also home to 15 historic districts, which are perfect for guided or self-guided historic walking tours. In addition, there is an array of other interesting attractions to discover, along with more than 100 restaurants to tempt your taste buds, several area breweries and wineries to check out, and 750 hotel rooms.
Also, be sure to about our "Get Money Back" promotion that could get you a $200 rebate just for holding your meeting in our community.
Visit janesvillecvb.com for more information or call (800) 487-2757. We're here to help you create a valuable, memorable experience!