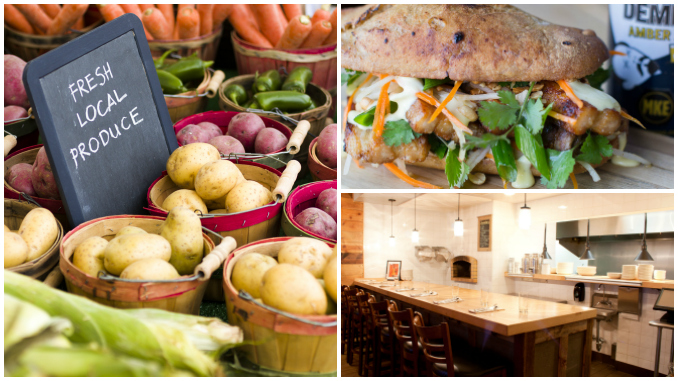 Fresh from the Farm
10/24/2018
By Kristine Hansen | Photos ©Braise
When people visit the Dairy State, they anticipate dining on fresh produce, quality meats, artisan cheeses and many more delectable treats. So if you plan to provide your attendees with a truly memorable, Wisconsin experience, dining is an important detail not to be overlooked. With the Farm to Table movement, there's no better place to enjoy the state's bounty.
The Informalist, Eau Claire
Haven't heard of this restaurant? There's a reason: it's new, located inside the Lismore Hotel Eau Claire — a DoubleTree by Hilton since 2016. A private dining room seats up to 30. "We call it 'the fishbowl,'" says Food and Beverage Director Alex van Oudenhove. "It's in the lobby of the hotel and it's got curtains and is glass-enclosed." Small groups can also dine in the 110-seat dining room.
Van Oudenhove and Joey Sieg, the restaurant's executive chef, recently began tapping into US Foods' new farm-to-table program, run out of the Twin Cities, which makes the job of transactions with farmers much easier. When the duo took over the restaurant, there were 88 vendors; now, it's less than 10. Another one-stop-shop order is with DragSmith Farms, an hour north of Eau
Claire in Barron, which folds in other farms' harvest with orders. "That's been one of our biggest issues," says van Oudenhove. "We would love to buy from 25 different farms but from an office perspective, it's difficult, not to mention in the kitchen (due to the volume needed)."
Come fall, Sieg plans to create dishes incorporating corn, beets, kohlrabi, squash and peppers. One of his favorite creations is Southern-style hush puppies with sweet corn and poblano peppers. Square Roots Farm, a 10-minute drive from the hotel, grew a special corn varietal for the chefs. "We can go to him and say, 'What do you have? We'll take all of it,'" says Sieg. Lettuces and other salad greens come from Superior Fresh, a fish farm-greenhouse enterprise in Jackson County. "The product is amazing," says Van Oudenhove.
Braise, Milwaukee
Located along what is becoming known as Milwaukee's Restaurant Row (South Second Street in Walker's Point), Braise's chef and owner, Dave Swanson, has championed local farmers for decades, even before opening his own place in 2011. Recently he's begun reaching out to Amish farmers, sending letters through the mail and hopes to bring more of their bounty into the menu soon.
Groups (between 40-90) can book a separate event space upstairs, which connects to a rooftop deck, home to the restaurant's beehive and garden. There is also the option to reserve an 18-seat area next to the bar, half of the dining area or a seven-seat table (with a curtain that can be closed for privacy).
"We're pretty flexible on how we can accommodate a group," says Swanson. While Braise is only open for dinner, lunches or brunches for small groups can be booked upon request.
Dining at Braise this fall and winter? This is prime time for meats as they are typically harvested in fall. "I think most people are versed in the seasonality of vegetables but they may not be in meat," says Swanson.
For groups, Braise can create a signature punch recipe and ladle it from antique punch bowls acquired from the antique market that used to be across the street. Otherwise, there's a roster of seasonal punch recipes to draw from, including last summer's rhubarb-based punch with strawberry tinctures. "It's a throwback to the punch days of the '50s and '60s," says Swanson.
Chives, Baileys Harbor
In the quaint town of Baileys Harbor, just up the road from The Ridges Sanctuary, Chives' setting is almost as delicious as the food. The building's white-clapboard exterior hugs the street, up a flight of stairs; and two large picture windows frame Lake Michigan views.
Sprinkled throughout the fine-dining dinner menu are many farm-sourced items from the Northeast part of Wisconsin, including certified-organic beef cheeks from Waseda Farms (also in Baileys Harbor) and LaClare Family Creamery's (in Malone) award-winning cave-aged Chandoka cheese in the Wild Mushroom Pappardelle entree. The culinary career of chef-owner JR Schoenfeld—who opened the restaurant in 2014—actually began in similar resort destinations (including Denali National Park Hotel in Alaska) and he's found his stride in Door County. It's a true family business with his son Lucas, a certified sommelier, picking the wines; his daughter Jessa baking the breads and his son Nick, running RYE in Appleton with his wife. The family's other restaurants are Barringers Restaurant in Fish Creek and the original Chives in Suamico. JR's wife, Cindy, runs the office.
In town over the weekend? Sunday brunch is a treat, with items such as brioche French toast topped with vanilla custard and macerated berries and "fancy home fries" (French fries topped with a fried egg, cheddar and seasonal vegetables). Sartori MontAmore cheese is highlighted in the Simple Salad—watermelons, radishes and vegetable slaw.
L'Etoile, Madison
One of Wisconsin's first farm-to-table restaurants, then chef-owner Odessa Piper opened the doors to this Capitol Square fine-dining spot in the 1970s, culling as many items as possible from the farmers market hosted on the square. When she retired in 2005, one of her chefs— Tory Miller—took over as executive chef/co-owner (with two other partners) and quickly made the restaurant his own, while still retaining Piper's vision. He also opened Estrellon, Graze and Sujeo, with similar farm-to-table mantras as L'Etoile. In 2012, Miller was crowned James Beard Award Best Chef: Midwest and competed on "Iron Chef Showdown" earlier this year (spoiler: he won).
But back to the food. There are two options at L'Etoile: an a-la-carte-style menu (first and second courses, and dessert selections) or the seven-course Chef's Tasting Menu. For wine lovers, the Chef's Tasting Menu is a must because the pairings (additional $55) with items like Fox Heritage Farms pork belly (from nearby Fitchburg) with blueberries, bacon and basil; or Blue Valley Gardens duck confit (from nearby Mount Horeb) with red currants and wild chamomile are teachable moments for any home chef. Occasionally, L'Etoile hosts wine dinners that are just as farm-to-table in concept as its daily menu. This includes a recent Italian-wines dinner where Dreamfarm goat cheese from Cross Plains was used in a dish with Pinn-Oak Ridge Farm lamb's quarter (from Delavan), paired with an Amarone wine.
Carmella's an Italian Bistro, Appleton
At first glance, you might not think this family-owned Italian restaurant tucked into a strip mall near Fox Valley Mall could be a major player in the farm-to-table dining game, but think again. Current owner Kristen DeFranza draws from her family's previous experience running a restaurant just north of New York City, a story that the entryway's framed black-and-white photos unspool. That restaurant dated back to the 1920s. The current chapter is in Appleton.
DeFranza supports as many local farmers as she can when sourcing for the menu, whether it's fresh herbs, cheese, meats (such as Whistleberry Farm's pork chops, located in the Fox River Valley) or produce. One of the most popular items on the menu is peppercorn-dusted sea scallops. Pastas are all made in-house, a testament to the quality and attention to the lunch and dinner menus.
A group with up to 27 people can comfortably fit in a private room, which includes a bar, and there's an option to use a set menu of six items, not the entire menu, to streamline the ordering process. Sold at the restaurant is a line of bottled sauces, the perfect souvenir to remember one's time in Appleton.