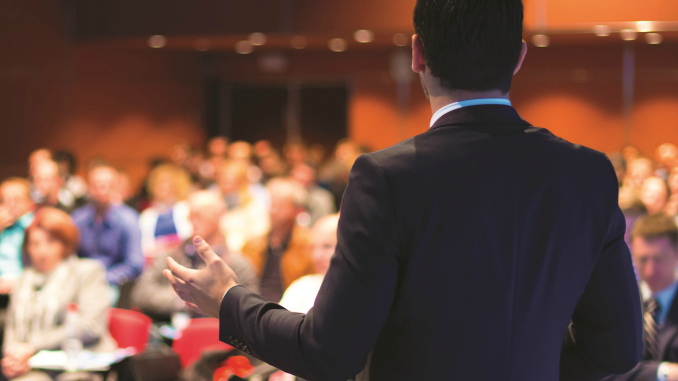 By Ronnie Wendt
A keynote speaker commands a lot of attention, and the wrong one can set a negative tone for the entire event. In the article, "Four tips for choosing the right speaker for your event," Caroline Eimerman writes, "Even a well-staged business event can fail if the featured speakers do not deliver the goods."
Who you hire to speak at your meeting or event is critical, but also critical is staying within the confines of your budget. Fortunately, Wisconsin is packed with dynamic and engaging speakers with messages to fit your unique needs. Best of all, many of these speakers charge very little, if anything, for their presentations.
Did you know there are speakers in Wisconsin available to talk about the following?
Cultivating a 21st Century mind.
Inside the psychopathic mind: What brain science is revealing about criminal behavior.
Relationship building and management.
Applying mindfulness to your work-life.
Ethical behavior in the office.
The topics run the gamut and the speakers are readily available for your specific event. They come from colleges and universities, local associations and more. You just need to know where to look for them and how to go about scheduling them for your event.
But, booking the speaker is the easy part. There are other considerations and steps to take before you get to the point where you can book a presenter for your event.
Carefully consider the event itself. What is the purpose of your event? Answering this question will help you set a theme for the event, which in turn will help you select a speaker who best fits the theme.
Know who attends your event. What are their informational needs? What value might they be seeking from a speaker? Most speakers require information about your audience and the event theme to tailor their talks to your unique needs.
Eimerman reports knowing the demographics of your attendees is essential to booking a speaker that is the right fit. "Remember, an edgy young maverick may not necessarily appeal to a group of conservative upper management types, and vice versa," she writes.
Set your budget. Contrary to popular belief, speakers don't always jump at the opportunity to speak just for the exposure. Seasoned speakers often won't think twice about saying no. Develop a budget that covers lodging and meals for the speaker, and a stipend for their services should they require one.
Determine what kind of speaker you are looking for. Are you looking for a subject matter expert, inspirational speaker or a comedian? Do you want your speaker to inform the audience, inspire them or make them laugh? Maybe you want all the above. This is critical to know as you begin researching potential speakers.
Check the speaker's availability. Knowing that a speaker is available on the date you need them is only part of the consideration. Travel time also must be considered. If it takes a full day to drive to your event, speaking there will take them more than one day. If they're not free the day prior, they likely will be unable to speak at your event.
Book far in advance. Though the University of Wisconsin-Madison Speakers Bureau website reports speakers are often available just four weeks in advance, it also recommends booking four to six months out to be assured of getting your first choice.
Know where to find them. A wealth of possibilities exists in our home state of Wisconsin. Just about every school in the University of Wisconsin system offers a speakers' bureau. In most cases, the speakers' bureau covers the cost of travel, while host groups may incur the following expenses: staffing or preparation costs, event space fees, audio visual equipment costs, marketing and promotion. The speakers in these bureaus offer talks that run a full gamut of topics. Check out the speakers available from UW-Madison by visiting speakers.wisc.edu/; UW-Milwaukee at uwm.edu/speakersbureau/speakers/; or gigmasters.com/search/motivationalspeaker-wisconsin. Requesting a speaker is simple. Most sites simply ask you to email or call and their staff will guide you through the process.
Fully vet your short list of speakers. Your work doesn't stop once you find two or three possible speakers for your event. That's when the fun really begins. It's important to contact your candidates and speak with them on the phone before signing a contract. In addition, review their demo videos. However, keep in mind, just as a trailer to a movie might make a movie look fantastic, when it's not, speaker videos may also do the same. A short well-produced video is designed to cast a speaker in a positive light. They are effective tools to help you define your short list of possible speakers, but a follow up phone call will help you know for certain when a speaker is the right fit for your event.
Request several letters of recommendations from each speaker on your short list and call a media planner or two who has worked with this speaker in the past.
Doing all these things may create extra work for your speaker selection committee. But in the end, you'll find yourself with a keynote speaker who meets the needs of your audience and sets the tone for a successful event to follow.