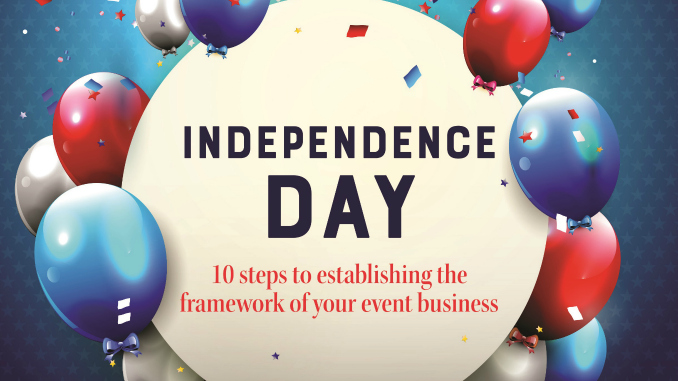 Independence Day: 10 Steps to Establishing the Framework of Your Event Business
By Clair Urbain
Meeting planners who have built a solid reputation in the field are often tempted to break out on their own. After all, you know the costs and probably have a heavy hand in making sure the quote and subsequent invoice are correct. And it's easy to realize that there can be quite a bit of wiggle room (profit) left over once all the event's bills are paid.
But savvy planners don't always make the best business owners. There are many back-office—and front-office— functions that take time, interest and know-how. Navigating some of them can be tricky and usually require the assistance of an accountant, tax expert and occasionally, a lawyer.
Startup Savant, built by Ryan James and hosted by Liesha Petrovich, is an online resource that helps aspiring business owners get started on the right track. It offers insight on business services and software that can help aspiring independent meeting planners find the best resources when starting a business. It offers 10 steps to consider when you're planning to make the break to become an independent meeting planner.
Step 1: Develop your business plan
A professional business plan is important, even though it will not ultimately guarantee success.
A well thought-out business plan is your game plan. It helps you get the most out of your ideas throughout the business cycle and increases your odds of noticing golden opportunities.
Startup Savant offers free business planning guides online, however, there are other resources that can be tapped to develop a business plan.
Many Wisconsin universities have outreach programs that can help you properly plan your business startup. There are ample tools and resources online that can help guide you through the thought process needed to establish a solid idea, then develop a marketing plan, a budget, business milestones and a professional pitch to attract investors and/or customers, says Kevin Kaufmann, director of the Small Business Development Center at the University of Wisconsin – Whitewater.
Step 2: Choose your business structure and register it
A legal structure is the backbone of your business. It establishes your company as a legal entity that can be registered, protecting your brand and also enables you to pay sales or other taxes through your business. Most entrepreneurs form a limited liability corporation (LLC) because it has all the benefits of a corporation without the disadvantages like double taxation and the need for a board of directors or corporate officers. However, if you're trying to take your company public or raise substantial outside capital, you should probably form a corporation, suggest the experts at Startup Savant. You can go over your options at startupsavant.com/writing-a-business-plan/, or take some time to discuss your options with a lawyer familiar with business law. You'll get a better idea of the advantages and disadvantages of each while building a solid legal foundation for your business.
Step 3: Tackle state tax obligations
Chief Executive magazine ranks Wisconsin as one of the top 10 best states for business due in part to its business-friendly tax code. Once you've established and registered your brand and your business entity, you're ready to take advantage of all those tax incentives, subsidies, credits and kick-backs—and also sales and any other applicable tax. To get registered with the state, go to the Wisconsin Department of Revenue website. There, you'll find a free video/webinar on how to set up an account. It also features other pages for those starting a new business; it also offers online registration options.
Step 4: Obtain licenses and permits
Fortunately, Startup Savant reports Wisconsin's regulatory system is very modern and there are very few holes to jump through in terms of licensing or permits. You can do it yourself by going to dsps.wi.gov/pages/Professions/Default.aspx. It covers everything required on federal, state, county and municipal levels, how to get the forms and provides step-by-step filing instructions. Or, you can ask your lawyer or accountant to navigate the licensing or permit processes.
Step 5: Open a business bank account
The next logical step is to centralize your business financials in a benefit-filled and startup-friendly banking institution with its own checking/savings accounts. Due to tax and audit implications, don't mix personal accounts with business accounts. Startup Savant experts recommend shopping around at local and national banks or credit unions to compare features. Look at the institution's user-friendliness and check out if its website is fast and secure. Look for automated features that can help you easily forecast so you can make efficient budgeting decisions. Make sure the bank account can interface with any business accounting software to eliminate the need to make entries in two separate systems.
Step 6: Fund Your Business
Once your bank account and business software is in place, the next step is raising working capital. Startup Savant experts report that Wisconsin has an entire smorgasbord of funding programs that can include credit, grants, venture capital, angel investor funds and even social lending. The Small Business Development Centers can help you identify funding options that can range from personal loans to angel investors.
Step 7: Protecting your business
Insurance is a staple of any business and it's no different with event planning. It's essential you have coverage should someone be injured at an event you produce. Most event planners will need general and professional liability coverage. However, speak with your insurance agent, and even legal counsel, to make sure you are covered for the variety of scenarios that can occur in relation to an event.
Step 8: Design and publish a website
For today's businesses, having a website pretty much goes without saying. But the Startup Savant experts report there are armies of startups that don't take it as seriously as they should. The first step is finding the right platform. Several free web-building sites, such as Wix, Weebly and GoDaddy are options. Or if you wish to outsource this service, you can often have a developer create a site for less than a few thousand dollars.
Step 9: Market Your Business
Building a brand makes your products and services memorable. It defines the services you are offering and what your business represents. It requires extensive thought and development. Branding positions your business in the marketplace. Do you offer a niche service or work with a niche market? Those details should be conveyed in your brand, which is then communicated through all messaging: marketing materials, email communication and website.
Step 10: Continue Learning and Stay Inspired
Taking the first nine steps can be a fun, exciting, frustrating and at times, a scary journey. However, business owners need to remain motivated to continue to grow their clientele and businesses.
Join professional groups such as the local chapter of Meeting Professionals International (MPI), local and state chambers of commerce or convention and visitors bureaus and other associations that can help you stay abreast of ideas, meetings and sometimes even discounts that can help propel your business to new levels.