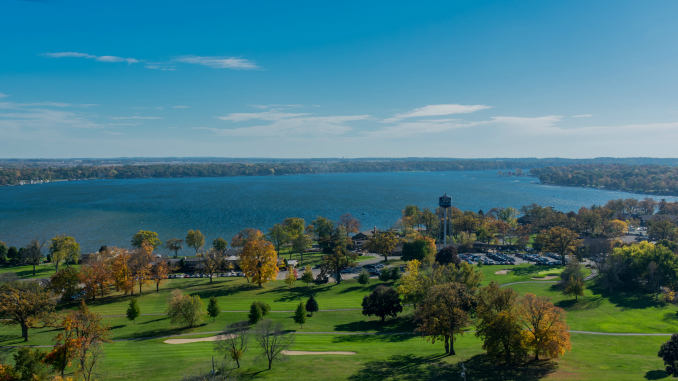 Get Creative with Meetings at Lake Lawn Resort!
Nestled along two miles of Delavan Lake's shoreline, Lake Lawn Resort is the ultimate year-round destination for conferences, groups and meetings. Centrally located in Southeastern Wisconsin in the Lake Geneva area, just 90 minutes from Chicago and minutes from Milwaukee, Madison and Rockford, Lake Lawn Resort hosts a wide array of corporate meetings, conferences, state associations, and executive retreats.
Set on 270-acres of natural beauty, the resort features 32,000 square feet of adaptable and flexible meeting space in 22 meeting rooms, along with 271 spacious, well-appointed guest rooms and hosts groups of up to 500.  Additional features include Majestic Oaks, an 18-hole championship golf course, three on-site restaurants, boat and water sport rentals, 3 pools, a 170-slip marina, a fitness center and the Calladora Spa.
Make it Memorable!
Leaders and meeting planners are recognizing the importance of bringing experiential meeting approaches to life in order to help create more impact with attendees from a sensory stand point.  Experiential meetings stand out, become highly memorable and offer a strong, fresh compliment to the status quo of daily digital communication overload.
The Lake Lawn Resort team is passionate about helping meeting planners bring memorable and innovative "experiential meetings" and concepts to life through programming and teambuilding that harnesses our unique mix of resort features.  Groups take advantage of beautiful, expansive green space areas and lakeside settings by planning special outdoor activities or events.  Outdoor experiential teambuilding activities help the groups interact and bond as they move throughout the resort environment. Popular choices include:
Lake Lawn Regatta – Teams take on the challenge of designing, building, and then attempting to a race a "sea-worthy" vessel on the lake or in the pool!
Floating Conference Rooms – Small groups "take to the lake" on our two-story pontoon boat(s) to review new ideas and concepts in a setting that is fresh, beautiful and filled with inspiration and fun.
Integrated recreational amenities, including golf, mini golf, and volleyball, create opportunities to bring competitive concepts to life, away from the board room.
Spa professionals rejuvenate attendees with 5-10 minute chair massages (indoors or outdoors) with relaxation breaks and healthy food options.
Book Now and Save on Meeting and Conference Packages!
For a limited time, get deeply discounted group room rates starting at just $99, while they last!  It doesn't stop there … act now and receive an additional 10% off of your planned food and beverage and recreational activities.
Turn Key Packages Deliver Ease and Value!
Lake Lawn Resort's Complete Meeting Packages make planning easy as our team of professionals help create a turn-key, memorable event with you!  Specials include the Fundamental Meeting Package for Only $54/attendee and the Full Day Meeting Package for Only $63/attendee! 
Visit www.lakelawnresort.com for complete details.
---
Contact: Terri Bain, Director of Sales, at 262.725.9147 or [email protected]
Lake Lawn Resort
2400 E. Geneva St
Delavan, WI 53115
262.728.7950