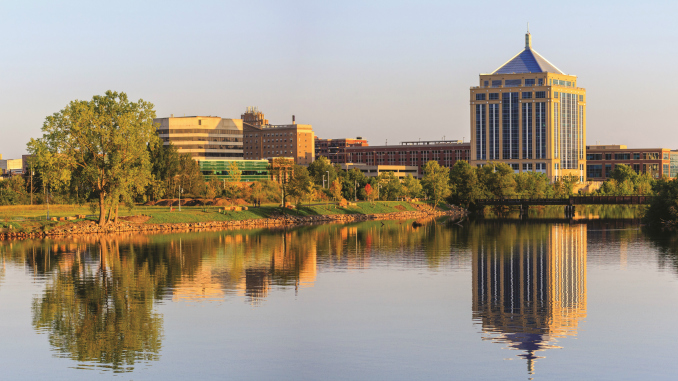 Destination Wausau
07/12/2018
By Melanie Radzicki McManus
Wausau might not be the first locale that pops into your mind when planning a meeting or conference. But perhaps it should be. This mid-sized city of 40,000, smack dab in the middle of Wisconsin, is an easy-to-reach, affordable spot that offers plenty of meeting space and an eclectic mix of entertainment options you won't find anywhere else.
Wausau and its environs—neighboring communities Mosinee, Rib Mountain, Rothschild, Schofield and Weston—are home to more than 100,000 square feet of meeting space and 2,100 hotel rooms. The largest facility, both in the area and in all of northcentral Wisconsin, is the Central Wisconsin Convention & Expo Center. The building contains 55,000 square feet of meeting space, more than 1,500 free parking spots and is within walking distance of 575 hotel rooms.
Andrea Stoiber, events director, says the facility hosts a wide variety of events, such as expos, conventions, fundraisers and weddings. Its sweet spot is serving groups of 500 to 600, a number that allows for a lot of breakout options. However, for the past several years they have hosted the annual convention of the Wisconsin Bear Hunters Association, which draws 1,500. And in 2017, then-presidential candidate Donald Trump appeared at the center on the same day as the bear hunters' group, packing in an additional 5,000 people.
"Some of our top selling points are our free parking and the fact that we are one level, so there are no stairs or elevators," says Stoiber. "We're also directly attached to the Holiday Inn, so you don't have to go outside if you're staying here."
Other pluses are the special events that staff can pull together (casino nights are always a huge hit) and the friendly, accommodating staff. "A pretty small team runs this whole building, so meeting planners usually know us well," she says. "We pride ourselves on our hometown feel, and that we make you feel like our friend, not our client. Not every convention center can do that."
Those looking for more intimate digs have plenty of other options, such as the Courtyard by Marriott, Fairfield Inn, Hilton Garden Inn and Westwood Conference Center, all managed by the Ghidorzi Hotel Group. The four properties together offer 278 guest rooms and 40,000 square feet of flexible meeting space.
The smallest meeting facility of the group is the Fairfield Inn, which has 4,800 square feet of conference space (largest room capacity is 225), plus 87 guest rooms. The Hilton Garden Inn, which opened last year, contains 10,000 square feet of conference space (largest room capacity is 300), 108 hotel rooms, a restaurant and a bar. The Westwood Conference Center is the largest by far, with 30,000 square feet of conference space; its largest room capacity is 200. The Courtyard by Marriott-Wausau does not have meeting facilities, but offers 84 guest rooms.
Tim Van De Yacht, sales director with Ghidorzi Hotel Group, says each property features something special. The Fairfield, for example, recently remodeled its conference space. "And our breakfast, included in the room rate, is extremely highly rated by guests," he says. "Fairfield as a brand has gone through a transformation to be more health-conscious, so we offer granola, whole and chopped fruit, veggie sausage, and eggs and omelets on the line." The hotel is also government friendly, and will meet state per-diems.
The Hilton Garden Inn has 10,000 square feet of meeting space that can be split into four areas. Van De Yacht says the Hilton's emphasis is on natural lighting; its conference area boasts floor-to-ceiling windows.
The Westwood Conference Center may not be attached to a hotel, but it features two amphitheaters and a ballroom in addition to its traditional meeting space. The property, which sits on a pretty, wooded bluff, is a good choice for day-long seminars or training sessions.
"A huge, huge advantage to all of our properties is that we don't host wedding receptions," Van De Yacht says, which means there are no steep premiums for Saturday-night stays. "We are definitely in the minority in that regard. But it's our group's philosophy. We are focused 100 percent on the corporate traveler."
Looking for a more unique meeting venue? Then check out The Grand Theater. First opened in 1927, the Neoclassical-styled theater underwent a restoration in 1987. Then, in 2002, it was connected to two other landmark buildings to create ArtsBlock, a visual and performing arts center. Meeting options include the theater, which can seat 1,214 within the main floor and balcony; the Great Hall, which can hold 400 and features a terrazzo floor, 14 gold pillars and a 30-foot ceiling sprinkled with stars; the Caroline S. Mark Gallery, the primary exhibition space for the Center for Visual Arts (capacity 100); and the B.A. & Esther Greenheck Lounge and the Loft, both of which overlook the city's open greenspace. The lounge holds 75, while the loft can handle 150.
Another option is Granite Peak. While widely known as a downhill ski area, you can also rent its two chalets, tucked into the base of the ski hill. "People love the views and the privacy," says Vicki Baumann with Granite Peak. "It's a very quaint area, very cozy, with rustic charm." The Sundance Chalet can hold 300; guests love its floor-to-ceiling windows and the outdoor fire bar. The Historic Chalet seats 125. Planners can tap one of six different approved caterers for food and beverage service.
Every good meeting destination includes plenty of down-time offerings, and Wausau doesn't disappoint. The Leigh Yawkey Woodson Art Museum, housed in an English Cotswold-style home, is one of the area's top tourist draws due to its impressive collection of avian artwork—in oil, watercolor, graphic arts, bronze and stone. Last year, the Institute of Museum and Library Services awarded the Woodson Art Museum its prestigious National Medal, the highest honor a U.S. museum or library can receive for service to the community.
On the quirky side, a 25-minute drive brings you to the "45-90," a geological marker flagging the spot that is halfway between the North Pole and the Equator, and one-quarter of the way around the earth from Greenwich, England. More precisely, it is one of four spots in the world where the 90th meridian of longitude bisects the 45th parallel of latitude. Visiting the marker lends you some caché, as two of the other four spots lie underwater, and the fourth is in China.
Of course, many people flock to Wausau for its outdoors offerings. Top among their choices is Rib Mountain State Park. It's home to miles of hiking and snowshoe trails and a 60-foot observation tower.
Ten minutes from the city center, the Dells of the Eau Claire River makes a perfect outing. The county park is created around a narrow, rocky gorge filled with volcanic rock formations. The river rushes through the gorge, tumbling over ancient stones and creating numerous waterfalls. Hiking enthusiasts can experience a National Scenic Trail here, too, as the 1,150-mile Ice Age Trail passes through the park.
Canoe and kayak enthusiasts may be surprised to learn that Wausau is home to a national-class whitewater kayaking site, Wausau Whitewater Park. When upstream dams release water, paddlers can experience Class II and III rapids along a three-quarter-mile stretch.
Put this all together, and Wausau is a place that has "big-city amenities with the look and feel of the great Northwoods, plus small-town hospitality," says Kent Perrin, marketing director with the Wausau/Central Wisconsin Convention & Visitors Bureau. "That sums it up pretty good."