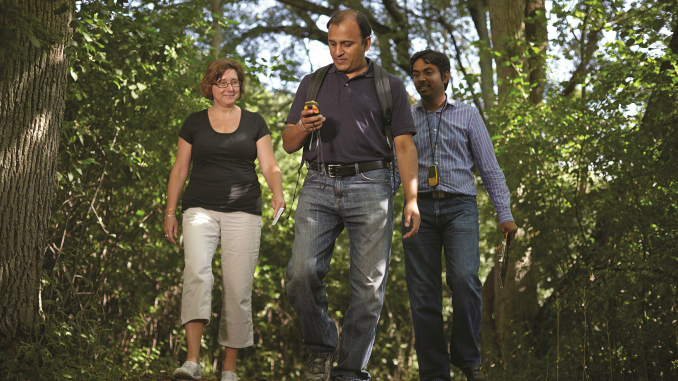 Top 10 Team Tactics
04/06/2018
By Clair Urbain | Photo ©Kohler Experiential Learning Center
Long-gone are the days of team-building activities such as the faith fall, where trusting employees dropped into the waiting hands of supportive fellow workers, or where speakers behind podiums espouse the value of team efforts.
Throughout Wisconsin, venues and companies that specialize in developing team-building events for corporations have turned training efforts up a notch (or two) to help work teams operate more effectively, break down barriers and develop skill sets that promise to have positive impacts to the bottom line and inter-work relationships.
Today, work teams can build their work-together skills in a wide variety of places and situations. From adventure outings to escape rooms where team members solve clues to beat the clock to give-back activities to help charities, the list of opportunities is nearly endless.
That's especially true in Wisconsin where teambuilding exercises can be incorporated into the city, team interests and even the seasons, says David Goldstein, self-proclaimed creator of opportunities (COO) of Teambonding, a national event company that has produced several events in Wisconsin. "Today's team-building events can be adapted to the office and employee culture. In Wisconsin, there are plenty of activities that take place every season in the state that can be adapted into team-building events."
A search across the Badger State reveals some very diverse possibilities that range from the mild to wild. Most of Wisconsin's famed resorts offer teambuilding activities—think golf excursions, cooking classes, creative challenges and beyond. Many resorts collaborate with area attractions to provide memorable team-building experiences in unique settings, indoors or out. There also several event planners that specialize in developing custom teambuilding events that best match your corporate objectives, ranging from nurturing management skills to just having fun together.
GREAT WAYS TO BUILD TEAMS IN WISCONSIN
THINK OUTSIDE THE ORGANIZATION
Does the group have a common interest or passion? Conversely, would the group be interested in doing an activity that is totally outside their wheelhouse of experiences? Building upon, or conversely, expanding upon the group's past experiences can make team-building events more impactful and memorable.
LEVERAGE WISCONSIN'S SEASONS
Some consider Wisconsin's winter a liability, but it can be used to create a truly memorable event. Winter pursuits, such as snowboarding, sledding, skiing or snow castle-building can make for fun outings. Spring, summer and fall open to golfing, water activities, camping, hiking and spectator sports possibilities. Look at the options available (see "Resources" sidebar) for ideas and with a little creativity, any venue or opportunity can be turned into a fun and effective team-building exercise.
SEARCH FOR SCAVENGER HUNTS
Games can be a great ice breaker and team builder. For example, The Go Game (thegogame.com) has developed a wide variety of games that are cell phone scavenger hunts on steroids, its promoters report. These games can be out-of-the box standard events that teach team tactics, or can be customized to the group. For example, by combining technology to tap into players' exploration and creativity, teams work to complete a scavenger hunt that takes place in real-world surroundings, building camaraderie as the game progresses. Similarly, several resorts and other events planners can develop hand-in-glove training on the skills companies want to cultivate with very unique, fun and memorable events.
GIVE-BACK EVENTS
Whether your company or participants supports local, regional or national charities, you can create events that accomplish team-building training while helping a particular charity. For example, Habitat for Humanity building events exist in several Wisconsin communities, and Build-A-Bike, a nationally based team-building event, offers specialty training to build both team skills and one or more bicycles that can be given to charities.
Myriad give-back program opportunities are available, and each can nurture group cooperation and problem-solving skills with the added philanthropic benefit of helping others. Give-backs also present great public relations opportunities to showcase a company's engagement in its community.
INTENSE TRAINING/ PARTICIPATION EVENTS
Several venues offer skills-building workshops that develop capacities through adventure or events that push participants' (extreme) comfort zones. Zip lining, aerial ropes courses, tower climbing, rock wall climbing, orienteering and geocaching can build team spirit and problem-solving skills. Group or even individual tastes for adventure can drive the selected intensity levels, emphasizing safety first.
ESCAPE ROOMS
This trending group activity is a natural team-builder. Several themed escape rooms exist in cities throughout Wisconsin—and the nation—where small teams enter a themed series of rooms that require solving clues to "escape." The usual time allotment for travelling through the series of rooms is about an hour. While not a locked facility, the rooms present a unique and challenging environment to build analytical skills, creativity and camaraderie. Many offer several social options before and after the escape room adventure, ranging from dinner and refreshments to photo opportunities.
GAMES AND GAME SHOWS
Developing or using a game environment can subtly develop team skills. Teams pit their knowledge, talent or experience against other teams, creating a fun, competitive atmosphere in a game show environment that reinforces real-life team concepts to participants and helps fellow employees better interact with others.
Most game show coordinators supply the props, emcee and structure for the game; they can also incorporate work-related questions or challenges into the competition. Some game shows are built on the premise of a kidnapped boss and teams must "rescue" him or her. Some game shows also plant actors in the game to make it even more interesting.
Simpler (and likely less expensive) events can pit participants in hilarious competitions— think swinging a tennis ball in a nylon stocking pulled over players' heads to knock over water bottles—to break the ice with co-workers, suppliers and even customers.
INTERESTING TOURS
Wisconsin is chock-full of popular and historic points of interest offering group tours that can be easily adapted into team-building events. Whether it is a boat or trolley ride on a Wisconsin lake or a museum, winery or brewery tour, these events can be educational and fun. Many can be incorporated into a fact-finding hunt that can instill cooperation and teamwork.
AGGRESSIVE/HIGH ADVENTURE GAMES
Depending on your audience, laser-tag, paintball or range shooting may have more appeal and impact. Hunting, fishing, cycling or boating adventures abound in Wisconsin and with a little creativity, can be transformed into a team-building exercise. Team-building planners emphasize that safety is paramount in their events, however, may require participants to sign release forms to minimize liability in case there is an issue.
COOKING/SPECIAL INTEREST EVENTS
Culinary-related events can have broad group appeal and can be used to instill cooperative principles and team skills in participants. Cooking demonstrations can take a competitive twist by having attendees go head to head to create the best salsa, for example. Tasting events may even be turned into a competition where, after tasting several items, participants must identify the kind or type of food or drink. Combining flavors, approaches to cooking and implementing interesting cooking methods can open up participants' thought in how they approach their work challenges.
PUTTING IT TOGETHER
The first step in setting up a team-building event is working with meeting organizers to find out the group's interest and level of adventure and what skills they'd like to develop. From there, identify a budget and work with the meeting site planner to develop some options. If outside help or expertise is required, costs will increase, but likely so will the quality and memorability of the experience.
Go team!
---
TEAM BUILDING RESOURCES
Here's a list of some of the great resources available in Wisconsin to help build your team experience.
RESORT RESOURCES
ADVENTURES
TEAM-BUILDING PLANNERS
ESCAPE ROOMS
HIGH ADVENTURE CMP
DEMONSTRATION AND FOOD CLASSES