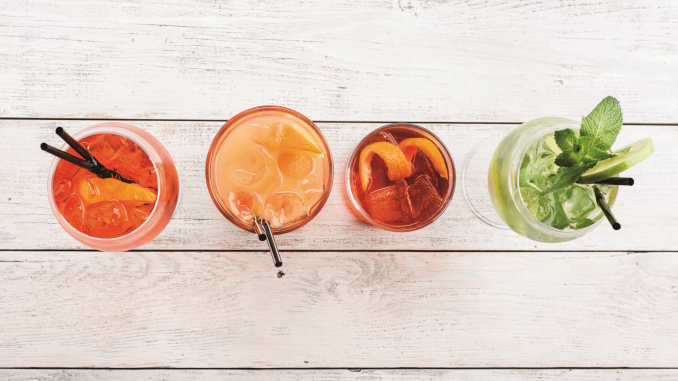 Summer Splash: Wisconsin's Best Brews, Wines & Spirits
By Kristine Hansen
Looking for drinks with a local edge to serve at summer meetings, picnics and outdoor events? Bolstered by Milwaukee's emerging craft-beer scene as well as new spirits stemming from around the state, the good news is that you have plenty of options. Not to be forgotten are crisp, white wines produced from Wisconsin wineries, proof that Wisconsin's claim to beverages goes well beyond beer.
That said, you can't go wrong by serving a selection of curated craft beers from the Dairy State. Go beyond the expected—in other words, brands that are not Leinenkugel's or Miller—and turn toward newer craft beers. In the Milwaukee area alone, 15 or so craft breweries have opened within the last two years. While some are very micro, not distributing outside of the tasting room, others are widely available.
A perennial favorite is Lakefront Brewery, one of Milwaukee's first boutique-size craft breweries (it opened in 1987). Instead of opting for a Lakefront beer that everyone knows—such as Riverwest Stein or its IPA—turn to the brewery's "Happy Glamper Leisure Ale," featuring lemon and tropical-fruit accents that are perfect for summer. Along those lines, many people have tried—and enjoy—New Glarus Brewing Company's "Spotted Cow." But few know the brewery's fruit-laced beers, such as Raspberry Tart, Wisconsin Belgian Red (infused with Door County cherries) and Serendipity.
A few new breweries to try out of Milwaukee, that are distributing, include City Lights Brewing Co., packaging the beers into cans, including its Amber Ale. Door County Brewing Co.'s new tap room in Baileys Harbor (the brewery debuted in 2012) has been a huge hit in terms of tourism but the beers are also gaining recognition. "Little Sister" is a Witbier-style beer designed for summer drinking. Its orange-peel and spice notes pair wonderfully with barbecued and picnic food, including salads.
As for Wisconsin wines, a highly rated white wine vintage after vintage is Wollersheim Winery's Prairie Fumé. Don't be fooled by the screw-top or that it's from Wisconsin: This one drinks like a drier version of Sauvignon Blanc, though the grapes are Seyval Blanc and grown in New York. Also, winemaker Philippe Coquard was born in France and grew up in a winemaking family in Beaujolais, France. This wine has been in production since 1989 and a continual award-winner at wine competitions.
Wineries are now all over the state and have come a long way since the late 1980s. Door County continues to be where the majority are, including Door Peninsula Winery, Door 44 Winery, Harbor Ridge Winery, Stone's Throw Winery and Simon Creek Winery. While many will not be familiar to wine drinkers, as they don't feature commonly known grapes like Chardonnay and Cabernet Sauvignon (instead they are either fruit-based or feature hardy winter grapes native to the North), this can be positioned as a means for trying something new to drink out of Wisconsin.
Craft cocktails continue to be all the rage. No matter if this is a gathering for younger employees or older executives, you'd be remiss not to place attention on the spirits and cocktails. Consider creating a signature cocktail for your event that weaves in a Wisconsin-made spirit. Many of these distilleries are small batch and do not distribute outside of Wisconsin—a great way to welcome out-of-state people to your meeting or event with a unique product.
Great Lakes Distillery debuted in Milwaukee in 2004 and today crafts a variety of gins, whiskeys, vodkas, liqueurs and even absinthe. A favorite cocktail is its Bloody Mary, featuring Rehorst Vodka. Yahara Bay Distillers in Madison, like Great Lakes Distillery, is an "older" distillery in the state (founder Nick Quint launched the spirts in 2007). Whiskey, brandy, vodka, rum, gin and liqueur are folded into the product line, with selections such as Kirschwasser Cherry Brandy and Seraphine Chai Tea Vodka.
So go ahead, try something new from Wisconsin. Your guests will say cheers!