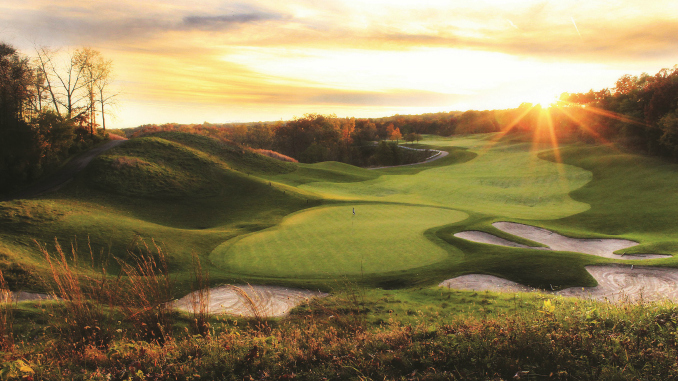 On Par: Planning A Golf Outing
By Betty W. Stark | Photo ©Geneva National Resort and Club
Golf's impact on the art of doing business has always been substantial, lending a little sport to the idea of working it out on the green.
"Golf is still an honorable sport, where you can learn a lot about a client or a colleague by spending time on the course," says Dave Hallenbeck, director of golf at the Grand Geneva Resort in Lake Geneva.
Playing a few rounds or even adding a full-blown tournament to the business conference mix can help business groups offset the intensity of meetings with successes—and fun—on the course. Actually, it's par for the course, part of a growing trend to also include entertainment and fundraising components to the corporate docket.
Roger Caldwell knows about those trends. Owner of Great Golf Events near Kansas City, Missouri, and a golf tournament consultant, Caldwell has been in business for 20 years.
"In today's world, it's 80 percent charity-focused play, 20 percent pure corporate golf outing. The recipient of the fundraising is typically [an organization or nonprofit] that the corporation already supports, or it's the president's favorite cause. That makes it easier to get hole sponsorships. The key is picking a good cause.
"And on a practical note, the corporation doesn't have to invest as much in the event when fundraising is part of the mix because sponsorships pay. It's a win-win."
Caldwell's company offers a single vendor solution to planning a golf outing, from establishing a registration database to website development and online registration, logo design, social feed, check-in software that sets up payment method and eliminates the need to "take out your wallet to buy a beer during play." Live and silent auctions, hole-in-one insurance, event video entertainment, budgets and financials, enhanced fundraising—all services and more are available.
Caldwell also schedules on-course talent to interact with golfers. Entertainment, Caldwell emphasizes, is the most important trend because it serves two purposes: It adds another dimension to the typical scramble, best ball or alternate shot format by giving golfers the opportunity to wager against shots, and adds another opportunity to raise money for a featured charity.
And it's worth thinking big about your talent, to go big with your fundraising.
"You want to add a golf professional to the mix? Tiger Woods is a Beat the Pro possibility, along with other notables," says Caldwell.  Or, he suggests, bring in trick-shot talent. "That adds fun, and opportunity to boost fundraising."
Caldwell himself can play the trick-shot entertainer role, but says the best at that particular game is former Long Ball Champion golfer Dan Boever, also known as "The Beav." Caldwell calls him the "best of the best."
"He's a three-ring circus of fun," says Caldwell. "Boever's improbable trick shots offer an on-course diversion and encourage players to wager either for or against the probability that he'll make the shot."
Caldwell offers another important tip: Be strategic—and knowledgeable—in your event planning. "Don't create a tournament committee populated by nongolfers. They must understand the game. If you're organizing a charity golf event, don't nickel-anddime players on every hole. Plan one big on-course event like a trick shot expert, a Beat the Pro event,  and challenge players to increase their bets. It helps the cause and it adds to the fun."
Geneva National Resort and Club offers 54 holes of golf on three courses designed by Arnold Palmer, Gary Player and Lee Trevino. It was voted by readers of Wisconsin Meetings as "Best Golf Resort 2018" and touted by Golf Digest Magazine as a "Best Course to Play." Head Pro Member Bryan Brotchie and his team coordinate many golf events at this award-winner, including some that take over all three courses and many others for its own members.
One very successful member-proposed annual fundraiser Brotchie and Geneva National hosts is for the Special Operations Warrior Foundation (SOWF), an event he salutes for its successful and creative event format.
As an organization, the SOWF ensures financial and mentoring assistance— including two- and four-year degrees for the children of Army, Navy, Air Force and Marine Corps Special Operations service members who gave their lives in the line of duty.
What spurred Geneva National members' interest in the organization? It's deeply connected to some members' lives; some have children currently serving in Special Operations. Says Brotchie, "They've planned a golf tournament every year since 2015. A Special Ops dad—his son's a Green Beret—has been on our board for many years and he and family are actively involved in the planning.
"For three years, they raised SOWF funds through a letter-writing campaign. Then they decided to hold the tournament and it has been increasingly successful every year."
Brotchie points to the many aspects that contribute to the event's success.
The SOWF tournament format is not traditional. "They take a different approach to how the tournament operates as well as what goes on after play ends," says Brotchie.
"They don't do a shotgun start—it slows down play. They set actual tee-times between 8 a.m. and 1:30 p.m. It allows more players to participate.  Not all players will be available for an early morning start, and some prefer to play in the afternoon. Typically they have 120 to 130 golfers for the event. The personal tee times allow all to play at a time that works for them," Brotchie says.
"The concept works at Geneva National because members and their friends—it's a great time to bring out guests, by the way—are generally local. This concept might not work as well at a destination resort where everyone is staying at a hotel. In that case they'd likely all want to start at one time. As a corporate event, individual tee-times could work, though it's not traditional," Brotchie says.
Fundraising infuses the entire event. "For the SOWF event, fundraising goes on all day—followed by dinner at night. The group incorporates a slight amount of entertainment, though not on the golf course, and it's specific to the goals of the sponsoring organization."
The event continues on into the evening with touches that hold special meaning for the organization and attendees. "After play has ended, they'll bring in someone to sing a few patriot songs like 'God Bless America.' They'll also invite speakers to tell the group about their personal experiences with the foundation," says Brotchie.
"It's far more effective than a video," he explains. "Beneficiaries of support from SOWF share their personal stories—how they became involved with the foundation, how they were mentored during difficult times, how they attended college prep sessions and earned degrees.
"They talk about how [they] were awarded scholarships and had their college fees paid for—grants, not loans. It's very effective and moving. And as a fundraiser, it's more successful every year.
Zooming out from the specifics of this event to talk about general golf event planning, Brotchie says that, in terms of amping up action with add-ons during golf outings and tournaments, they all have value, but, he cautions, they also slow down play.
"Sponsored tents on the course are a great way to promote area businesses, and the typical beverage carts—four on the course per outing—are popular, too. But if you figure 15 minutes per cart, that's an additional hour. That has to be factored into overall planning," he says.
Brotchie also offers sage advice on important initial steps to any sponsored fundraiser: Selecting the right charitable organization for your company or members to support. Be sure your company is aligned with its mission or a cause that resonates, much like the Special Operations Warrior Foundation did for Geneval National membership, which features members with children currently serving in Special Operations. Also check out the charitable organization's overall fundraising performance, especially the percentage it spends on the cause, versus administration or other things; Charity Navigator, a searchable online database of evaluated charities, can help you uncover that information.
Once you've done the legwork to ensure alignments, build an informed planning committee, plan creative and powerful fundraising opportunities and craft memorable fun—maybe even annually— your event's sure to be an ace.
Pro Tip: Planning Resources
In addition to resources available from tournament consultants like Roger Caldwell's Great Golf Events and from onsite staff at many golf courses, check out popular golf publications like the Golf Digest Planner and search the PGA website for how-to tips that will help bring organization and a boost of originality to the process of planning your outing.