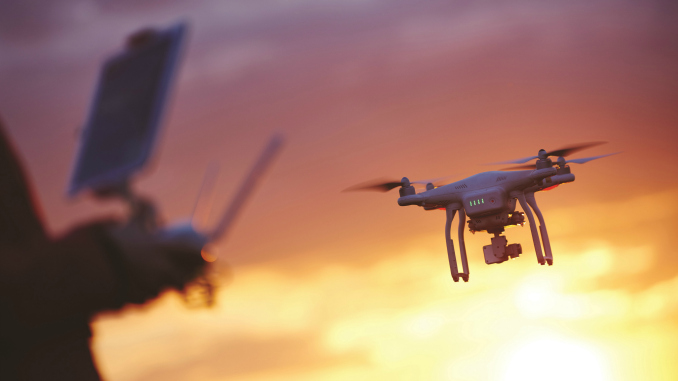 Elevate Your Events with Drones
By Claudia Cabrera
They aren't just for the military anymore: Drones, also known as unmanned aircraft systems (UAS), are popping up everywhere and have become the new talk of the town as they are used for hundreds of business purposes, including the meeting and event industry.
I recently had the pleasure of interviewing Chris Johnson, Ph.D., co-founder and president of the Unmanned Aircraft Systems (UAS) Advocacy Network and director of the University of Wisconsin—Madison Aviation Research Laboratory. Johnson is a commercial pilot for both manned and unmanned aircraft, and he is a certified flight instructor with a Ph.D. in engineering from UW. There, he built UW's Center of Excellence for aeronautical research. He also founded PilotTrainingSystem.com, an online educational resource for both manned and unmanned aircraft pilots that has been used to build drone programs for large entities such as UW, American Family Insurance, and Wisconsin Aviation where he serves as chief drone pilot. So many hats managing things that fly!
Johnson shares insights into how he personally has used drones at events and how these aircrafts will change the way the rest of us plan and showcase our events.
First and foremost, how and why did you get into drones?
I am an engineer, a pilot and an entrepreneur, so the technology fits within everything I know. My research
was funded by the Federal Aviation Administration (FAA) throughout grad school at Illinois and UW to make flying safer. That work evolved into an FAA Center of Excellence that I direct at UW while the drone market began to explode, putting highly capable robots into the hands of naïve users and simultaneously creating a significant risk to the National Airspace System. I'm passionate about my research and development that makes flying safer, and I don't want to hit a drone in my Cessna; however, the businessman in me wants to ensure that responsible operators are able to enjoy the economic benefits of drone technology to help their businesses.
As a pilot, scientist and engineer, I understand aeronautical systems, remote sensing, artificial intelligence and big data that has delivered drone technology into the mainstream, and as a business owner, I understand the return on investment that drones can deliver in various business verticals. Naturally, I started helping large entities understand the technology and bringing them into their businesses to improve the customer experience and, ultimately, the bottom line.
You have used drones at events before. Can you explain how they help meeting planners pre-, during and post-event?
Some of the more memorable events I've captured via drone include the Hardhats for Hearts event, a fundraiser organized by the construction industry for the American Heart Association. That event took place inside of an airplane hanger at the Dane County airport, so we made sure that everyone was aware of the drone being used. I also did the Andy North & Friends Fundraiser for the UW Carbon Cancer Center as well as the UW Alumni Park Grand Opening.
Drones offer an aerial perspective both indoor and outdoor that manned aircraft can't even provide, and event planners who use them not only showcase their beautiful works of art from the air, but they also establish themselves as forward thinkers who embrace leading-edge technology to provide a better service for their clients.
Services that use the help of drones include: during a site inspection, to make sure that the space at a larger scale will work for your next big event; during a meeting, to capture the event from all different angles; and post-event to make sure that no equipment is left behind on the grounds.
How do you think drones change the way we showcase our meetings?
Drones are not just for showcasing. Certainly, the aerial perspective is beautiful, but drone footage is quickly becoming standard in TV shows, commercials, movies and news stories.
The same is already happening in the event-planning industry, but drones can be used for end-to-end planning to scout site locations, create high-resolution maps and 3D models to aid communication and artistic vision, and capture aerial overviews during set-up and tear-down for quality assurance.
Drones can also live-stream footage for network access and, in my experience, patrons feel important, like they are part of something bigger, when they see drones flying around at a special event. It really takes the event to the next level.
Where do you see the drone usage in the meeting and event industry five years from now?
As drones become more common in event planning, I believe that event planners will start to use drones in ways that architects and construction managers are using them, for creating 3D models to aid in planning and for marketing previous works of art.
Similar to the way in which Google satellites have produced Google Earth to provide a level of intelligence that we now take for granted, drones are modeling the world from above but in much higher resolution. Using photogrammetric processing that turns 2D imagery into 3D models, event planners of tomorrow will have a portfolio of 3D models to show their clients in marketing their talents and creating artistic vision for their next big event.
What would you tell meeting planners that are hesitant about embracing drone technology?
Drones are here to stay, and they bring a lot of value in a business sense. Unfortunately, drones are so new that for every responsible user, you can find at least one naïve user who doesn't know that laws exist and another who intentionally flies recklessly and illegally. Airline unions opposed drones for this simple fact alone: They don't want to suck a drone into a jet engine.
However, it would be a disservice to allow a few bad actors to allow knee-jerk legislation to reign and hinder economic progress. That is why we need to shed light on the good that drones are bringing to the world, which is tough knowing that drones come from a military background.
To mitigate concerns of "big brother," drone pilots must be ethical as well as safe. It's not that difficult, actually. We all have cameras in our pockets, and one can be way stealthier about invading another's privacy with their cell phone than they can with a flying weed-whacker.
Talking about responsibility, there are some federal aviation regulations with the usage of drones. What are some of the responsibilities that meeting planners should be aware of that are associated with commercial drone use?
Any event planner that seeks to use drone footage for planning and/or showcasing should hire a commercially licensed drone pilot or become licensed themselves.
Please note that you'll want a reputable pilot, one who has significant experience because the licensing requirements are not very stringent.
Most people interested in drone footage start by hiring a commercial operator to get the footage they need so they can explore the return on investment. Often times, contracted drone services is sufficient, but sometimes business owners invest in building an internal drone program, but they learn quickly that there is more to it than buying a drone, registering, insuring it and passing an exam. Managing risk and professional reputation goes much deeper.
Want to know more about employing drones for your next event? Contact Johnson via LinkedIn or at  [email protected]. Visit his training site at PilotTrainingSystem.com.