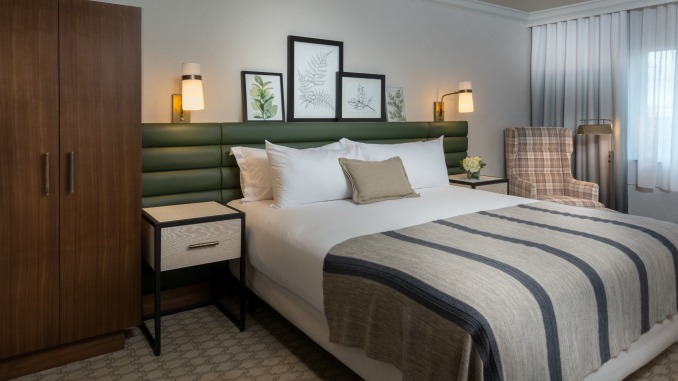 Country Springs Hotel soon to be The Ingleside Hotel
The New Lake Country Gathering Place
Lake Country's favorite venue will soon become its newest. Coming June 2018, Country Springs Hotel will emerge as The Ingleside Hotel following a complete property renovation. The hotel design firm The Getty's Group, is leading the charge on the design and rebrand.
The word "ingle" is a synonym for fireplace, so the name literally means "by the fireplace." The term reflects the warmth and comfort the design encompasses. The brand is comfortable being exactly what it is: a gathering place for business and leisure travelers offering contemporary Lake Country hospitality at its natural, vibrant best.
Renovations have already been completed on the ballrooms and majority of the meeting space. Guest room renovations are currently underway. The new sophisticated hotel lobby and DiDi's Supper Club are scheduled to be completed the summer 2018.
With over 40,000 square feet of newly renovated meeting space, Country Springs Hotel provides a meeting experience like no other. In addition to the fresh neutral décor, upgrades were made to state of the art wireless internet and audio visual equipment.   Flexible space, a first-class location and outstanding food and beverage are some of the many reasons meeting planners and corporate travelers consider the property one of the premier destinations in Wisconsin.
In addition to fresh, new indoor space, the property boosts great outdoor space.   Business events can be something special with wide open spaces for team building right outside the door.  Our space allows meeting planners the opportunity to provide attendees with a unique experience.  Why choose an ordinary venue for your business event or conference when extraordinary is just 20 miles from Milwaukee?
After a successful day of meetings, we understand the importance of providing a comfortable space for guests to relax and recharge.  The property offers premier guest room layouts and suite options.  Newly remodeled overnight rooms were designed to make guests feel at home throughout their stay. All guest rooms include free wireless internet and in-room refrigerators.
The hotel offers numerous amenities such as an indoor pool, newly renovated fitness center, onsite dining and Springs Water Park.  In addition to onsite options, there are numerous off-site recreation options located adjacent to the property including a golf course, spa, and wooded walking/bike trails.
For more than 25 years, the hotel has been an important part of the community and has taken pleasure in caring for its guests.  Today many long-time staff members proudly carry on these traditions.  If you see a familiar face, it's because many of us have been here for years.  This is our home away from home and we treat it that way.
Whatever the size, substance or style, memorable gatherings are our specialty.  We invite you to contact one of our experienced meeting specialists to schedule a tour.  For additional information on the renovation, please visit TheInglesideHotel.com.