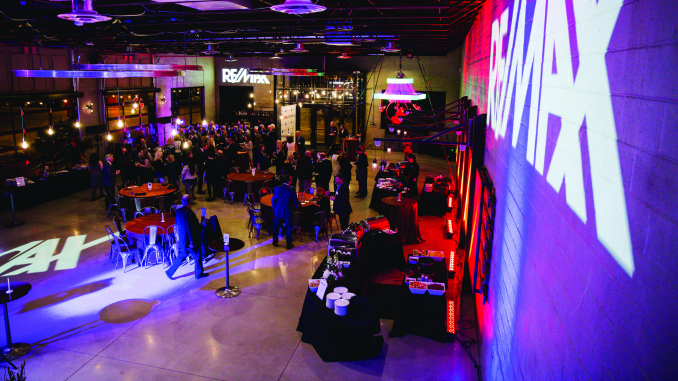 By Kristine Hansen
A quick glance around the trendiest restaurants or poring over photos in design magazines or on Pinterest and it's easy to see what's popular right now: minimalist design. This might include neutral colors (grays, whites and tans), few adornments and lots of raw materials (such as concrete, brick and metal). Light fixtures are typically crafted of industrial-era materials and lit by Edison bulbs.
If planning an event in a venue like this, your first impression might be that the blank canvas can make anything possible. The sky's the limit! You can adopt any color scheme, the company logo won't clash with the carpet pattern or wallpaper, and any vibe under the sun can be built out. But when it comes time to making actual decisions—such as, how will you develop a casino theme? A Great Gatsby-inspired holiday party? Create an inspiring environment for a strategy session?—stress creeps in because the reason you liked the space is now a problem. You are starting from scratch. Here's how to make the process of moving from a blank canvas to a gorgeous event space easy.
Start with the furnishings. Tables with 12 chairs are impractical unless you are serving food. Even if it's a room packed with hundreds of people, you want to encourage conversation in small groups. "What we see people using is the lounge-type furniture," says Collette Deterville, event coordinator at Gather on Broadway, which opened in Green Bay this past summer. Comfortably holding 300 people, the space has steel beams, exposedbrick walls, an upstairs area for between 10 and 20 people in a salon-type environment, and a curtain dividing the downstairs into two spaces. Doing away with tables and shifting to something more cozy and intimate helps carve out conversation areas within a space. After those big pieces are secured, Deterville has found when working with groups, there's often a sudden realization not much more is required. "The appeal of this space is you don't need a ton of stuff to decorate it," says Deterville. "You can come in and 'paint' the space as you like." Some groups will string twinkly lights from the steel beams to create mood lighting.
A group that rented the space this fall spoke to Deterville about a desire to move away from a black-and-white theme, which can come across as formal or dated. "They're going with champagne colored crinkled taffeta," she says. "A lot of our clients are going with the neutrals—golds and bronzes are really big." To introduce color, "they spice it up with the chairs and the linens," she says. This works well in spaces that are already minimally decorated.
In the shell of a 1930s warehouse, 13Thirteen in downtown Madison has a similar industrial-chic vibe to Gather on Broadway with its polished-concrete floors, brick walls and rusty metal beams running across the 18-foot ceilings. The space can hold up to 155 people, perfect for an intimate event. To coax the industrial-chic vibe even further, owner Mark Whalen sourced two old doors plus barn wood and wove those into the space. Retractable garage doors open to the outdoors.
"The walls we left as they were and we painted them. It's kind of rough looking and it looks cool that way," says Whalen. To decorate a space such as this, says 13Thirteen event director Angela Genin, 90 percent of it is in lighting, "not in actual 'stuff' or table settings you would normally see in a restaurant with average-height ceilings. This is what sets the atmosphere in a space so large. Table settings look good for pictures but you lose any impact in the space when you look beyond the table." She recommends focusing less on table arrangements and more on the curtains or drapes—the larger the better—and table linens "with either a soft sheen or a little metallic."
Making those micro-decisions easier for event planners was a top goal when Saz's Hospitality Group opened South Second in Milwaukee's Walker's Point neighborhood in 2015. The space includes a private/green room, a large open space and a mezzanine overlooking that main space. Up to 350 people can use the venue at once.
"It was designed with the idea that it could stand alone or be completely transformed," says Krystal Kaiser, South Second's marketing director and event specialist. Also, everything is on wheels to add further flexibility in how to arrange the space. Edison bulbs, wrought-iron fixtures and warm woods contribute to the historical aesthetic that is currently trending in décor while paying homage to the neighborhood's industrial roots. Kaiser even hired a painter "to create a look that has a lot of texture but with a lot of wear," she explains. On warm days, two garage doors open out to a patio, expanding the available square footage. This industrial aesthetic helped create an ambitious design at a recent meeting of Re/Max's national sales team where acrobats were suspended from the ceiling and drinks were served while a DJ spun records.
Floral arrangements—or, for something simpler, fresh-cut flowers in a vase—can quickly liven up a blank canvas in an event space. Part of the appeal of these minimalist spaces are the use of natural materials like wood and brick. Flowers fit right in. The Lageret in Stoughton is an industrial warehouse (once a tobacco factory) built in 1885 and now owned by a floral designer whose studio (Flora by Jamae) is located in the venue as well. Often the two businesses go hand in hand, with event planners hiring her floral business for their event. Exposed Cream City-brick walls, natural sunlight thanks to tall windows and wood beams are charming for both weddings and group events.
A trick that event manager Jamae Ramsden has seen people do with her space to make it appear more intimate is to rent furniture—like tufted-leather sofas—from Event Essentials or A La Crate Vintage Rentals, creating a salon-style environment. Also, you can't go wrong with a soft glow: "Candlelight is beautiful in there," she says. Many opt to hang fabric pieces from the wood timbers because "it really changes the space," says Ramsden. And, finally, hiring a folk singer or acoustic guitarist instead of a five-piece band contributes to the vintage appeal that draws people to the venue in the first place.